Reasons Behind Pastor Dare Adeboye, the third son of Enoch Adeboye Sudden Death
5 min read
According to one of Nigeria's news media 'Punch', gathered that the 42-year old pastor died in his sleep on Wednesday in Eket, Akwa Ibom State, where he was based with his family.
A reliable source in the church said that the deceased, who was the Assistant Pastor in charge of Region (Youth) 35, had ministered the previous day.
READ: Rev. Fr. Mbaka's Disappearance and Suspension, The Untold Story Behind the Scene
He was said to have retired to his bed and did not wake up. His wife, Temiloluwa, was said to have raised the alarm.
"He was not sick and did not complain of anything before the incident. Pastors in the church were summoned to pray for him, all to no avail," a source added.
Several leaders of the church, who confirmed the incident, said they could not comment on it.
The Head of Media and Public Relations, RCCG, Pastor Olaitan Olubiyi, however, confirmed the tragedy on Thursday morning.
He said: "It is true. The incident happened in Eket where he was based. I don't have the details for now. Maybe before the end of today, we will issue a statement."
READ: Ladies Be Careful! Dead Body of Another Lady Killed By Her Facebook Friend Discovered in Shallow Grave
According to our finding, Pastor Dare Adeboye died of just cause, he wasn't sick, it was said that he even ministered that day in the Church before going home to have his rest.
Dare would have been 43 years old next month, June.
Last year, on his 42nd birth, his dad, Adeboye on a social media post described him as his first miracle child. He wrote on his Facebook page, "Our first miracle child. We pray that God will keep his miraculous working power in your life and all those who need a miracle today, will use you as a point of contact for their own in JESUS name. (Amen) love from Dad, Mom, and the whole Adeboye dynasty."
READ: These are the Ethics Groups That Will Suffer the Most If Nigeria Disintegrate – Obasanjo Reveals
The General Overseer of the Redeemed Christian Church of God, Pastor Enoch Adeboye on Wednesday, April 28 has prayed for God to come to the country's aide.
The cleric's prayer came amid series of attacks in the country, ranging from kidnapping to banditry, terrorism to militancy, cultism to calls for secession among several others.
Adeboye also asked everyone to keep praying for everyone and the world at this difficult time. 
He tweeted: "Keep praying for Nigeria and the rest of the world in these difficult times. It is my prayer that God will have mercy on Nigeria and heal our land in Jesus Name."
RELATED NEWS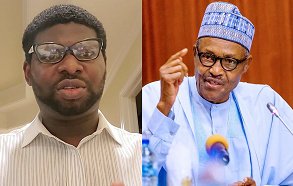 The Senior Pastor of Awaiting the Second Coming Of Christ Ministry, Adewale Giwa has called for disintegration while stating that no one can fix the nation after President Muhammadu Buhari.
This is coming after the Department of State Services, DSS, clamp down on elements agitating for disintegration and causing disunity in the country.
READ: 9 Feared Dead And Many Flee For Their Lives As Unknown Gunmen Attacks A Community In Anambra State
According to the man of God, the national leader of the All Progressives Congress, APC, Bola Ahmed Tinubu, who is understood to be warming up to replace Buhari in 2023, is not capable of turning things around.
Pastor Giwa in a statement made to one of Nigeria's news media 'Daily Post', said that apart from the fact that Tinubu has failed to speak for his people, Buhari is physically and mentally, stronger than the former Governor of Lagos State.
"Let me urge Nigerians to relax because God is currently fighting for the oppressed. For we do not wrestle against flesh and blood, but against the rulers, against the authorities, against the cosmic powers over this present darkness, against the spiritual forces of evil in Nigeria."
He added: "However, Nigerians should be smarter than these selfish politicians who are now doing everything possible to distract them. The only option left to solve the nation's challenges is disintegration. Anything aside that is deceit.
"They are now running helter-skelter, trying to use the officials of the Department of State Services (DSS) to intimidate Nigerians. Please, tell the DSS to go find a better job to do if they cannot hunt down criminals.
"Nobody can intimidate the Nigerian people who speak for the oppressed. The DSS should start building more prisons in Abuja to put millions of Nigerians who have decided to part ways.
"They are not at peace with themselves anymore; DSS should face insecurity and bring Boko Haram and Fulani terrorists to justice, not to try to harass the citizens. How many Fulani herdsmen or Boko Haram members are in their custody?
"They cannot restructure Nigeria because they know it won't favor them. All they want is to allow Nigerians to continue to suffer. They know what to do to make the citizens happy, but choose not to.
"They become very adamant about the direction they believe their interests will take them without considering others. Since they don't want to do it, God will disintegrate Nigeria for her citizens and things will go back to normal.
"Nobody can fix Nigeria after President Muhammadu Buhari unless the country divides before 2023. Is it Tinubu who has failed to speak for his people? Is it PDP? Apart from this, physically and mentally, Buhari is stronger than Tinubu.
"God will do what He will do to disintegrate Nigeria and set the people free from destiny killers. The failing state of Nigeria's education system is worrisome.
"Should we also talk about unemployment, insecurity, and bad economy? The Lord is currently working in Nigeria, and He will finish the project very shortly."
DO YOU HAVE ANY NEWS YOU WANT TO REPORT? CLICK HERE TO REGISTER AND SUBMIT YOUR NEWS FOR PUBLICATION ON TOKTOK9JA
WATCH MORE NEWS ON OUR YOUTUBE CHANNEL CLICK HERE TO SUBSCRIBE
Professional freelancer and webmaster.
From Toktok9ja Media
The views expressed in this article are the writer's opinion, they do not reflect the views of the Publisher of TOKTOK9JA MEDIA. Please report any fake news, misinformation, or defamatory statements to toktok9ja@gmail.com