TRAGEDY!!! Man Kills His Girlfriend Who Broke Up With Him Then Hangs Himself.
A Zambian man killed his 21-year-old student nurse girlfriend identified as Mapalo Masiku because she reportedly ended their relationship.
It was gathered that the boyfriend, Kaluwayo Mwika, 29 lured his girlfriend, Mapalo somewhere near a bush where he strangled her to death.
He then committed suicide by hanging himself immediately after killing his girlfriend.
It is believed that Mapalo wanted to end the relationship because she had found a new love.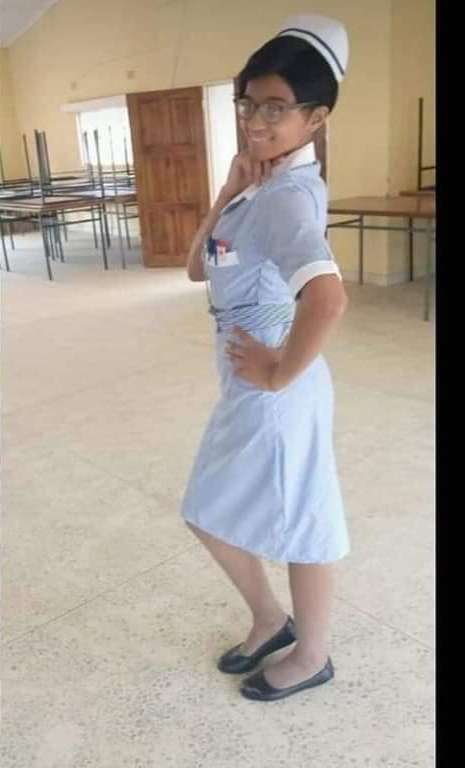 Mapalo Masiku was laid to rest on Wednesday, December 16, in Luanshya, Copperbelt Province, Zambia.
Central Province Commissioner of Police, Chola Katanga, who confirmed the incident, said Masiku was a second-year student at Chitambo College of Nursing and of House Number 351, Mikomfwa Township in Luanshya, Copperbelt Province.
Mr Katanga said the incident happened on Sunday, December 13, within the nearby bush of Chitambo College of Nursing.
He said Kaluwayo allegedly hanged himself at Chito Area, about 18km from the scene of the crime, Chitambo College of Nursing.
Police spokesperson, Esther Katongo said initial investigations indicated that the victim had a misunderstanding with her boyfriend who had just completed school at the same College.
Mrs Katongo said the suspect is believed to have called a friend to the victim to give direction to where the body was.
"The body was found with injuries and was picked and taken to Chitambo District Hospital mortuary. Police received information that the suspect has committed suicide," she added.
Meanwhile, the Commissioner said police are looking into a recorded call that Kaluwaya had with one of his friends where he confessed to having killed his girlfriend.
Katanga said in the recording, Kaluwaya said he killed Mapalo because she dumped him for another man despite him putting a ring on her finger.
The recording reads:
"I told her that let's go somewhere and talk, we then went somewhere near the bush…We then talked about our relationship. She couldn't cooperate. She told me that she has found a new guy called Patrick. She then told me that she no longer loves me, but she is ready to give me a child. She said she can give me anything. We then enjoyed ourselves,"
"Later the argument continued again because I was hurt, for her to leave me!. That's how I strangled her neck, till she died. I then hit her with a piece of tree on the head. I don't believe that she is still alive, if she is alive, then she must thank her God. I hope they will find her body. This is my last call, I hope that you will find my body, my phone is on, and the people who will pick my corpse will communicate…I'm using a small phone, no password…I'm gone!."
SAY NO TO CRIME! Mob Set Robber Ablaze For Allegedly Snatching An Android Phone
In a related matter, a suspected robber met his untimely death after he allegedly snatched an Android phone.
It was gathered that a two-man gang allegedly snatched a phone and a bag containing some documents from one Tobi Adebayo, a resident of Owode in Apata area of Ibadan and fled on their motorcycle.
Tobi gave the robbers a hot chase with his car until they entered a pothole, lost control of the motorcycle, and fell off opposite the state office of the Independent National Electoral Commission, on the State Secretariat-Mokola road, Ibadan.
One of the suspects died on the spot while his accomplice who was badly injured was beaten and set ablaze by the mob.
The tragic incident occurred in Ibadan, the Oyo State capital, on Wednesday, December 16.
Spokesperson of the Oyo State Command, Olugbenga Fadeyi, who confirmed the incident in a statement said the mob had already lynched the injured robber before the arrival of the DPO at the scene.
Also Read: TENSION RISES As Angry Mob Burn Down 4 Police Stations Over The Killing Of 2 "Bike Men"
Four police stations in Anambra were burnt down on Wednesday over the killing of two commercial motorcyclists.
According to reports, a man identified as Ebere was shot dead on Tuesday night by police personnel suspected to be from Igbo-Ukwu Division in Aguata Local Government Area of the state.
The policemen were said to be enforcing the order of the government against the operation of commercial motorcycles beyond 9 p.m.
It was also learnt that another motorcyclist who was part of the crowd protesting over the killing on Tuesday night was killed on Wednesday morning at Ekwulobia Divisional Office by police personnel who claimed they were acting in self-defence.
Following the second killing, the Aguata area of the state was thrown into panic due to violent protests that erupted.
A total of four police stations were burnt by angry youth while an attempt to attack the Ekwulobia Minimum Correctional Centre was foiled by soldiers on duty.
DO YOU HAVE ANY NEWS YOU WANT TO REPORT? CLICK HERE TO REGISTER AND SUBMIT YOUR NEWS FOR PUBLICATION ON TOKTOK9JA
WATCH MORE NEWS ON OUR YOUTUBE CHANNEL CLICK HERE TO SUBSCRIBE
Professional freelancer and webmaster.
From Toktok9ja Media
The views expressed in this article are the writer's opinion, they do not reflect the views of the Publisher of TOKTOK9JA MEDIA. Please report any fake news, misinformation, or defamatory statements to toktok9ja@gmail.com