10 Funny photos with captions to make you laugh all day ( 9ja Jokes Reloaded)
10 Funny photos with captions to make you laugh all day ( 9ja Jokes Reloaded).
The Christmas period is over and we are all set to go back to the normal daily routine. These funny photos with captions is meant to put a smile on your face as you return back to work.
For those who traveled and are back, congratulations and welcome back, and for those who are still in the village, we wish you a safe trip.
Let's dive into the bone of contention and the purpose of this article.
10 Funny photos with captions:
READ: If You No Laugh For This Joke, You Need To Check Your Problems – Cool 9ja Jokes
1. Driving my newly acquired Mercedez Benz
We all know the love story of Guinea singer Grand P and his Ivorian wife Eudoxie Yao. In this photo, Grand P is seated at the back of his wife,
It's funny and it'll be a crime not to share this with you lol.
READ: How Covid-19 Spread Through Money – 9ja jokes 2021
2. Please can you locate where her hands are? I can see her face but still looking for her hands lol.
3. I know there is an association of stingy men, but ladies don't you think this one is too much lol?
4. Sincerely what would be your reply?
Imagine bae called you that a guy slapped her, and you were angry and anxious to deal with the guy only to meet this guy on the image above, what would you do? Don't lie lol
5. Only real men will understand this photo lol.
If you understand it, drop a comment below.
READ: We Call Every Toothpaste Maclean, We Are Nigerians – 9ja Jokes Apocalypse
6. Something must kill a man lol.
7. Lol, I'll reserve my comment on this one.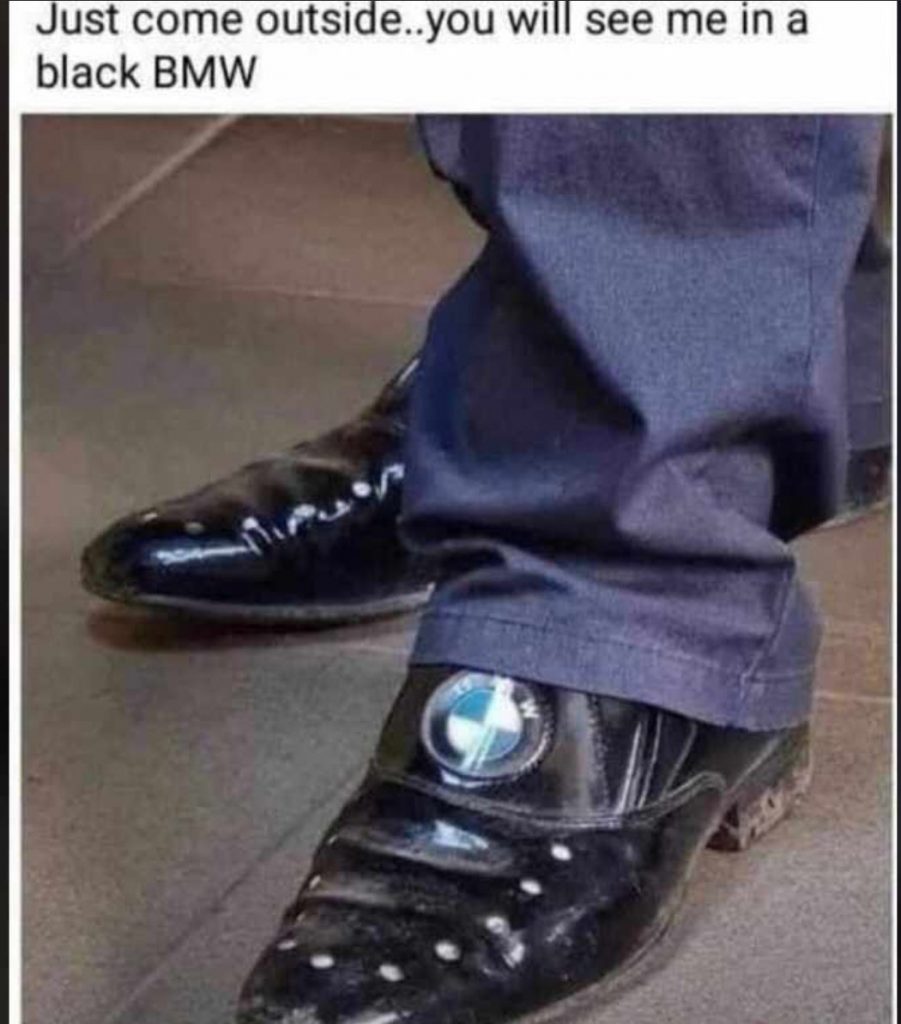 8. Ladies Imagine bae called you that he just bought a new BMW, and you are all excited to see it only to discover this when you went outside the house.
What would be your first reaction?
9. I'm still trying to figure out this photo lol. The fact that he is tying a wrapper makes it more confusing.
Is he late for work?
Is he trying to pull someone out of the bus?
Is he fighting someone?
If you have the answer to this puzzle photo drop it in the comment section.
10. What kind of kiss are they about to have?
French Kiss?
Spanish Kiss?
Japanese Kiss?
Lol, well there you have it, I hope this article made you laugh, and if it did, then follow me for more and share it with your friends.
DO YOU HAVE ANYTHING YOU WANT TO TELL US ABOUT NIGERIA? CLICK HERE TO JOIN ESSENCE FORUM AND SHARE YOUR TOPICS WITH OVER 4000 MEMBERS.
WATCH MORE NEWS ON OUR YOUTUBE CHANNEL CLICK HERE TO SUBSCRIBE
Professional freelancer and webmaster.
From Toktok9ja Media
The views expressed in this article are the writer's opinion, they do not reflect the views of the Publisher of TOKTOK9JA MEDIA. Please report any fake news, misinformation, or defamatory statements to toktok9ja@gmail.com