DSS AND MALAMI IN TROUBLE After High Court Approved To Verify CCTV Footage Of Igboho's Residence Attack
3 min read
DSS AND MALAMI IN TROUBLE After High Court Approved To Verify CCTV Footage Of Igboho's Residence Attack.
A Federal High Court sitting in Ibadan has approved the video submitted by Igboho' s lawyer of Department of State Services, DSS's intrusion at his residence, Daily Trust reports.
The court also ruled that the video should be submitted by the DSS. However, Malami and DSS's lawyers said it would be necessary to test the blood seen in the video to determine if it was actually human or animal blood.
A high court sitting in Ibadan on Tuesday accepted the video evidence presented before it on allegations of intrusion by security forces into Sunday Adeyemo's house, popularly known as Sunday Igboho on 1 for July.
READ: HARDSHIP: Fuel Scarcity Resurfaces As Petrol Sells For N300/ltr
According to the Daily Nigerian, Igboho' s lawyer, Yomi Aliyu, SAN, has filed a lawsuit seeking N500 billion in damages from Antony General of the Federation, Abubakar Malami, SSS, and the DSS director of Oyo State for the breach.
Earlier, Aliyu informed the court that the house of the defendant and his vehicle were broken into and two people were killed.
At Tuesday's hearing, Justice Ladiran Akintola accepted the evidence presented before Aliyu after explaining the real reason for their arraignment, the Daily Nigerian reported.
READ: "How We Abducted And Killed Father Of Former Plateau State Governor Joshua Dariye" – Kidnappers
Akintola reiterated a video submitted by DSS's lawyer, TA Nurudeen, in which Igboho threatened the Oduduwa Republic, secession from Nigeria, and called on the Yoruba people to defend themselves with machetes and guns.
The court requested that the two videos be made public in court as requested by Igboho' s lawyer and the DSS.
Speaking to the court after the videos were posted, AGF's s lawyer, Abdullah Abubakar, said there was no evidence before the court as to whether the blood seen in the video was human.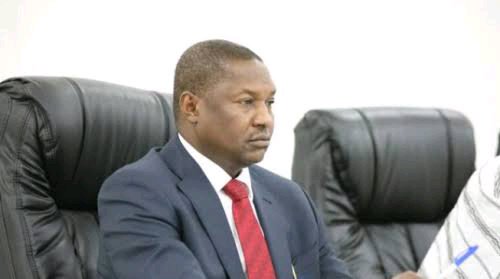 Abubakar added that there was nothing in the video to suggest that the intruded house belonged to Igboho or that the intrusion was related to the AGF.
READ: "How I Escaped From Kidnappers" – Widow Abducted With Sowore's Brother Recounts Ordeal
He, therefore, appealed to the court to dismiss any evidence with the dismissal of the petition filed. DSS's lawyer, Nurudeen, said it was imperative for veterinarians to confirm that the blood was human and not mage's. Akintola adjourned the case to September 27 for a verdict.
DO YOU HAVE ANYTHING YOU WANT TO TELL US ABOUT NIGERIA? CLICK HERE TO JOIN ESSENCE FORUM AND SHARE YOUR TOPICS WITH OVER 4000 MEMBERS.
WATCH MORE NEWS ON OUR YOUTUBE CHANNEL CLICK HERE TO SUBSCRIBE
DSS AND MALAMI IN TROUBLE After High Court Approved To Verify CCTV Footage Of Igboho's Residence Attack.
Professional freelancer and webmaster.
From Toktok9ja Media
The views expressed in this article are the writer's opinion, they do not reflect the views of the Publisher of TOKTOK9JA MEDIA. Please report any fake news, misinformation, or defamatory statements to toktok9ja@gmail.com