Fake Nigerian Army Officers Confess On How They Pour Acid On Their Victims
2 min read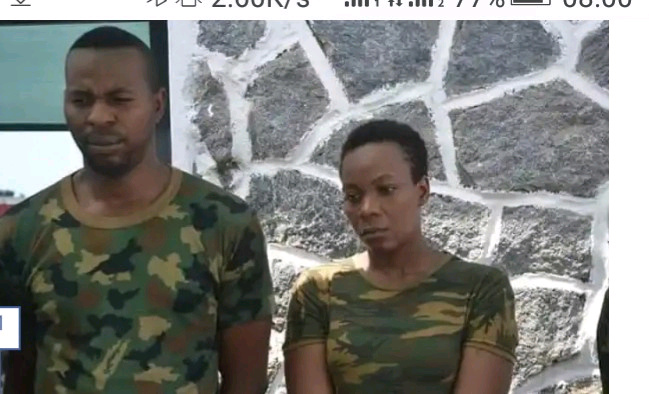 Fake Nigerian Army Officers Confess On How They Pour Acid On Their Victims.
Still, in the quest to wipe out arm robbery in the country, the Nigerian Army has arrested and paraded seven suspects for impersonating military officers and perpetrating criminal activities in Lagos State.
READ: 3 Yahoo Boys Caught While Trying to Sacrifice A Young Girl For Money Ritual In Edo

The arrest was made by the General Officer Commanding, 81 Division, Major General Olubunmi Irefin, at the Division's Headquarters after intelligence reports were given to him about their alleged criminal activities.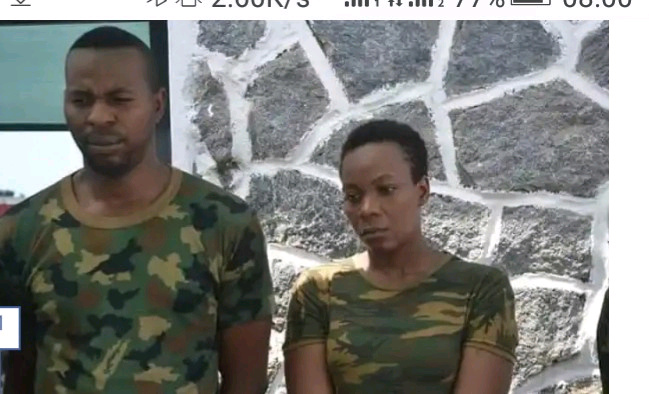 The arrests were made in different areas of Lagos, Agbara, Okoko- Maiko, Badagry, and Sango part of Surulere.
The army commander said that the suspects were arrested when the Division embarked on " Operation Checkmate", to check the activities of some of their personnel, imposters and enforce discipline during the Lockdown period.
READ: Remember The Husband and Wife That Were Killed In Front Of Their Children? See Their Killers
Operation Checkmate according to the army commander is a routine activity in the 81 Division Area of Responsibility to checkmate some personnel, impostors and enforce discipline to the division.
According to the army commander, these suspects were arrested after series of reports was given to the division of their criminal activity and impersonating the Nigerian army, these fake army men have caused a lot of harm in all part of Lagos State, by Robbing a kidnapping people, shooting people Unecessaryly and forcing people to do all manner of things.
After their arrest, they made serious confession of how they pour acid on their victims each time they finish Robbing them.
The army commander debunks the act done by these fake army officers and warned the entire public to be very careful of the people they allowed into their houses all in the name of army men.
READ: This Man Had A Bike Accident, See What Fell Off From His Pocket That Made People Beat Him To Death

The suspects when interviewed told newsmen how they got their uniforms and the guns they used for their operation.
According to the suspects, most of the army uniforms they use were gotten from retired army officers, who are no longer on duty, while some were bought in the army barracks.

The army commander has promised that the suspects will be charged to court once investigations are concluded.
DO YOU HAVE ANY NEWS YOU WANT TO REPORT? CLICK HERE TO REGISTER AND SUBMIT YOUR NEWS FOR PUBLICATION ON TOKTOK9JA
WATCH MORE NEWS ON OUR YOUTUBE CHANNEL CLICK HERE TO SUBSCRIBE
Professional freelancer and webmaster.
From Toktok9ja Media
The views expressed in this article are the writer's opinion, they do not reflect the views of the Publisher of TOKTOK9JA MEDIA. Please report any fake news, misinformation, or defamatory statements to toktok9ja@gmail.com