How I Prevent My Husband From Contacting HIV From Me – Nurse Shares Shocking Revelation
How I Prevent My Husband From Contacting HIV From Me – Nurse Shares Shocking Revelation.
A South African woman living with HIV has taken to social media to reveal how she has been keeping her husband stay safe from the virus. 
Angela Motsusi who is a nurse said HIV patients who take their ARVs daily, attend all clinic appointments, and do blood checks as scheduled are safe to have s3x with a negative partner.
The health worker wrote on her Facebook page:
"Living testimonies of #UequalsU, it's simple really, if you are HIV positive, take your ARVs daily and attend all your clinic appointments and do blood checks as scheduled, by taking your treatment every day you will be virally suppressed and with a sustained, suppressed viral load you CANNOT s3xually transmit HIV to your partner, I am positive and he is negative."
Facebook users took to the comment section of the post to share their thoughts.
Sphiwe Stunnar Ntuli KaGodide wrote: "This works when there is honesty and not hide your status if you test negative meanwhile you have HIV. There are some ppl who would hide it and just show u the negative results."
Dominic Thebe Rankoe commented: "If you are HIV positive and you take your treatment as prescribed and your viral load is undetectable, it means that there is no virus in your blood of bodily fluids, so, you cannot transmit the virus to anyone else. That is the ultimate aim of taking ARVs. The stories of people on treatment, infecting others with HIV or people dying while on treatment, is simply because they were not taking their treatment properly."
Mbali Hlatshwayo wrote: "I understand your intentions with this post but I just feel like it is extremely irresponsible coming from a healthcare worker. Your post mentions nothing about using protection so I am assuming you're telling people to not use it since the virus is undetected? The virus being undetected doesn't mean it's gone. It just means your immune system is high but the virus will eventually resurface. Your man could also be a carrier and that is why tests show negative. We don't know. Please encourage people to take their ARV's AND use protection.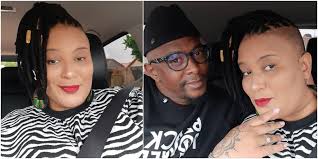 " Obakeng Difeto commented: "I didn't know, thank you for teaching us, but it's too risky hey." In news, a beautiful woman named Mancobeni Makhwayi recently took to Facebook with a highly inspirational story. In her ImStaying post, Mancobeni shared how she has been living healthily despite being HIV positive for 22 years.
In her touching post, she also shared that she is a single mother of three healthy beautiful boys.
She also stated that she is a rape survivor, adding that she believes that God has played a big part in her life.
In her words: "I've seen the hand of God in my life. Rape survivor. Been HIV positive for the past 22 years. On medication for 5 years. Single mother of 3 handsome boys. Nam #Imstaying."
Join the conversation by dropping your opinion in the comment box.
Sure our families are keeping safe. Something someone sent to me that looks nice to be shared:
"While I was admitted some months back at the hospital, something happened and it thought me a valuable lesson I was going to hold onto for a long time.
She told me she had brought no cups along with her and she needed a cup she could use to bath her husband when he finally wakes up from sleep. She asked if I had any cup available to give her.
I told her I had brought none. The one I brought had been taken home. I do not use cups to pour water on my body. I used my hands. But she could make use of the cup on my water flask if she chose to.
She asked if I was okay with it, and I told her it was fine…CLICK HERE TO CONTINUE READING
DO YOU HAVE ANY NEWS YOU WANT TO REPORT? CLICK HERE TO REGISTER AND SUBMIT YOUR NEWS FOR PUBLICATION ON TOKTOK9JA
WATCH MORE NEWS ON OUR YOUTUBE CHANNEL CLIKC HERE TO SUBSCRIBE
Professional freelancer and webmaster.
From Toktok9ja Media
The views expressed in this article are the writer's opinion, they do not reflect the views of the Publisher of TOKTOK9JA MEDIA. Please report any fake news, misinformation, or defamatory statements to toktok9ja@gmail.com