Meet Young Rising Star Photographer – Daniel the Creator
3 min read
Nigerian youths are known to be talented and hardworking even though some people label them "Lazy youths". The case of fast rising photographer Daniel Nwagu popularly known on social media as "Daniel the creator" is not different, yet what captivated our interest is his combination of poetry, drawings and photography in expressing art.
Toktok9ja gathered that Daniel the Creator is a graduate of computer engineering from Covenant University. His passion for art and nature diverted his career of computer engineering to creating artistry piece.
Daniel's magnificent artwork has gained him spotlight on the net with over 30k followers on Instagram and 12k on Twitter.
Wow, who says you can't be whatever you dream? All you need is to discover the real you inside.
UNAFRAID

For justice and country

shot by me pic.twitter.com/qPQbPqYDcD

— Daniel the creator (@daniel_nwagu) September 6, 2018
In an exclusive chat with Toktok9ja, Daniel reveals some secrets and unanswered questions from fans.
How did you start your career and became this famous?
(Smiles) Well, I started as 'Daniel the photographer', I love photography so much, along the line I discovered I could do other things alongside photography which was my first love, so I thought of a name that would encompass the other things I do and 'Daniel the Creator' came to mind.
What other things do you do apart from photography?
I do a lot of things, I do web design, codding and a whole lots of computer stuffs, but my passion is art so I focus more on poetry, drawing and photography.
I also do video editing at my spare time.
Who inspires you in photography?  
TY Bello, I love her works and concept.
How long have you been in art business?
Three years now
Some of your fans say you're black American is this true?
(Long Laughter) No, I'm 100% 9ja, from Enugu state, Nkanu Local Government Area to be precise.
Do you have a girlfriend?
No I'm officially single.
Who was your secondary school crush and why?

I will say 'Chi Amaka', she was intelligent, I think the most intelligent girl then.
Who is your female celebrity crush?
Simi and Rihanna
What are the two brands you want to work with in the nearest future?
The first will definitely be Marvel, I love their works, I'm inspired by their comics, and secondly I would say Unicef, I am passionate about helping people so I will surely want to work with Unicef.
What is your favorite food?
Pounded yam and vegetable soup
What is the one job you wouldn't do?

That will be to teach or lecture in high institutions.
Describe yourself in a sentence
I am Passionate and driven, I put all efforts to achieve excellence.
What are your hobbies?
I have so many hobbies, 'hmmm', ok, let me mention a few, playing games, writing poetry, drawing, and reading books most times history books.

What is your favourite quote?
I don't want to own the whole world; I just want to contribute my quota
What is your advice to the youths who want to follow your footsteps?
Follow what drives you and don't try to be like anyone else, someone said a fish judged by its ability to climb trees will always be a failure.
So there you have it, ladies, you can throw you net, who knows you might catch a big fish, 'just saying'…
Follow Daniel the Creator
 @danielthecreator._
@daniel_nwagu
Some Artistic Creation by Daniel
PHOTOGRAPHY
DRAWINGS
POETRY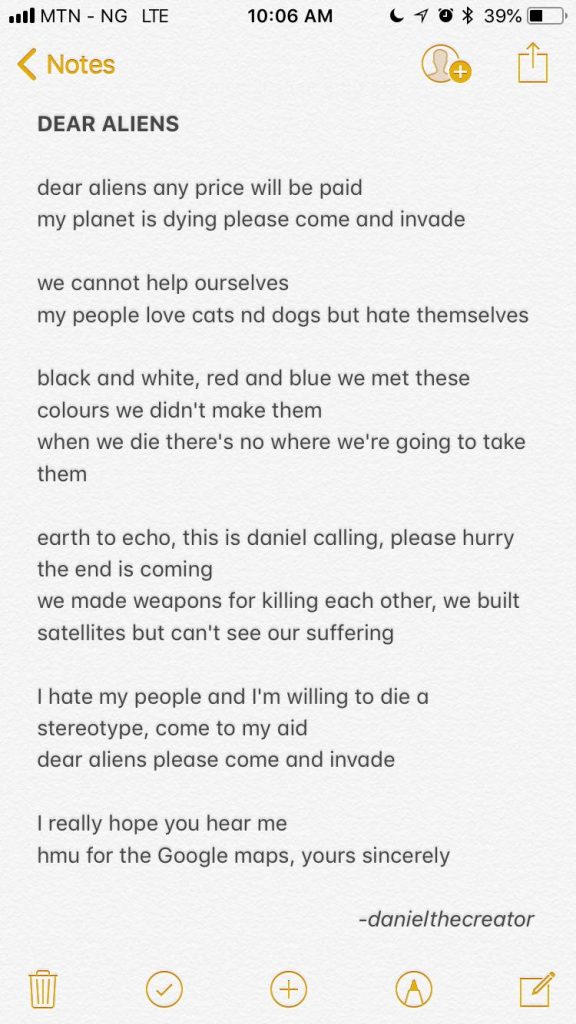 Professional freelancer and webmaster.
From Toktok9ja Media
The views expressed in this article are the writer's opinion, they do not reflect the views of the Publisher of TOKTOK9JA MEDIA. Please report any fake news, misinformation, or defamatory statements to toktok9ja@gmail.com