Mobility with Attitude (MWA) – Check out the Top 10 Futuristic Cars At Geneva Motor Show 2018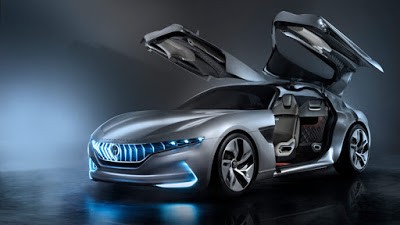 Every year the Geneva Motor Show plays host to the most extravagant car designs the world has seen, from global automotive giants to small supercar shops.
Traditionally a trade fair for the supercars from the likes of Ferrari, Mclaren and more, a higher number of super-tech cars have also been receiving their world premiers at the show in recent years. For the Geneva Motor Show 2018, this trend has increased even further, and as such, we present to you some concept cars to watch out for.
1 – Icona Nucleus
Defined as 'the ultimate self-driving living room', the autonomous Icona 'Nucleus' follows the 'Neo' concept to truly present the future of mobility. The 5.25 meter long and 2.12-meter wide vehicle does so through a focus on futurism and a human-centered mindset. As such, it shows a new understanding of interior spaces, as the passenger focus is no longer on the road but on the destination. The fluid and sculptural exterior form feature semi-transparent body-color panels that allow occupants to see out, while offering privacy, much like a protective bubble.
2 – AUDI, Italdesign and Airbus' pop-up next
AUDI, Italdesign, and airbus present the 'pop.up next' concept – a hybrid vehicle that blends a self-driving car and passenger drone with an aim to solve traffic problems in cities. The all-electric concept promises horizontal and vertical mobility, where an ultra-light, two-seater passenger cabin can be attached either to a car or flight module. in the distant future, it could transport people in cities quickly and conveniently, both on the road and in the air.
3 – Pininfarina HK GT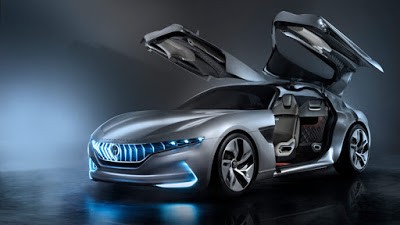 Together with the hybrid kinetic group – a hi-tech brand based in Hong Kong – the Pininfarina 'HK GT' car is a modern interpretation of the classic architecture of the Gran Turismo. the design is distinctive with a magnetic allure, which is most significantly created through the chromed slats of the grille that open like petals to frame the headlights. furthermore, the vehicle expresses a style of sensuality, power and above all else, elegance. this is characterized by a long, sculpted bonnet of voluptuous volumes and soft surfaces that, with a slightly curved line extending across the body, gently slopes to the rear.
4 – Renault EZ-GO
As a shared, electric, driverless vehicle, the Renault 'EZ-GO' concept is called a 'Robo-vehicle' that, by driving around town and the surrounding areas, transports up to six passengers simultaneously. As a service as well as an actual vehicle, it becomes part of the smart city ecosystem. The concept provides an on-demand mobility solution via instant booking on an app, and even has a dedicated embarking station, which blends in with the urban environment.
5 – Lagonda vision concept
Revived under the famed British brand, Aston Martin, the Lagonda 'vision' concept is a dark and mysterious reassertion of refinement, where, paradoxically, it is styled in a combination of subtly and boldness. Softly smoothed surfaces and sharp lines sculpt its exterior, with an uninterrupted window flowing from the front all the way to the rear. Continuing this sense of modest luxury in the interior, the space, like an upscale yacht, uses materials consisting of British wools, silks, and cashmere.
6 – Volkswagen I.D.VIZZION
Alongside the original 'I.D', the 'I.D. cross' and the 'I.D. buzz', the premium class Volkswagen 'I.D. VIZZION' saloon completes the 'I.D. family' – a range of conceptual electric vehicles set to enter production in 2020. With an abundance of high-tech, the vehicle drives autonomously, is operated by voice and gesture control, and enhances artificial intelligence. This is housed within a fluid and monolithic architecture that is said to be representative of progressive electricity, as well as an 'open space' interior that offers more personal freedom for your travels.
7 – BMW Concept M8 Gran Coupe
Detailing a new, polarising definition of sportiness and luxury, the BMW 'Concept M8 Gran Coupe' showcases a four-door edition of the 'concept 8 series'. However, significantly, the vehicle offers much more, as illustrated by its letter 'M'. With an exterior of expressive surfaces that emphasize its dynamism, the car's styling starts at its striking front, where a muscular modeled bonnet meets the golden framed double kidney grille. The rear halts the flowing roofline and completes its sporty silhouette with a fin form.
8 – Hyundai Le Fil Rouge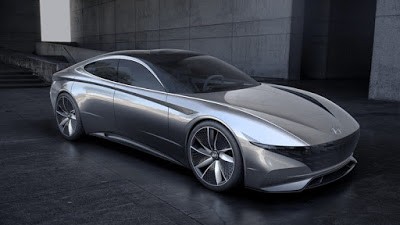 Dubbed 'Le Fil Rouge', Hyundai's new design concept heralds the beginning of a new era for the brand's direction with a sensuous and defining sportiness theme. proportion, architecture, styling, and technology are harmonized while creating a distinctive look with plenty of charisma. The dynamic exterior and interior are smoothly merged by the 'tube architecture', which extends the sporty shapes to the inside of the car.
9 – PAL-V liberty
Shown at the Geneva motor show 2018, as well as the 14th edition of top marques – Monaco's supercar show – the PAL-V 'liberty' is a road-legal and sky-soaring flying car. Described as 'a car that flies, a plane that drives', the vehicle does not exceed the dimensions of a regular one, perfectly blending itself within everyday road traffic but also offering a new level of mobility. It hovers up above the ground using a wind-powered rotor that sources the principles of gyroplanes in order to provide a safe and easy take-off.
10 – Zenvo TSR-S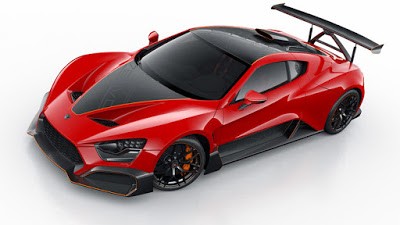 The new Zenvo 'TSR-S' truly progresses high-performance street cars to the very near future. with an in-house developed twin supercharged V8 engine, the racetrack pedigree model combines its on-road capabilities with exclusivity – only five editions will be made annually. Every detail of its strikingly sculpted exterior is shaped to aid its aerodynamics, with additional pieces crafted from carbon fiber. These refinements are etched with charismatic characters that evoke expressions of racing, power, and personality.
Professional freelancer and webmaster.
From Toktok9ja Media
The views expressed in this article are the writer's opinion, they do not reflect the views of the Publisher of TOKTOK9JA MEDIA. Please report any fake news, misinformation, or defamatory statements to toktok9ja@gmail.com