Steps On How To Enable Split Screen Function On Your Android Devices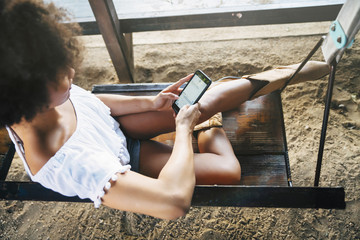 Split screen can be done or activated easily Android verson 7 and above without the use of any app or cheat. Split Screen is kinda fun when using it.
It allows you run two apps at the same time in the same screen. Enabling split screen will divide the screen of your phone into two equal halves and run two apps simultaneously. For example, you can be chatting on whatsapp and also watching movies on the same screen at thesame time. By reading this article will get to know how you can enable this feature on your Android devices.
Of course, it was a herculean task to achieve this on older Android versions but when Google released Android 6 Marshmallow, some smartphone brands like Samsung and Gionee started embedding the split screen features in some of their devices. (for instance, Gionee M6.)
More phone manufacturers embraced this feature when Android 7 was launched. Since then, the number of split screen smartphones has increased though there are still phones without this feature but there is a workaround to enable or activate it.
The Split screen function is also one of the most underrated functions on the nougat. This function is so important, it is also present on the latest Android 8.0 Oreo, but in a much more improved version.
Activating a split screen on an Android device running on Android 7.0 and above is so simple only if you know how to go about it, but an uphill task if you are a novice in that field. Here are some easy steps to activate and enjoy the function.
HOW TO ACTIVATE SPLIT SCREEN IN ANDROID 7+ DEVICES
1. Activating the "developer mode" On Your Phone. This is not really compulsory, but it would help you force some apps that were not designed to work with the split screen function to work by force. To do this go to Settings > About this device > Build number. Once you are there, click on Build number a few times until you get a notice saying you are now a developer.
2. Once in the developer mode, scroll down to the end of the page and enable the option that says "Force activities to be resizable". Once you do this, restart your device to activate the option. Once you have restarted your device, even those apps that aren't usually compatible with the split screen option will be able to run in split-screen mode.
3. Now to let your screen split, open more than one app on your phone(for instance launch your whatsapp app, minimize it and launch facebook also). While you are still chatting on your facebook, just long press your minimize button and wow you would see that your phone screen has been divided into two places.
Hope you'll understand? You can drop your comments below if you are facing any difficulties with this tutorial.
Professional freelancer and webmaster.
From Toktok9ja Media
The views expressed in this article are the writer's opinion, they do not reflect the views of the Publisher of TOKTOK9JA MEDIA. Please report any fake news, misinformation, or defamatory statements to toktok9ja@gmail.com