If The North Blocks Food Supplies To The South, You All Should Prepare To Drink Crude Oil As Food- Joe To FFK
If The North Blocks Food Supplies To The South, You All Should Prepare To Drink Crude Oil As Food- Joe To FFK.
One of the Leaders of the Igbos in Lagos and an All Progressive Congress Party Chieftain, Joe Igbokwe, has replied to the former Minister of Aviation, Chief Femi Fani Kayode over his statement that if the north blocks food supplies to the south, the south will block the supply of oil, refined product and oil money to the north.
READ: Shameful: Autopsy Report Revealed What Really Killed Corper Ifeoma Who Died In Police Custody
Joe Igbokwe said on his Facebook page that SMALL, SMALL WE WILL UNDERSTAND THAT NORTH CANNOT BE IGNORED. LET US PREPARE TO DRINK CRUDE OIL AS FOOD. This statement of Joe Igbokwe sparked reactions among his followers as follows.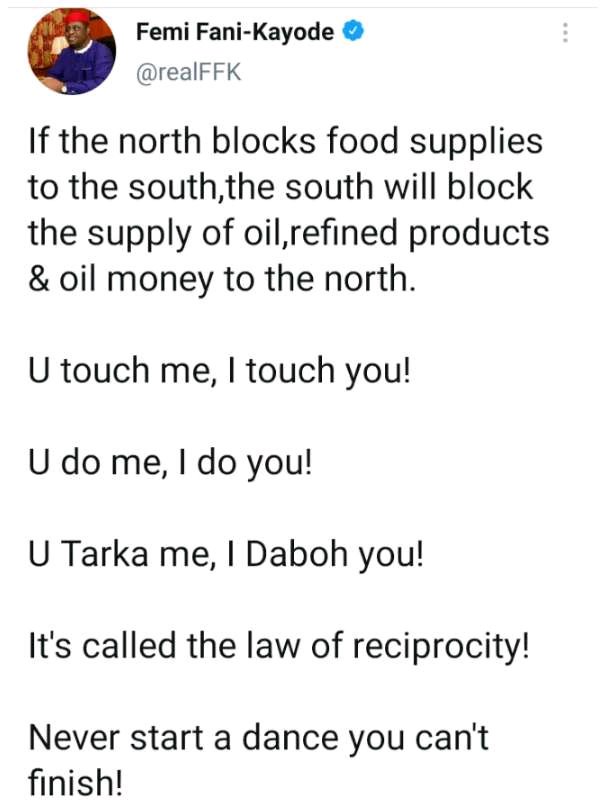 It is imperative that we all know as Nigerians that we are together and will benefit each other as we are together than if we are divided. All regions in the country have peculiar resources that God the Almighty has blessed them with and can sustain the region.
READ: Wonder Shall Never End! Fulani Herdsmen Intercepted At Onitsha, See The Shocking Items That Were Allegedly Recovered From Them (Video)
For example, the North is blessed with abundant crops and animals. They have lands that can be cultivated for food throughout the year and have the human resources to manage these crops' cultivation which is benefited by everybody in the country and neighboring countries such as Cameroon, Niger, Chad, and others. If the North separates from the South, there will be a scarcity of food commodities and if available, they will be costly and will not be easily affordable for people.
The South also has oil, most especially Crude Oil, where the whole of the country gets 65% of its internally generated revenue, and 88% of Nigeria's foreign exchange earning, even though the sector is less than 10% of the country's GDP. The proceeds from these oils are distributed as allocations among all tiers of government in Nigeria. So if the South decides to separate as well, some States in the country won't be able to survive.
What do you think about Joe Igbokwe' s reply? Share your views with us in the comments section.
DO YOU HAVE ANY NEWS YOU WANT TO REPORT? CLICK HERE TO REGISTER AND SUBMIT YOUR NEWS FOR PUBLICATION ON TOKTOK9JA
WATCH MORE NEWS ON OUR YOUTUBE CHANNEL CLICK HERE TO SUBSCRIBE
Professional freelancer and webmaster.
From Toktok9ja Media
The views expressed in this article are the writer's opinion, they do not reflect the views of the Publisher of TOKTOK9JA MEDIA. Please report any fake news, misinformation, or defamatory statements to toktok9ja@gmail.com