See The Woman Caught Having Carnal Knowledge of A 13- Years- Old Boy, She Said "He Asked For It"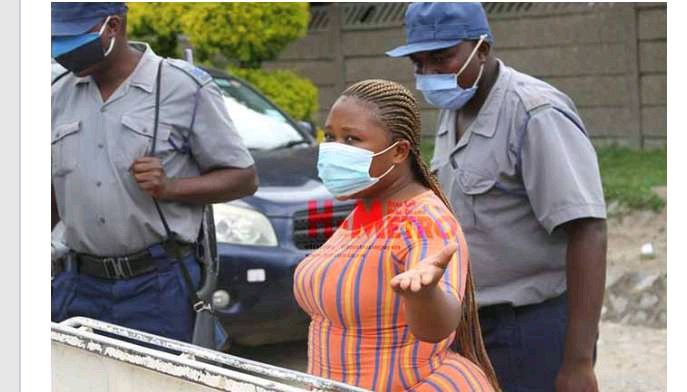 See The Woman Caught Having Carnal Knowledge of A 13- Years- Old Boy, She Said "He Asked For It.
There is a popular saying in our Yoruba Culture in Nigeria that: "Do not eat a frog. In any case, if you must eat a frog, make sure it has an egg. So when people see you eating a frog, you can tell them it is because it has an egg."
READ: Wonder Shall Never End! Fulani Herdsmen Intercepted At Onitsha, See The Shocking Items That Were Allegedly Recovered From Them (Video)
That would serve as an excuse to indulge in such an abominable act. In other words, have a perfect excuse ready before you do any illicit act.
However, a certain Zimbabwean woman does not think the same. She had an excuse to indulge in an illicit act, but a flimsy one.
The yet to properly identify Zimbabwean woman was caught red-handed sleeping with a minor– a 13- years- old boy.
READ: Unbelievable! Governor Hope Uzodinma Finally Reveals Why He Is Destroying Rochas Okorocha's Properties
The incident reportedly happened in Houghton Park, Greendale, a local community in Zimbabwe. She was caught by the mother of the teenage boy right in their home. Who she was or how she met the innocent boy is not yet known. But what we know for sure, for now, is that she is going to be prosecuted for having carnal knowledge of the young boy.
Although, the curvy woman claimed that the young boy consented to the s*x. She even claimed that the 13- year- an old boy called her to their home to bed with him. She said all these during her arrest by the police
According to Zimbabwe's local online media platform H- Metro, she said: " What did I do wrong and how did I know his house if he hadn't called me? We had protected s*x and I do not see any reason why I can be treated like a thief or robber".
READ: Shameful: Autopsy Report Revealed What Really Killed Corper Ifeoma Who Died In Police Custody
But in a real sense, that argument cannot be admissible in the eyes of the law. The young boy is a minor. Such age cannot validly give consent to anything in the eye of the law. Even If the boy truly requested for such under any circumstances, the adult woman must decline such ill-conceived requests. That is what is expected of her. But she did otherwise.
What do you think? Does she have a good excuse?
DO YOU HAVE ANY NEWS YOU WANT TO REPORT? CLICK HERE TO REGISTER AND SUBMIT YOUR NEWS FOR PUBLICATION ON TOKTOK9JA
WATCH MORE NEWS ON OUR YOUTUBE CHANNEL CLICK HERE TO SUBSCRIBE
Professional freelancer and webmaster.
From Toktok9ja Media
The views expressed in this article are the writer's opinion, they do not reflect the views of the Publisher of TOKTOK9JA MEDIA. Please report any fake news, misinformation, or defamatory statements to toktok9ja@gmail.com