Meet The Only Nigerian Pilot That Flew Two United States Presidents
3 min read
Meet The Only Nigerian Pilot That Flew Two United States Presidents.
Nigeria in recent years has produced quite a number of professional pilots, but none of them had been able to fly the President of the United States of America except for one man.
His name is late Air Marshal Alex Badeh.
He was said to have a being one of the very best pilots Nigeria had ever produced.
He was said to have always been chosen several times to fly prominent world leaders on their missions to Africa.
READ: Russian Teenage Girl Who Became Pregnant at 13 Reveals She's Pregnant Again For the Second Time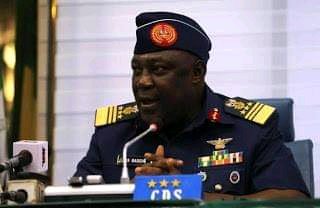 On the 3rd day of January 1977, Alex Badeh, was admitted into the Nigerian Defense Academy.
In the year 1979, he was said to have started his flying career at the Bulldog Primary Trainer Aircraft.
Out of youthful exuberance, he was said to have at a point took the risk of shutting down an engine of an aircraft, mid-air, ten thousand (10, 000) to Kizama Hill in Cajuna, and only turned on the engine a few seconds before hitting the surface.
READ: Memory Lane! How Beauty Queen Was Sentenced to Death for Stabbing Her Boyfriend 25 Times!
He was ones the commander of the President' s fleet during the leadership of President Olusegun Obasanjo.
After extensive investigations by the US Secret Service, he was said to have flown both former Presidents of the United States Bill Clinton and Jimmy Carter on two separate missions.
READ: Alleged INEC CONSPIRACY – Former Presidential Candidate Nsehe Nseobong Exposes INEC (VIDEO)
READ: 7 Famous Criminals That Were Put to Death by Electrocution and Their Last Wishes
When the flight of late United Nations General, Kofi Annan, had an issue from Accra- London, it was Alex Badeh who was said to have saved it and landed it.
Kofi Annan was said to be very thankful and had given Alex Badeh an autographed pen.
On the 3rd day of June 2008, he was promoted to the post of Air Vice Marshal.
From the year 2008 to 2009, he was the directing staff of the national defense college Abuja.
He later became the Director of that same school.
He was later made the Air Chief Marshal.
He held the post till July 13, 2015, until he was relieved by Mohammedu Buhari.
Furthermore, he was assassinated a month to his 62nd birthday anniversary while on his way back from a farm in Abuja.
He still remains one of Nigeria's greatest heroes.
DO YOU HAVE ANY NEWS YOU WANT TO REPORT? CLICK HERE TO REGISTER AND SUBMIT YOUR NEWS FOR PUBLICATION ON TOKTOK9JA
WATCH MORE NEWS ON OUR YOUTUBE CHANNEL CLICK HERE TO SUBSCRIBE
Professional freelancer and webmaster.
From Toktok9ja Media
The views expressed in this article are the writer's opinion, they do not reflect the views of the Publisher of TOKTOK9JA MEDIA. Please report any fake news, misinformation, or defamatory statements to toktok9ja@gmail.com