See the 5 Foods You Need To Avoid Before Going To Bed
See the 5 Foods You Need To Avoid Before Going To Bed.
Hold on a second before you eat that handful of pounded yam, there is some food you shouldn't eat late, read on to know how to eat the right food at night.
Eating regularly is essential, but it is unfair that we can't just eat what we like any time thinking it doesn't matter. It is sensible to eat the proper way to avoid gaining unnecessary weight especially the ladies.
Moving on, it is important for us to understand the proper food to consume at all times of the day which is the bone of contention of this article.
Eating late at night does not cause you to gain weight because you ate late; rather it is the calorie content of these meals that causes you to gain weight.
READ: 5 Reasons Why Doctors Advise Women Not To Wear Pant
Here are some high calorie food you should stop eating at night.
READ: Don't Use This Ingredient to Cook Beans If You Want to Live Long
1. Bread is high in starch and sugar, which causes your blood sugar to increase, causing your energy levels to rise and disrupting your sleep. There's also a possibility that you'll wake up hungry a few hours later or in the morning as a result of the sugar-induced insulin overproduction.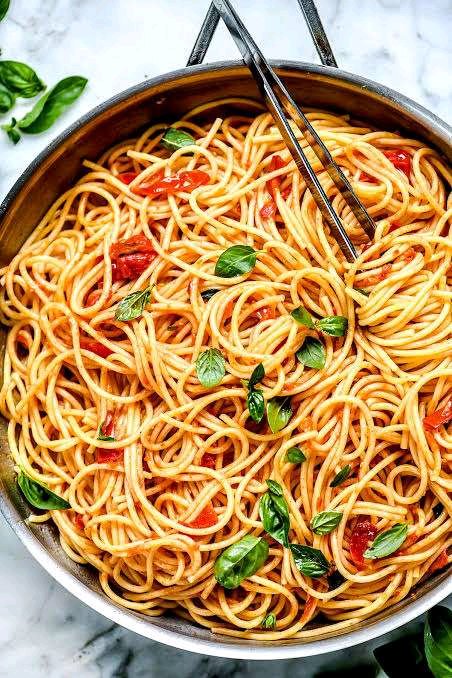 2. Pasta
The problem with eating pasta late at night is that it's such a high-fat meal that you'll definitely gain weight while sleeping. Pasta's carbohydrates easily transform to fat, so if you're trying to eat healthy at night, avoid it.
READ: Take Note: Your Sugar Level is High If You Notice These 7 Signs
3. Fritters
Fried foods are high in calories and fat, and they also weigh on your stomach and take a long time to digest, making you exhausted and slow in the morning due to the oil content. Aside from that, they cause heartburn.
4. Sugary foods such as chocolate and other sweets
Chocolate isn't designed to fill your stomach, so it might not make you gain weight, but rather, it's your teeth that it will affect. Foods that are high in sugar have the same impact as foods that are high in energy. Avoid eating too much chocolate especially at night to save your teeth.
READ: 10 Causes of Boil in Private Part and How to Treat It
5. Pounded Yam
It only makes sense to reward your efforts with a befitting, hefty, and honorable pounded yam, the king of all meals, at the end of a long day's work.
Pounded yam, like any other energy- giving food, is best consumed in the afternoon, when you need maximum energy for your daily activities. Having this meal late at night isn' t a good idea since it not only makes you feel bloated, but it often absorbs all of the energy the food is meant to release into fats and retains them in the adipose tissue for later usage, causing you to gain weight.
If you continue to gain weight, you run the risk of being overweight or obese, which is not good for you.
Hope this helps someone out there.
DO YOU HAVE ANY NEWS YOU WANT TO REPORT? CLICK HERE TO REGISTER AND SUBMIT YOUR NEWS FOR PUBLICATION ON TOKTOK9JA
WATCH MORE NEWS ON OUR YOUTUBE CHANNEL CLICK HERE TO SUBSCRIBE
Professional freelancer and webmaster.
From Toktok9ja Media
The views expressed in this article are the writer's opinion, they do not reflect the views of the Publisher of TOKTOK9JA MEDIA. Please report any fake news, misinformation, or defamatory statements to toktok9ja@gmail.com