Trending Photos of Chrisland School Girl's Mother Makes Headline
Trending Photos of Chrisland School Girl's Mother Makes Headline.
As the story of Chrisland school girl gets more interesting and twisted every second, some new photos of her converened mum have made headlines.
You know it's our duty to keep you up to date as events unfolds and this is just another turn in the story and Nigerians are indeed asking questions regarding the role her mother played in the whole scenario.
READ: "Can Rita Dominic's Husband Pay My Sister the ₦700k He's Owing Her?" Twitter User Calls Out Actress Husband – Fidelis Anosike
Let's dive into details…
New photos of Chrisland school girl's mother dressed in smart outfits have made their way online, and Nigerians are confused if the said mother was pretending in her video about the alleged r@p3.
Recall the mother made a 13 minutes video alleging her daughter was r@p3d during a Dubia tour organized by the school.
READ: Viral Video of Zambian Girl Allegedly Kidnapped Drops Online
In the video, she dresses in a modest way wearing traditional native attire covering all of her body which portrays her to be a decent mother.
However, in the new photos that are making headlines, she was seen dressed in a more fashionable and experienced manner. If you know what we mean.
Now the question on everyone's lips is that was she deceiving us to believe she was a decent woman just to get the pity of Nigerians and win the hearts of many?
READ: How to Activate Parental Control Feature on Android Phones for Children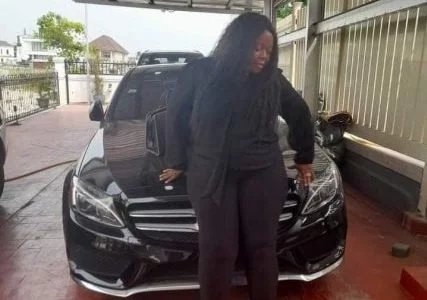 We are not taking sides, at this point the story is really getting more twisted and it's our duty to analyze all sides and allow your to decide what you think is true.
Also recently we brought you another side of the story which was the age of her daughter who was allegedly r@p3d.
The mother said she was 10 years old, but in her daughter's chat with her fan on Likee where she posted her videos, she admitted she was turning 14 in March of that same year.
This chat was two years ago which means on March this year she would have turned 16.
You can see all the twists in the story.
The Nigeria police have issued a statement and the investigation is ongoing as we speak. Let's see how events turn out.
That's all we can take in this update, leave us a comment on what you think but this new development.
We will be happy to hear your thoughts on this.
You can watch her video using the following links:
CLICK HERE TO SUBSCRIBE TO OUR YOUTUBE CHANNEL AND WATCH IT
CLICK HERE TO SUBSCRIBE TO OUR TELEGRAM CHANNEL AND WATCH IT
CLICK HERE TO FOLLOW OUR INSTAGRAM CHANNEL AND WATCH THE VIDEO
DO YOU HAVE ANYTHING YOU WANT TO TELL US ABOUT NIGERIA? CLICK HERE TO JOIN ESSENCE FORUM AND SHARE YOUR TOPICS WITH OVER 4000 MEMBERS.
WATCH MORE NEWS ON OUR YOUTUBE CHANNEL CLICK HERE TO SUBSCRIBE
Professional freelancer and webmaster.
From Toktok9ja Media
The views expressed in this article are the writer's opinion, they do not reflect the views of the Publisher of TOKTOK9JA MEDIA. Please report any fake news, misinformation, or defamatory statements to toktok9ja@gmail.com