Controversial Pastor Odumeje A.K.A "Idaboski" Arrested By The Police, What He Did Will Shock You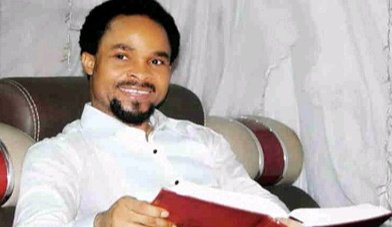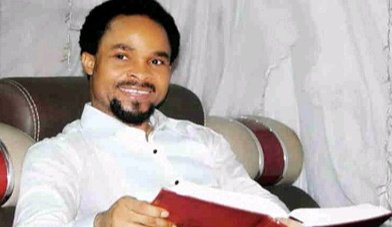 Controversial Pastor Odumeje A.K.A "Idaboski" Arrested By The Police, What He Did Will Shock You.
In the midst of the coronavirus lockdown, a controversial Pastor who refers to himself as the Indaboske Bahose sprung out and got into popularity so fast.
The Pastor whose real name is Chukwuemeka Ohanaemere – Odumeje found a way to build popularity through his controversial Pastoral style.
JUST IN: Odumeje A.K.A "Idaboski Be@ten Black-Blue and Arrested For Attempting To Stop Taskforce From Demolishing His Church
For obvious reasons, people had reservations against him and it got so heated that he was invited for questioning by the police. The Pastor however didn't honour the invitation and the police were forced to arrest him.
Part of the allegations that were levelled against him ranged from, Malicious Broadcasts, Hate Speech, Incitement and Highly Offensive and Provocative Conduct Leading to Imminent Breach of Peace.
READ: Video Of A 16-Year-Old Boy Who Raped A 53-Year-Old Woman To Death Has Gone Viral On Social Media- See For Yourself
However, the main reason he was arrested was that he was accused of burying something in front of his church and that he even performed a little ritual by walking around the church several times.
READ: DANGER ALERT! After 19 Fulanis Were Killed In Anambra, See What Fani- Kayode Said About It
People were quick to believe that he could actually be doing rituals because it was rumoured that his wife, Uju is actually the daughter of another Anambra controversial prophet, Eddy Nawgu who was killed by Bakassi boys over allegations of ritual killings.
Apart from this, the Human Rights Writers Association of Nigeria (HURIWA), had, through a written statement urged the governor of the Central Bank of Nigeria, Godwin Emefiele, to order the immediate arrest of the pastor. According to them, he abused the national currency in public.
READ: Video of Older Women Tw3rking Their Big A$$ In Church Surface Online [Watch Now]
The statement they wrote reads in part;
"We have watched with disappointments as this self-professed prophet Odumuje kept abusing and defacing the national currency and both the Police and the CBN have failed for many months to stamp their authorities and prosecute these serial abusers of the national currency,"the statement reads.
"We ask the CBN to ensure that that the legal provisions that should have protected the naira notes from abuse which are today being observed more in the breach than in compliance should be reversed.
READ: REVEALED!!! How ESN Commander, Ikonso's Friend, Others Allegedly Gave Nigerian Army Information That Helpe
"It is true as observed recently by a patriotic citizen that quite disappointingly, CBN and the security agencies have had their eyes glue-closed while the nation and its inhabitants suffer from preventable abuses of the national currency."
"Just as we reaffirm and re-echo the fact as stated by an observer that as it were, the law against abuse of naira has been in place for over a decade, yet the CBN is still at the stage of "awareness creation" and "sensitization" of the citizens whereas religious houses are openly celebrating the abuses of the national currency which is a legal tender that ought to be respected by the citizens and everyone in Nigeria."
READ: Babajide Kolade Otitoju Reveals That Sunday Igboho, Nnamdi Kanu And Shekau Are Non- State Actors
Pastor Odumeje could actually be sued because they is a CBN law that states that dancing or matching on the Naira or any note issued by the Bank (CBN) during social occasions or otherwise howsoever shall constitute abuse and defacing of the Naira or such note and shall be punishable under Sub-section 1 of this section."
READ: 23 Things to Do To Keep Your Husband Under the Control of Your Love
Well, none of these allegations seemed to have a hold on the Pastor as he is still doing his thing.
DO YOU HAVE ANY NEWS YOU WANT TO REPORT? CLICK HERE TO REGISTER AND SUBMIT YOUR NEWS FOR PUBLICATION ON TOKTOK9JA
WATCH MORE NEWS ON OUR YOUTUBE CHANNEL CLICK HERE TO SUBSCRIBE
Professional freelancer and webmaster.
From Toktok9ja Media
The views expressed in this article are the writer's opinion, they do not reflect the views of the Publisher of TOKTOK9JA MEDIA. Please report any fake news, misinformation, or defamatory statements to toktok9ja@gmail.com