ENDTIME: See The White Garment Church That Was Sealed After Pastors Were Caught Doing JUJU
ENDTIME: See The White Garment Church That Was Sealed After Pastors Were Caught Doing JUJU.
Four branches of the Cherubim and Seraphim Church (C&S) in Ondo State have been sealed after the presiding pastors were allegedly caught engaging in fetish activities.
President of Ondo State Unification of Leaders of C&S, Primate Ade Ademisokun-Turton, who disclosed this at a press briefing, said the churches were sealed to bar the pastors from tarnishing the image of the church.
READ: JUJU Man Who Asked Two Ghanaian Yahoo Boys To Bring Human Part For Money Rituals Finally Arrested
Primate Ademisokun-Turton said leaders of the C&S have settled their differences and now united as a body.
Speaking on his installation as Baba Alakoso of Unification of Leaders of C&S, he said his Deputy, seven council of elders and three Baba Aladuras would also be installed.
He said, "Not too long ago, we sealed some churches and they remain sealed because they don't know anything about C&S, we are not going to take that anymore.
"Those who have accepted to be trained would be allowed to come in. We have sealed about four churches now because we have zero tolerance for fetish in C&S."
READ: Nnamdi Kanu Sends Strong Message To Dangote, Says He Is Nigeria's Biggest Problem
More News: CHAOS As Police Take Over Search For Missing Olu Of Warri Crowns
The search for two historical crowns said to have disappeared from the Olu of Warri Palace in the heat of the succession crisis in the kingdom has been taken over by the Zone 5 headquarters of the Nigeria Police Force in Asaba, Delta State.
READ: Eye Cult Confraternity Hitman Declared Wanted Finally Arrested In Lagos
Toktok9ja gathered that the Itsekiri nation is currently in a state of dilemma over the missing 410-year-old crowns and how it would affect the crowning of the Olu of Warri-designate, Omoba Tsola Emiko.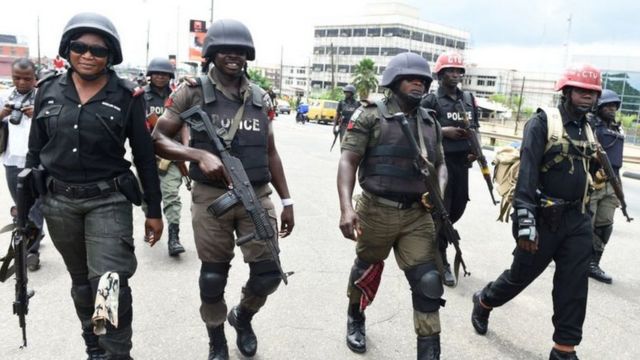 The crowns are a pair comprising diamond and silver for Ogiame (monarch) and his Olori (queen) respectively. They have been used by 14 past Olus since Ogiame Atuwatse (Dom Domingos) in the early 1600s.
The coronation of Emiko as the 21st Olu is scheduled for early July in Ode-Itsekiri, the ancestral home of the Itsekiri.
A source close to the Palace said: "We expect the crowns to be back before the coronation. Every Itsekiri son or daughter knows that the coronation (Oyoekoro) of an Olu without the crown is unthinkable."
He added that the missing crowns were reported first at the Warri Area Commander's office from where it was moved to Zone 5 headquarters.
Another source disclosed that one Isaac Dorsu led an Itsekiri team to the command headquarters on Wednesday seeking their involvement in the search for the crowns.
"It is true that the matter is now in the hands of the AIG (Zone 5). That is all I can tell you for now," he added.
An Itsekiri leader told our newsmen that the kingdom's leaders were willing to go to any length to ensure that the crowns were returned intact to the palace.
He said: "If you know anything about arts and artifacts, you will appreciate how priceless and important those crowns are. The values exceed money; they are items with historical, cultural, and heritage value. That they have been out of the palace for even a day is unthinkable. You know that the crowns got missing over a week ago.
DO YOU HAVE ANY NEWS YOU WANT TO REPORT? CLICK HERE TO REGISTER AND SUBMIT YOUR NEWS FOR PUBLICATION ON TOKTOK9JA
WATCH MORE NEWS ON OUR YOUTUBE CHANNEL CLICK HERE TO SUBSCRIBE
Professional freelancer and webmaster.
From Toktok9ja Media
The views expressed in this article are the writer's opinion, they do not reflect the views of the Publisher of TOKTOK9JA MEDIA. Please report any fake news, misinformation, or defamatory statements to toktok9ja@gmail.com