Exclusive: Trump's new presidential limousine with Secret Service set to transport president this summer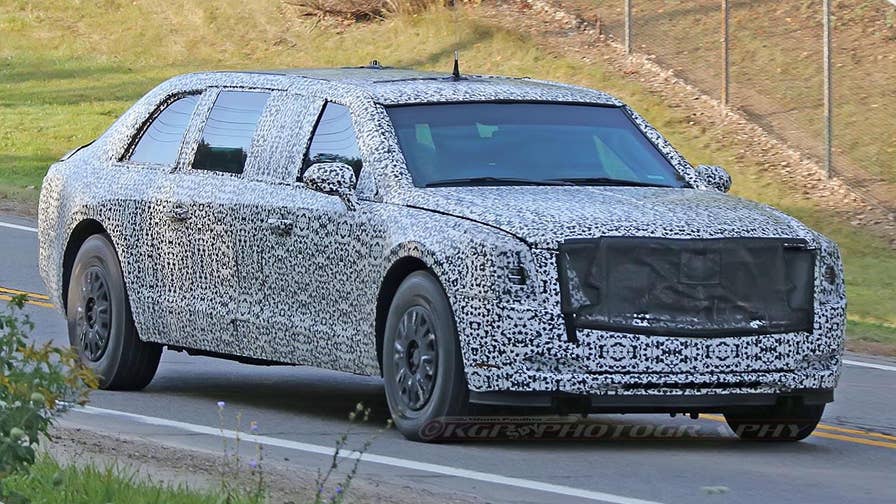 President Trump has been riding around in a very old car since he took office last year, according to t Fox News President Trump will be getting an all-new Cadillac-branded model in time to take a road trip in it this summer.
When Donald Trump took office last year, he also grabbed the keys to a car. A very old car.
Several of them, actually. The latest presidential limousine fleet debuted on Barack Obama's first Inauguration Day in 2009. That had many observers expecting Trump to be presented on his with a new version of the so-called "Beast," which his predecessor described as "a Caddy, basically on a tank frame."
One was in the works as Trump made his first trip to the White House as president, it just wasn't ready yet. But Fox News has exclusively learned that its unveiling is just around the corner.
The new presidential limousine was photographed on public roads near GM's proving grounds in Michigan last fall.
Prototypes of the Cadillac-branded state car wrapped in black and white camouflage (to hide their details from photographers) have been spotted being tested on public roads, and at least one of the dozen or so vehicles that General Motors is set to build under a
$15.8 million contract
is now with the U.S. Secret Service.
The prototype is covered in a black and white camouflage wrap to hide its styling details until its official unveiling.
"We've completed our task and we've handed over the vehicle to the customer," Cadillac President Johann de Nysschen told Fox News. A spokeswoman for the U.S. Secret Service added that "the program to build and deploy the next generation of Presidential limousines is on track and on schedule — both in terms of vendor production and internal Secret Service post production requirements. The public can expect to see the new vehicles put into operational use late summer of this year."
"The public can expect to see the new vehicles put into operational use late summer of this year"
– U.S. Secret Service
The vehicle's details are a closely kept national security secret, but the existing model is reportedly more of an armored truck than a luxury sedan and protected against ballistic, explosive and chemical weapons attacks. While obscured by the camouflage, the new one appears to have styling elements similar to Cadillac's flagship CT6 sedan.
Although its designed to look like a sedan, it's understood to be built on a sturdy truck frame that can support its armored bodywork.
One feature it almost certainly won't share with the CT6 is Cadillac's semi-autonomous Super Cruise system, which allows for hands-free driving on highways. Instead, it will always be driven by a highly trained agent skilled in defensive and evasive driving techniques.
Cadillac has built every presidential limousine since 1993 and didn't face any known competition for this contract. Its American luxury counterparts, Lincoln and Chrysler, each told Fox News that they declined to submit bids this time around, but de Nysschen considers his company's role helping to chauffer the world's most powerful man around the world an important association for the brand.
"It's always been part of our heritage and tradition, we have transported presidents over time, and we hope to be able to do so in the future, as well."
Professional freelancer and webmaster.
From Toktok9ja Media
The views expressed in this article are the writer's opinion, they do not reflect the views of the Publisher of TOKTOK9JA MEDIA. Please report any fake news, misinformation, or defamatory statements to toktok9ja@gmail.com