"I Will Bring Sunday Igboho For A peace Talk At The Appropriate Time" – Oluwo of Iwo
"I Will Bring Sunday Igboho For A peace Talk At The Appropriate Time" – Oluwo of Iwo.
Amidst Sunday Igboho's frosty relationship with the federal government of Nigeria, which led to him being declared wanted, the Oluwo of Iwo, Oba Abdulrasheed Akanbi, has urged President Muhammadu Buhari to forgive the Yoruba freedom fighter.
Recall as reported by TOKTOK9JA MEDIA some time ago, the Department of State Services, DSS, raided the Ibadan residence of the activist last week which resulted in the death of two persons and the arrest of several others.
In a letter by the Oluwo of Iwo, titled, ' Igboho Saga: Oluwo Intervenes, Writes Buhari, ' the monarch prayed for President Buhari's mercy, asking him to slow down the security trail on Igboho.
READ: Imo Police Arrest Nekede Polytechnic Student And His Gang Member For Alleged Armed Robbery
According to reports, the letter was signed by Oluwo of Iwo's Chief Press Secretary, Alli Ibraheem.
A section of Oluwo of Iwo's letter emphasized that Igboho will be taken to the president for a peace talk at the appropriate time.
Part of Oluwo of Iwo, Oba Abdulrasheed Akanbi' s letter reads:
" Sunday Igboho earned his popularity as an activist whose joy is to liberate the cheated. He started as such and grew with it. His strategy is not known to me because I'm not in his camp. Whenever I've information about his move, I do call him to order.
READ: WAHALA!!! See The 90-Year-Old Weed Seller Arrested in Katsina by NDLEA (Photos)
" He visited my palace sometime in 2018. I give pieces of advice when sought. Instead of Igboho to distinctively differentiate between agitation towards government and inter groups activism, he failed. At a point, he abused stakeholders with spurious allegations.
" I was the first on the list for drumming support for one Nigeria. As a father, I've personally forgiven him. And I'm personally beseeching your Excellency as the number one citizen of the Federal Republic of Nigeria to demonstrate your magnanimity by forgiven our promising son, Chief Adeyemo Sunday Igboho.
" He is a novice in handling issues against the government. He is a gift to us in Yoruba. He has pledged his readiness to listen to us. I appeal to your Excellency to slow down the security trail on Sunday Igboho. I have the assurance adhering to this piece will go a long way in strengthening the unity of Nigeria. I promise your Excellency that Igboho will mind his steps henceforth. He has suffered a lot. He would step down agitations. I will bring him for a peace talk at the appropriate time.
READ: IT WAS A BLOODY THURSDAY As Tanker Crushed 15 Army Day Secondary School Pupils To Death In Delta
" Liberal struggles are won on intelligentsia merit. Arsenals without strategy is a defeated battle. These and many more, I supposed he has learnt and ready to mend his way. Nigeria is an indivisible entity that cannot be torn overnight for whatever reason. Let' s forgive to move on and up. The strength is not only in diversity but also in forgiveness.
" In conclusion, we have seen the handwriting. When government speaks different languages, the wise ruminates and take caution. I commend your efforts geared towards combating crimes, checkmating banditry and curtailing criminalities, and your vigorous fight against corruption. Most importantly, your commitment to infrastructural growth is unequaled. One Nigeria, great future. "
Reactions Trail
@Abdulmalik said, " This is a good move
The destructions has gotten to its breaking point so it' s time to give peace a chance. I believe Nigeria can even be greater than how it was; just with intention. . . . LOVE & JUSTICE. "
@Nwankwo Samuel said, " Who is vomiting this nonsense who are u and the one u apologizing to? we are all aware of your selfish plans igboho or Kanu is not ready to listen to anything apart from Biafra and oduduwa republic. "
@Emmykay said, " I warned my Biafrans to be careful about this people they' re never trusted in deals. I am not disappointed I' ve known they' ll backpedal. Move on with your quest and don' t hope on anyone. @ Biafrans. "
@Olawuyi said, " Are u speaking for urself, Sunday igboho or oba' s in Yoruba land bcoz I don' t understand why ure advocating for the Yoruba' s. "
@Ebenizer Akinterinya, said, " Stop eulogizing Buhari led FG. Tell him the way out of serious insecurities challenges we are passing through. Tell him to fully mobilize DSS against bandit and their god father (shiek gumi) Oluwo should stop seeking for cheap audience. I solidly stand with Chief Sunday Igboho. God is his strength. "
@Nwokoma said, " . . . we don' t even know who to fear or run to in this country, all these people are actually benefitting from the clueless administration hence finds it difficult to align themselves with calls for restructuring, referendum or break- up. "
@Yakubu Ozi said, " Oluwo of uwoland has played a father' s roll as a peace maker, it' s a pity that this ignorance young man doesn' t hear my advise earlier because of those hatred and selfish politician' s that is instigating him to against his will, but thank God government give him quick responds, i will follow Oluwo of uwoland to beg Mr President to pardon him for his misdeed and for those ones that are still planning to be funny ahead then the language they hear will be implied, i greet you the wisdom and peacemaker called Oluwo of uwoland may ur day belong sir. "
What's your opinion of the letter?
SCREENSHOTS OF SOME COMMENTS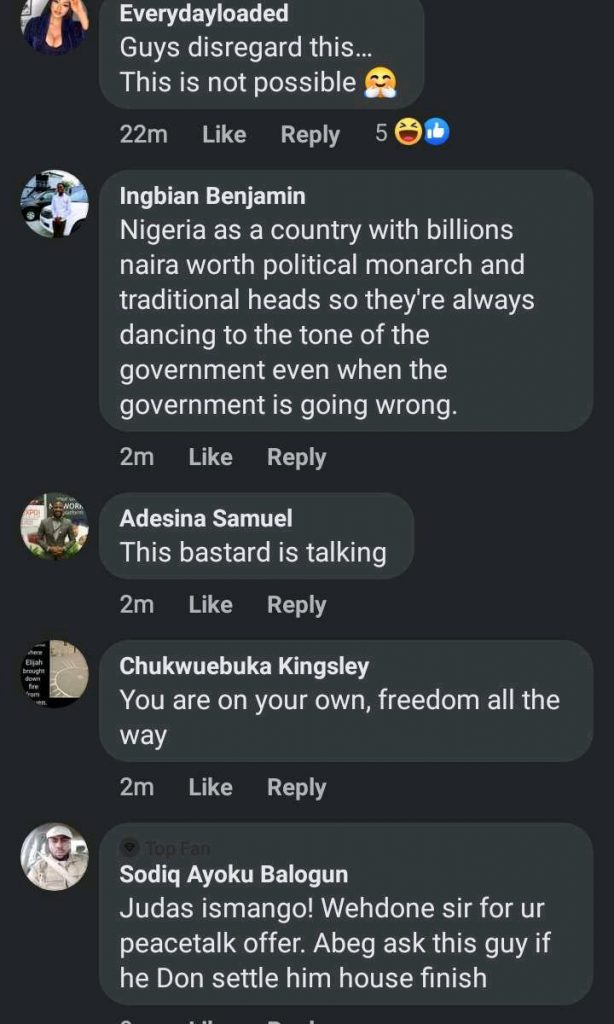 DO YOU HAVE ANY NEWS YOU WANT TO REPORT? CLICK HERE TO REGISTER AND SUBMIT YOUR NEWS FOR PUBLICATION ON TOKTOK9JA
WATCH MORE NEWS ON OUR YOUTUBE CHANNEL CLICK HERE TO SUBSCRIBE
Professional freelancer and webmaster.
From Toktok9ja Media
The views expressed in this article are the writer's opinion, they do not reflect the views of the Publisher of TOKTOK9JA MEDIA. Please report any fake news, misinformation, or defamatory statements to toktok9ja@gmail.com