Argentina's Messi dependency is a sickness – but Dybala is the cure
As talented as the young Juve star is, only Leo has the presence to lift an otherwise mediocre Albiceleste team as Russia 2018 looms large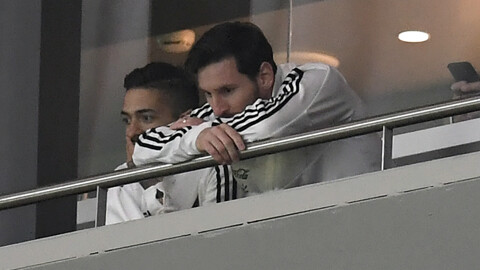 Finally, he could stand to watch no more. Shortly after Spain's sixth goal flew past the hapless Willy Caballero Argentina's talisman, head bowed, he retired from his seat in the Wanda Metropolitana and headed for the bowels of Atletico Madrid's impeccable new stadium.
Lionel Messi had once more been sorely missed by his nation as they were dismantled by the Roja in Madrid, underlining, if there had ever been any doubt, that on his well-being lie the faint World Cup hopes of an entire nation. Over in Turin, meanwhile, another spectacularly talented No.10 may have taken in the match on television, far from his compatriots who hobbled through the final few minutes. Truth be told, there is little Paulo Dybala could have done either to avoid a result that ranks alongside 6-1 drubbings to Czechoslovakia in the 1958 World Cup and 2009's hammering in La Paz to Bolivia as the worst in Argentine football history.
The case for Dybala to be in this Albiceleste line-up has been justifiably aired in the hours following defeat. That the Juventus star is an outstanding talent. That as a playmaker he has few superiors in the football world. That if anything happens to Messi, God forbid, the 24-year-old Cordoba native simply must be on deck to replace the maestro and carry an otherwise dishevelled team to glory. The first two points are wholly accurate; the third, alas, misguided.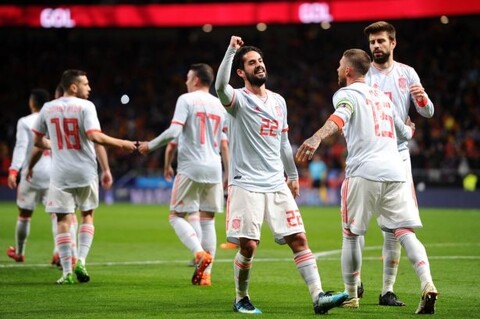 Dybala is not Messi. Neither Giovani Lo Celso, nor Ever Banega, nor Manuel Lanzini – the trio that tried to varying degrees of success to get Argentina moving creatively in this international double-header against Italy and Spain – is Messi. The Albiceleste's dependence on the Barcelona star is a chronic illness, which only Leo can alleviate with his match-winning interventions. He is a royal flush in this ongoing poker game and without him in the game, Argentina's hand looks decidedly a loser.
"Argentina right now depend on Messi 10 times more than we did on Maradona back in 1986," Pedro Pasculli, a veteran of that campaign in Mexico, told La Oral Deportiva after the final whistle. Messi is Argentina's standard bearer, the man to whom everyone looks the moment the ball passes the halfway line to come up with a magic touch that will get Argentina firing. On the evidence of the last two matches, admittedly missing not just Messi but also undisputed starting striker Sergio Aguero as well as PSG's Angel Di Maria, that same magic is nowhere to be seen elsewhere.
A midfield trio of Banega, Javier Mascherano and Lucas Biglia, the latter chosen to replace Leo after he withdrew from Tuesday's clash, demonstrated perfectly the failings suffered by Jorge Sampaoli's men. Without the ball that spinal column flapped and flustered chasing Spain's well-oiled machine, leaving acres of space behind which was cruelly seized upon against a familiarly delicate defence. In possession the trident was functional at best, suicidal at worst: three of the Roja's goals came from mistakes made carrying the ball out from deep, against a home team that unlike their rivals did press efficiently and with unerring precision. Mascherano, for one, played at the sedate pace of a testimonial encounter and at this stage of his career has limited use for an international team of Argentina's standard.
The result was total disconnect between midfield and attack, leaving a front three of Lo Celso, Maxi Meza – the Independiente winger perhaps was the only man to leave a positive impression on his debut with a couple of dangerous incursions into the Spain box – and Gonzalo Higuain starved of anything resembling quality service. Higuain moreover blotted his copybook by squandering one of Argentina's few clear-cut chances, and a trundling display hinted that the Juve man has neither the legs nor the presence to play a deep-lying centre-forward role that invariably sees him receive the ball far from his comfort zone of the opposition area.
Could Dybala have made the difference? It is improbable. Far more likely is that the playmaker would have succumbed to the same general malaise that grips Argentina when things refuse to go their way. That is not to suggest for a second that he is not more than deserving of a place at the World Cup, rather a recognition that only one man is capable of lifting this team off the floor. Messi is the man his team-mates look to constantly, the man forced to play simultaneously in every position all before the eyes of the world's most demanding football fans and it is to his credit that he has not simply folded under the scrutiny like any other mere mortal, but rather thrived under such intense pressure. But then Leo, as we all know, is from another planet – placing the same burden on Dybala's back risks crushing him under the weight.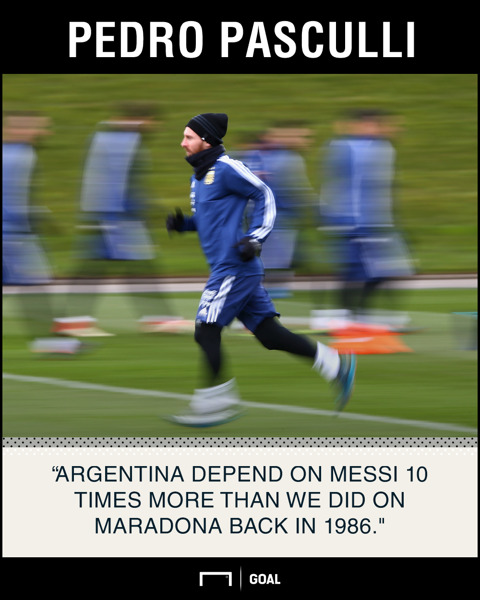 For years, while the Argentine FA has lurched from crisis to crisis and a succession of coaches have come and gone, Messi has remained to carry the team on his shoulders. But it has been a double-edged sword: while he was able to deliver a World Cup final appearance and successive Copa America deciders, the real issues in the team have been conveniently swept under the carpet. Now they are clear for all to see, as a lacklustre squad shorn of ideas and creative spark finished this mini European tour with a whimper.
Sampaoli is no fool. The coach knows exactly what ails his charges despite having sat in the post less than a year, and has taken certain steps to make them a more rounded unit. You learn more in defeat than victory, the old adage goes, and Tuesday's humiliation should give him plenty of food for thought on which players should not be on the plane in June, if not answering entirely the riddle of who should be there.
He also knows that his changes have come far too late for the World Cup, and their chances lie solely on the unique talent possessed by their captain. Dybala may prove himself as an international player of renown in the years to come, but it will not be in Russia. Time has run out for the youngster to play alongside Messi and time has also run out for the Albiceleste to play without Messi. The cards are dealt: when the Albiceleste get to Russia it is Messi or bust.
Professional freelancer and webmaster.
From Toktok9ja Media
The views expressed in this article are the writer's opinion, they do not reflect the views of the Publisher of TOKTOK9JA MEDIA. Please report any fake news, misinformation, or defamatory statements to toktok9ja@gmail.com