If Education is not Good Here, Then don't tell us to buy made in Nigeria Slippers – Minjin
8 min read
King Minjin is a Nigerian born song writer, producer and recording artist who distinguished his genre of music by infusing local beats and lyric collaborated with modern sounds to produce a remarkable Africano style, a kind strictly attributed to his brand.
In an exclusive interview with Toktok9ja, Minjin reacted to some pressing issues in Nigeria entertainment industry, and the call to patronize only made in Nigeria goods by the current administering.  He also addressed the saga with former record label, Kennies Music.
While most speculations on his exit from Kennis Music seemed controversial, King Minjin took time to strengthen the modalities of his contract with Kennis Music.
Can you introduce yourself?
My name is Minjin one and only African King
What is the concept behind your name?
(Laughter) My mum gave me the name when I was younger, she said it was from a movie anyway, it means "my son from God", but I didn't like the name while growing up. I felt its hype, because she uses the name whenever she wants me to do house chores.
On the course of venturing into the entertainment industry, I started looking for an artist name to adopt; most of the names I tried were already taken. I remembered performing at a show where I found out that about two to three other Artist were using the same name as mine, so I decided to adopt Minjin.
Since I started using Minjin, it's been unique, no one uses that name except me, if there was any which I'm not aware of, probably that person is copying me.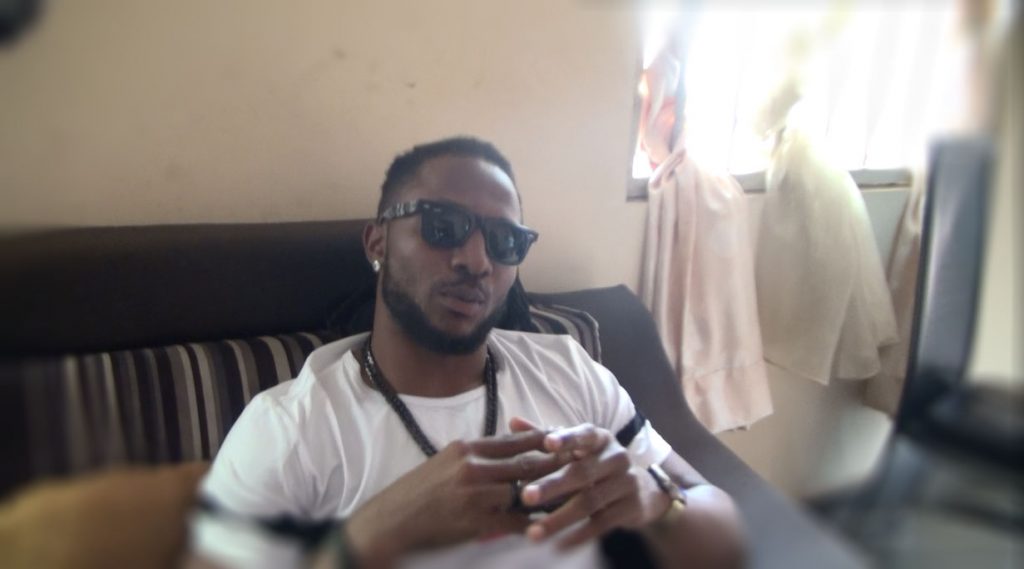 Is Minjin a tribal name?
Yes it is a tribal name, but not Nigerian, its Asian actually, part of Japanese and Chinese kind off.
Tell us about your background.
I grew up in Lagos all my life in Alimosho Local Government area to be precise, have stayed in Ikorodu and Surulere.
My music career started in Surulere actually; that was where I met people and other musicians. Though I had recorded some songs before moving to Surulere, moving there exposed me more on the field as I started doing more recordings and songs.
What Genre of Music do you make?
My kind of music is influence by different sounds, I call it Africano, Lagbaja is an example of a musician who also does Africano style of music.
I infuse melodies from other continents into African sounds, just like Fella infuses foreign sounds into his beats and calls it Afro-beat. Mine is Africano, it is an infusion of highlife and modern beats.
I also do Afro R&B, Afro Soul, I use Afro in my music because most times I use my native language when making songs.
In general, my kind of music is Africano because it is an infusion of all African genres of sounds.
Which of your songs would you consider a hit track?
I would say Jare , you know some songs blow in some areas, while other explodes in other areas. Like my song "Coupe Decale", the one I did with Iyanya, before it started making waves in Nigeria, I was already doing shows in Cameroon, Senegal, Ivory Coast, Equatorial Guiney and other Countries.
The sound from my track "Coupe Decale" was more of French, my fans in the Countries where I performed that song thought I was from a different Country. When they want to book me for show they didn't even know I was a Nigerian Artist. They called contacts in Ivory Coast thinking I was from there, even in the video; I was not looking like a Nigerian maybe because of my hair style.
"Coupe Decale" was also a hit track, I features Iyanya in the song some years ago, and it was big. I have a resent song also with Timaya, "Baby Kojo", its really making waves.
Some songs may not make wave in a particular area, it doesn't  mean  it's not hit tracks, let me give an example, like J Martins is not making so much waves down here, yet anytime I travel to a French speaking Country, I see him doing shows there and cashing out.
Some Nigerian Artists are not big back home, except the ones who do local contents, look at Yemi Alade she's doing a lot of shows outside Nigeria and she is getting more money.  You know getting paid in Dollars is different from getting paid in Naira, like if I do a show in Equatorial Guinea, they pay me in Dollars, not in their currency. Most shows outside Nigeria is paid in Dollars.
Though I love My Country, at the same time doing shows outside pays more and these are the factors I consider while making hit tracks.
Which of the Artist would you say inspired you to the genre of music you make?
I listen to different sounds, while growing up I use to do a lot of dancing, if you watch my earlier music videos, you'll see a lot of dance scenes, but now I have been out of dancing for a while.
Hmmm….. I would say Dbang for starters, probably because of his dance steps; I was in Secondary School when Dbang started making waves. Others are 2Face, P-square I loved their song "No One Be Like You".
After my Secondary School, a friend introduced me to Flavour and played couple of his tracks which I really liked too. Asa is also another artist I like, I play the Guitar like her, and it influenced my passion for her music.
Who is your Target Audience?
When I started making music, my target was Girls, but as I grew older as an artist, I discovered even when you get the ladies dancing to your music, you need some serious audience as well. People need to be able to listen to your music and say "Oh My God! This Guy's Music is Inspirational".
You can have club bangers back to back, yet when people get back to their houses and they want to chill out and think about life, they won't play your Music. They can only play your music when they want to have parties.
As much as I do party songs, I also want people to be able to listen to me when they want to reminisce, so my target audience is cutting through all people, not just the girls, but also everyone even the old.
I want someone in their Fifties to be able to play my song and say "Wow I like this Guy's Song."
What can you say about your exit from Kennis Music?
Well Kennis music was part of my life at a certain time, but my contract with them expired long ago. I am currently signed to a Malaysian Based Promotional Label Called Swagger Records.
Now, what they do for me is that they promote my music in Asian Countries like from Thailand to Indonesia, Malasia, China and all other Asian Countries. Currently I have a tour in Malasia, Indonesia, from there; I'll head to China before coming back to Nigeria then South Africa and Denmark.
When you tour around these non-English speaking Countries, do they translate your songs to their language so people can understand?
Well music is universal, like Awilo, till today I can't understand what he said in his music, but when it's played here in Nigeria, you see people dancing to it. It's the melody, African has good music melody, and my song with Timaya is so big there in Malaysia.
What do you have to say about the Nigeria Music Industry?
I will say it's thriving, there is development in our standards of video and sounds, we have good producers delivering good job.
As much as we have all these, we also have congestion and less quality music with good money to promote them. So songs that are not really passing message are hyped and promoted and pushed with so much money, when you buy and play them you find out they are trash.
It pains me when talented artist don't have money to promote their songs, while less quality talent, or zero talent having money to push their songs. At the end of the day, when the less quality songs leaves the shores of Nigeria, people would think it's the best Nigerian can produce, not knowing that those people just had money to push their songs.
Just imagine, the best Artist in Nigeria is "whack" because he has money to push his songs, while the good Artist is somewhere without money.
I just wish there was an organization that can listen to songs from different upcoming Artist, and the best Artists will be promoted, even if it is five best Artists every year, it will go a long way.
What would you say about the speculation going on that Artist should shoot their video here and not go outside the Country to make videos and come back home to sell it?
Well as I am traveling now for my tour, I 'm going to shoot a video, nobody is paying for my video, music is a self-built empire, it's not subsidized by the Government.
I don't think it's a good notion, from what I heard, no Artist is supporting the idea.
I am singing Nigerian content, and shooting it abroad, thereby promoting our culture and language there, what's wrong in that, I feel we should even be appreciated for doing that.
If they can pay for the shooting of my videos here then, I will shoot them here.  Why can't they let their children school here in Nigeria, their children are schooling abroad as well. Let their children also attend public school here.
What's your message for the upcoming Artist?
Na only you dey, all man for himself, whether you have a manager/Record Label or not, at the end of the day, whatever happens to your career is up to you and not your manager or the Record Lebel.
You have to shine your eyes and be on alert; you need to know where your promotional money is going to and how your manager is doing your business. Try to know how many people are downloading your songs and how they monetize your songs.
Don't just seat back and say your manager will handle it, try and handle things on your own too so you can learn.
What is your advice to the government on made in 9ja goods?
Charity begins at home, if our Leaders cannot treat themselves here, their Children cannot school here, they furnish their houses with foreign furniture, then we are not talking about made in Nigeria.
Made in Nigeria is not wearing Agada, or Nigerian Cloths shoes and accessories, it is all about everything.
If there children travel abroad and spend so much tax payer's money  to school, then come back and land good jobs, while we that school here can't even find jobs, then what is made in Nigeria?
If education is not good here, then don't tell us to buy made in Nigerian slippers.
Well that wraps it up, you can follow King Minjin on Instagram @kingminginofficial
Professional freelancer and webmaster.
From Toktok9ja Media
The views expressed in this article are the writer's opinion, they do not reflect the views of the Publisher of TOKTOK9JA MEDIA. Please report any fake news, misinformation, or defamatory statements to toktok9ja@gmail.com