Ndi Igbos Criticize Obi of Onitsha for Leaving Palace to Meeting Atiku in Hotel
Ndi Igbos Criticize Obi of Onitsha for Leaving Palace to Meeting Atiku in Hotel
The 2023 general election in Nigeria is fast approaching, there are tensions everywhere, Nigerians are faced with the tough decision of selecting another batch of leaders, politicians are canvasing support from voters, stakeholders, traditional rulers, and so on and so forth.
The current Obi of Onitsha His Majesty Igwe Nnaemeka Alfred Ugochukwu Achebe CFR has come under fire after meeting with Atiku Abubakar the presidential candidate of the People's Democratic Party (PDP).
Igwe Nnaemeka came under fire and criticism for leaving his palace to meet with Atiku in a hotel, which many people feel contradicts his stands as a ruling king, traditional leader of Onitsha, and the representative of the people of Onitsha to the state and federal levels.
Recall yesterday 15th December 2022 Atiku Abubakar had a meeting with the Anambra State Council of traditional rulers led by His Majesty Igwe Nnaemeka.
Atiku took to his Twitter handle and said:
I just ended a consultation meeting with the Anambra State Council of traditional rulers, led by His Majesty Igwe Nnaemeka Alfred Ugochukwu Achebe CFR. I am happy for the opportunity to address the audience, and I'm most appreciative of their blessings.
This did not go down well with the Ndi Igbos who took to the micro-blogging platform to express their anger and displeasure.
Their displeasure is born out of the fact that the king left his palace to meet with Atiku in a hotel.
Many who reacted to the development stressed the fact that politicians visit Kings at their place to pay their respect and not the other way round.
Others who reacted established the fact that Atiku Abubakar cannot invite the Sultan of Sokoto or Emir of Kano to leave his palace for a meeting, and that it was very disrespectful for a seating king to leave his palace to attend any meeting.
Here are some reactions from Twitter:
Except Atiku barged into their meeting – then, I can understand. Otherwise, This is a disgraceful outing by the OBI of Onitsha! Will
@atiku ask Sultan of Sokoto to come and meet him in a rented hall IGBO – Gini ka anyi na eme du?!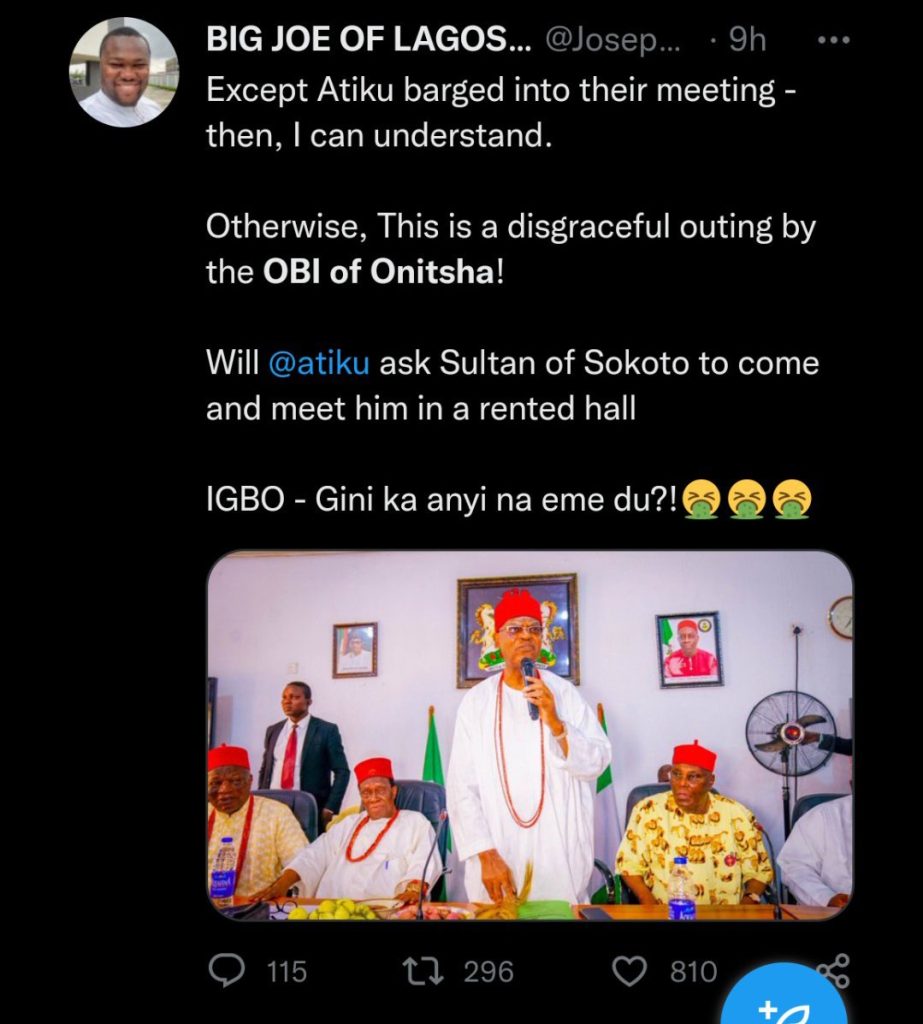 Politicians visiting Kings at their palace to pay respect:

1. Oba of Benin
2. Olu of Warri
3. Emir of Kano

Obi of Onitsha leaves his palace to visit Atiku. This is him standing up to address Atiku at a lodge

Igbo leaders bring too much disrespect to igbo land!!!
Atiku sitting and Obi of Onitsha standing. Take a look at the original Obi kneeling to greet the king. I am ashamed to have been born Igbo.

DO YOU HAVE ANYTHING YOU WANT TO TELL US ABOUT NIGERIA? CLICK HERE TO JOIN ESSENCE FORUM AND SHARE YOUR TOPICS WITH OVER 4000 MEMBERS.
WATCH MORE NEWS ON OUR YOUTUBE CHANNEL CLICK HERE TO SUBSCRIBE
Ndi Igbos Criticize Obi of Onitsha for Leaving Palace to Meeting Atiku in Hotel.
Professional freelancer and webmaster.
From Toktok9ja Media
The views expressed in this article are the writer's opinion, they do not reflect the views of the Publisher of TOKTOK9JA MEDIA. Please report any fake news, misinformation, or defamatory statements to toktok9ja@gmail.com