REVEALED: See How Bishop Oyedepo Started His Church, This Is How He Got His PhD
3 min read
REVEALED: See How Bishop Oyedepo Started His Church, This Is How He Got His PhD.
Bishop David Oyedepo is perhaps one of the greatest Nigerian clergymen in recent history. But behind all his success story, there are days of his humble beginning. 
We want to brings you a detailed history of Bishop David Oyedepo and some of the hidden facts you did not know about him. 
READ: Sad – 5 Beautiful Nigerian Student Who Committed Suicide Because Of Their Boyfriends And Depression (VIDEO)

1. He was born on Sept 27, 1954, in Oshogbo, Osun State into a mixed religious family
2. His father Ibrahim healer & mother Dorcas was a member of Cherubim & Seraphim Movement  (C&S).
3. He was raised by his grandmother, who introduced him to the virtues of Christian life via early morning prayer which she attended with him. 

She also taught him the importance of tithing.
READ: The Untold Story Of Tunde Idiagbon, Nigeria's No-Nonsense General You Must Know (VIDEO)
4. He studied Architecture at Kwara State Polytechnic and worked briefly with the Federal Ministry of Housing in Ilorin
5. He received a Ph.D. in Human Development from Honolulu University, Hawaii, United State.
6. Met his wife when he 22, at a motor park.
7. He got married in 1982 to Florence Abiola now Faith Oyedepo

8. They are blessed with four children ( David Jr, Isaac, Love & Joyce)
READ: What the Bible Says Concerning Fasting and Praying on Purpose

9. Got born again in 1969 by Betty Lasher a teacher who took a special interest in him during his high school days.
10. Having rejected a charm his father gave him, he developed whitlow on a finger, he wrote three exams the next day and came out with a two-class division in secondary school

11. He once challenged God to heal him of tuberculosis as a secondary school student, after his fellow mates shitted their beds away from him, and he was healed.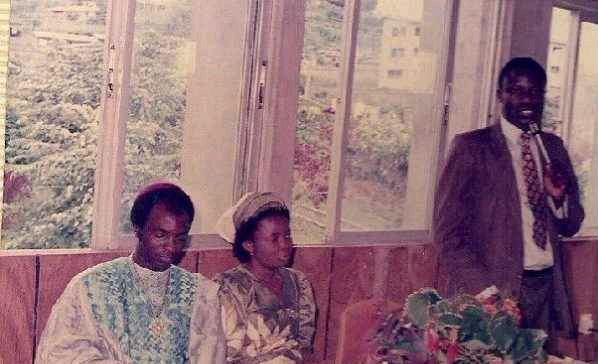 12. In May 1981 he received the liberation mandate from God in an 18-hour vision, to liberate the world from all oppressions of the devil through the preaching of the word of faith, this led to the founding of the Living Faith Church AKA Winners Chapel, first called Liberation Faith Hour Ministry

13. Five years after his ordination as a pastor, he has ordained a Bishop in 1988.

14. He has set up three Universities without government assistance, Covenant University Ote, Landmark University at Omu-Aran, and Crown University Calabar.
15. He was named in 2011 by Forbes Magazine as the richest pastor in Nigeria worth over $150 million

16. Oyedepo Ministry International include; four private jets, estate, restaurant, shopping stores, bakery, processing plants, commercial properties, and educational institutions

17. His mentors include; Enoch Adeboye, Late Benson Idehosa, Kenneth and Gloria Copeland, and Late Kenneth Hagin.
This is the few we know, you are free to add your own via the comment section.
DO YOU HAVE ANY NEWS YOU WANT TO REPORT? CLICK HERE TO REGISTER AND SUBMIT YOUR NEWS FOR PUBLICATION ON TOKTOK9JA
WATCH MORE NEWS ON OUR YOUTUBE CHANNEL CLICK HERE TO SUBSCRIBE
Professional freelancer and webmaster.
From Toktok9ja Media
The views expressed in this article are the writer's opinion, they do not reflect the views of the Publisher of TOKTOK9JA MEDIA. Please report any fake news, misinformation, or defamatory statements to toktok9ja@gmail.com