Shocking!!! Undertaker Shares His Experience Of How A Dead Man Came Back to Live During Burial Ceremony
2 min read
Shocking!!! Undertaker Shares His Experience Of How A Dead Man Came Back to Live During Burial Ceremony.
An undertaker has given a chilly account of his encounter with a dead body while he was preparing it for burial. Narrating his ordeal at the hands of corpses and other spirits to Crime Check Television, Samuel Okyere explained that he had very terrifying experiences with ghosts and corpses while going about his duties as an undertaker.
According to him, he has on several occasions had to beg for his life and safety after encountering a corpse which rose up while he was preparing the body for burial. Narrating how he managed to survive after his gruesome encounter with the dead body which came back to life, he explained that he had to speak with the body and beg for his life.
READ: Yes I Allowed Him Sleep With Me Out of My Will, 12-Year-old-girl Allegedly Raped by 38-year-old boyfriend
He narrated that he stepped out to pick something while preparing the body for burial, only to return to find the dead person blinking. 'I was very frightened but I had to gather courage'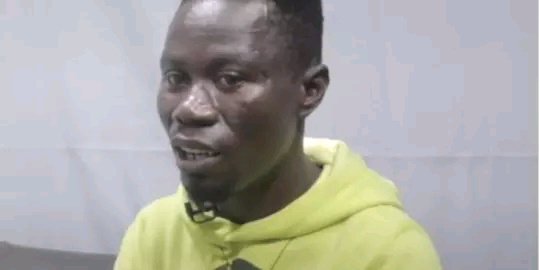 The host of the show, who seemed visibly surprised and shaken by the narration of the undertaker explained to Samuel that the 'blinks' could have been an illusion caused by the melting of the ice around the dead body. But Samuel vehemently denied it insisting that he had much experience in preparing bodies and knows the difference between 'blinking eyes' and 'melting ice'
READ: We'll Open Borders Very Soon, So That Food Can Come In At Cheaper Prices- Sunday Igboho Vows (VIDEO)
Making a strong argument for himself, he explained that "I have seen it several times. The person can look at you and blink the eyes severally. All you need to do during such times is hold talks with the dead body that if she or he has scores to settle with anyone, it must be done after burial and not get you involved". "So, I asked him to go sort out issues with his family members or whoever he had problems with prior to his death. I only made it clear to him I was a messenger who had been sent to perform a task of preparing the body for burial"
DO YOU HAVE ANY NEWS YOU WANT TO REPORT? CLICK HERE TO REGISTER AND SUBMIT YOUR NEWS FOR PUBLICATION ON TOKTOK9JA
WATCH MORE NEWS ON OUR YOUTUBE CHANNEL CLICK HERE TO SUBSCRIBE
Professional freelancer and webmaster.
From Toktok9ja Media
The views expressed in this article are the writer's opinion, they do not reflect the views of the Publisher of TOKTOK9JA MEDIA. Please report any fake news, misinformation, or defamatory statements to toktok9ja@gmail.com