"Take Your Money, I Want Peace"- Yahoo Boy Shouts As He Ran Mad (VIDEO)
3 min read
"Take Your Money, I Want Peace"- Yahoo Boy Shouts As He Ran Mad (VIDEO).
This world is really a better place but many people refused to follow the the good principles of living.
Life does not always give us what we want, but it eventually gives us what we deserve. Therefore if someone does evil to others, he will eventually get the reward in ways that will be surprising.
READ: HORRIFIC!!! 16-Year-Old Girl Raped and Strangled To Death In Delta (GRAPHIC)
A lot of our youths today have dreamed to drive cars before reaching the age of 25, some have also dreamed of building mansions and living large before 30; however, this has landed many youths in long-lasting torment and troubles.
READ: "I Am A Jealous Lover…Don't Go Near My Boo" – Facebook Post Of The Woman Who Killed Her Husband
A video was shared Federal Polytechnic Nekede Facebook group.
In the video, a young man who people claimed to be a yahoo boy was seen at Cherubim Junction Wedra, in Owerri Imo State doing all manner of things.
He was acting strangely as if he has lost his senses. He was pointing and talking to an invisible person at a particular spot which suggests he was seeing a ghost.
READ: See Photos Of Gov Ortom, Bello, Orji Uzor Kalu, Fayose, And Dino Melaye Eating At 'Mama Put'
At a moment, he threw away his wristwatch and began to remove his underwear. People rushed and held him as he was about to go totally n@ked.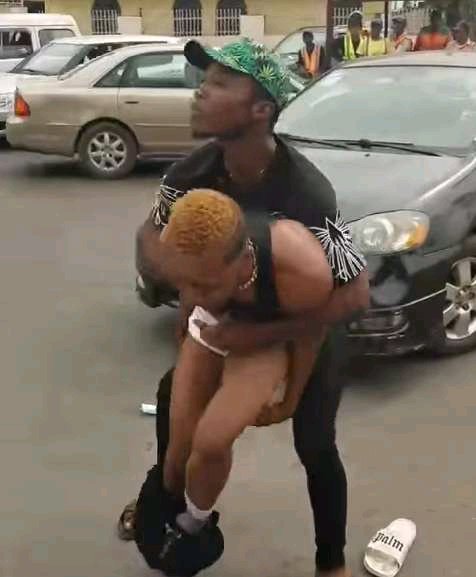 The boy's focus was at that same spot, he was shouting " please take everything, I don't need your car, I don't need your money, please let me have peace".
Many people who saw this strange incident gathered to know what was really happening to the young man who tinted his hair in golden colour.
They quickly suggested that water should be poured onto him.
READ: Real Yawa – Girl Catches Her Boyfriend Nacking His Side Chick in Her Apartment (Video)
However, a girl who was with the boy was totally confused as she ran around trying to find a solution.
Well, as we said earlier, evil money doesn't last, hustle legit money.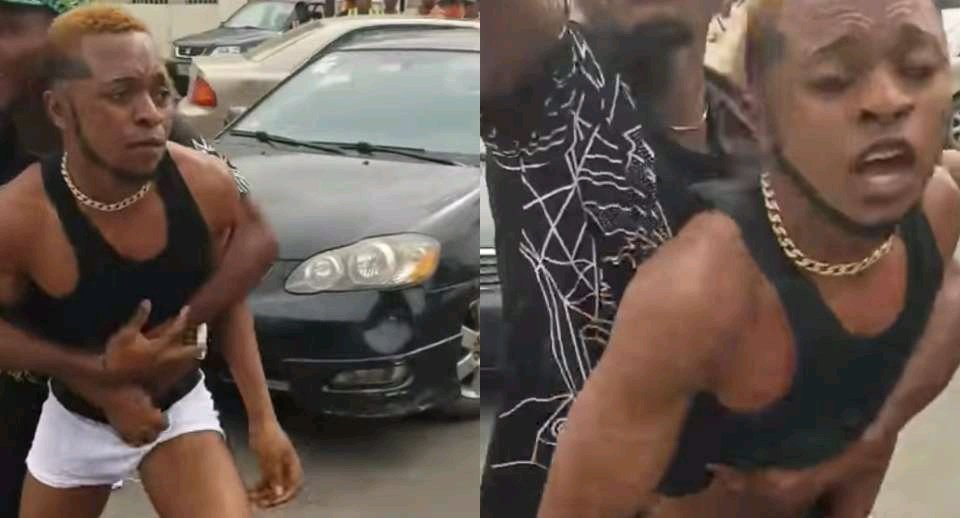 No one knows what actually triggered this strange incident but if you heard what the boy was saying, you will surely be convinced that he has put his hands in something evil.
WATCH THE VIDEO BELOW:
DO YOU HAVE ANY NEWS YOU WANT TO REPORT? CLICK HERE TO REGISTER AND SUBMIT YOUR NEWS FOR PUBLICATION ON TOKTOK9JA
WATCH MORE NEWS ON OUR YOUTUBE CHANNEL CLICK HERE TO SUBSCRIBE
Professional freelancer and webmaster.
From Toktok9ja Media
The views expressed in this article are the writer's opinion, they do not reflect the views of the Publisher of TOKTOK9JA MEDIA. Please report any fake news, misinformation, or defamatory statements to toktok9ja@gmail.com