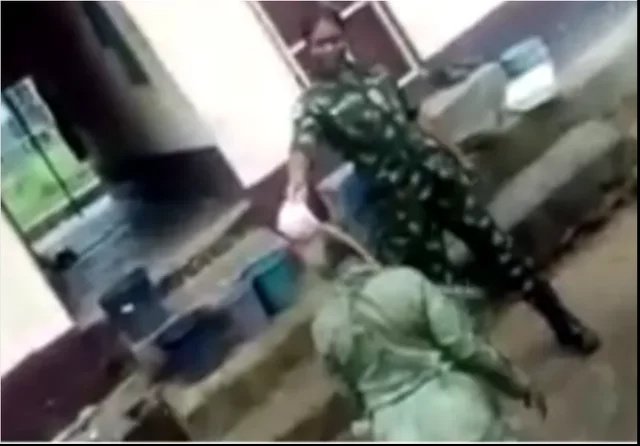 VIDEO of Female Army Officer Brutalizing Corps Member Breaks the Heart of Nigerians.
A female youth Corper was assaulted by an Army officer identified as Lt. Chika Viola Anele.
The video evidence has since gone viral.
The Army officer was caught on camera punishing a member of the National Youth Service Corps (NYSC) Ezeiruaku Ifeyinwa Fidelia in Cross River after having an argument.
READ: Drama In America As Nigerian Lady Turns to Witch In Police Custody After She Was Arrested
She poured an unknown substance which appears to be mud water on the kneeling Corps member after which she hit her with the bowl.
Nigerian journalist, Agba Jalingo, who shared the video on Thursday said the incident happened at the 13 Brigade headquarters in Calabar.
He wrote: "JusticeForIfenyinwa. This is what a commissioned female Army officer, Lt. Chika Viola Anele, did to a youth corp member, Ezeiruaku Ifeyinwa Fidelia, serving at the 13 Brigade headquarters in Calabar after having an argument.
READ: See the Notorious Female Armed Robber That Sleeps With Her Victims After Robbing Them
We understand that the leadership in 13 Brigade are working to kill the matter. Let us make the officer very popular for all the wrong reasons. Share the video until it gets to the Chief of Army Staff and that Chika girl is brought to book."
CLICK HERE TO FOLLOW OUR INSTAGRAM CHANNEL AND WATCH THE VIDEO
Here are Some Reactions From Nigerians:
"Women just hate women"
"is how to punish someone? this dehumanization of a woman and the officer should face the consequences. intact she should sue her"
"What on earth would she have done to deserve such treatment. Is that the laid down rule of how they should punish a youth corper? That officer needs to be suspended because she has violated their code of conduct. Especially when she is dealing with a supposed graduate serving the country. It is shameful to see a Nigeria's representative figure treat a Nigerian in this manner. May God deliver Nigerians from mental slavery."
"Send the same idiot to Sambisa now, she go dey cry for her mummy. Abroad, soldiers are taught to believe that they have been trained to be stronger in order to protect the civilians."
READ: Tension in Zamfara As Bandits Attack Top Politician, Burn Down Zamfara Speaker's House
That corper can join the Army after her NYSC. That will automatically make her that soldier's senior…
The soldier f*cked up big time. Corpers and soldiers are known to be 5
Nawa, management should call this army girl to order. I'm very much sure she's not a graduate. Illiterate is a disease.
She's actually a graduate of NDA but that's not the issue. The issue is that what she's done is all shade wrong and should be addressed urgently.
Na so them dey do. Nigerian Army especially. They believe they can't be touched.
Any corper posted to their camp should abide by their rules. Male corpers get worst treatments from soldiers every time, una de complain because na woman
This is a disgrace to the uniform of the Nigerian Army. This Lieutenant is undeserving to wear the uniform and her pay from the taxes I pay. Human dignity should be preserved and protected by Officers – Oga Lieutenant has failed here!
READ: Drama In America As Nigerian Lady Turns to Witch In Police Custody After She Was Arrested
Honestly, Nigeria is gradually becoming a Banana Republic where anything goes. Imagine this fool in army uniform financed by the Taxpayers using the same uniform to oppress her fellow citizen. It's high time people have had to fight for their rights from their oppressors. This is totally unacceptable in a civilized society..
Barbarian and beast everywhere in Nigeria.
I recommend 2 level demotion to a staff sergeant, that will serve as a deterrent to others. Even the army has rule of law too
You see why this country can't move forward
Unnecessary noise. What is bad in cooling a stubborn person. In a military environment, punishment can take any form and shape. If you can behave go and to your father's house.
DO YOU HAVE ANYTHING YOU WANT TO TELL US ABOUT NIGERIA? CLICK HERE TO JOIN ESSENCE FORUM AND SHARE YOUR TOPICS WITH OVER 4000 MEMBERS.
WATCH MORE NEWS ON OUR YOUTUBE CHANNEL CLICK HERE TO SUBSCRIBE
Professional freelancer and webmaster.
From Toktok9ja Media
The views expressed in this article are the writer's opinion, they do not reflect the views of the Publisher of TOKTOK9JA MEDIA. Please report any fake news, misinformation, or defamatory statements to toktok9ja@gmail.com