Ada Jesus Doesn't Need Any Man To Remove Her Curse, She Can Do It Herself Using Psalm 35
Lately, a popular Instagram comedian and actress Ada Jesus, has been trending virtually on every blog and social media.
She's trending after it was said a powerful spiritualist Chi Marine placed a curse on her for daring his powers and calling him out on social media.
Consequently, it was learned that she became sick of kidney disease which also led to a partial stroke.
READ: COULD IT BE TRUE? See The Place In Botswana Where It Is Believed Humans Were Created!
According to more online reports Ada Jesus whose real name is Mercy Cynthia Ginikachukwu had also on many occasions called out Nollywood veteran actress Rita Edochie on social media while accusing her of arranging fake miracles for a popular Prophet Chukwuemeka Odumeje.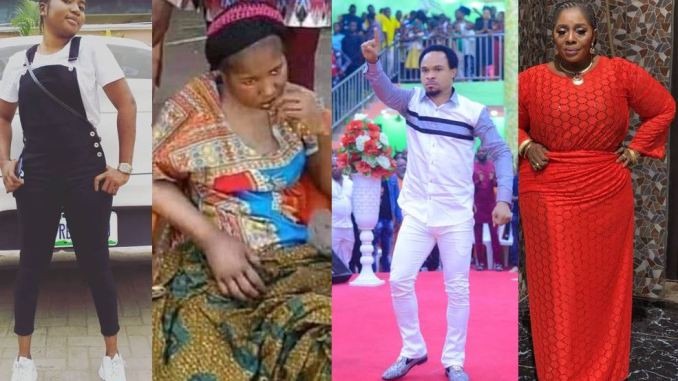 Prophet Odumeje is well known in the Eastern part of Nigeria as a result of his wrestling method of performing miracles.
This also led to the popular Prophet and the actress vowing never to forgive her. Now she's in a dilemma and doctors have tried all they can to cure her of the sickness but to no avail.
READ: My Girlfriend Is Turning Into A Tree But I Will Never Leave Her- Man Shows True Love To A Dying Lady
Furthermore, it was said she went to the spiritualist Chi Marine who placed the curse on her for forgiveness and he forgave her, but the sickness still persists.
Chi Marine told her that her destiny and health is now in the hands of the gods.
Yes, Ada Jesus's destiny is in the hands of God the Almighty in heaven. He is the highest authority of all the gods.
According to the Bible In the book of Psalm 22:28, it is said that all things and powers belong to God almighty, powers in heaven and on earth, and beneath the earth only comes from God Almighty.
READ: The Sad Story of Sara Baartman, A Black Woman Who Was Showcased Nak£d Together With Animals in London
Ada Jesus doesn't need any man to remove the curse placed on her, she only needs God and faith in the scripture of Psalm 35:1 to the end.
She'll need to ask for forgiveness from God first, then forgiveness from whoever she has offended before using this Psalm mentioned above. God will surely intervene.
She shouldn't forget the name she bears "Ada Jesus", let her do her part and God will do the rest.
Drop a prayer for Ada Jesus, she might have wronged many, but she is still human and humans make mistakes.
Speed recovery Ada Jesus.
Men may fail you, but God will never.
See you guys in my next post
DO YOU HAVE ANY NEWS YOU WANT TO REPORT? CLICK HERE TO REGISTER AND SUBMIT YOUR NEWS FOR PUBLICATION ON TOKTOK9JA
WATCH MORE NEWS ON OUR YOUTUBE CHANNEL CLICK HERE TO SUBSCRIBE
Professional freelancer and webmaster.
From Toktok9ja Media
The views expressed in this article are the writer's opinion, they do not reflect the views of the Publisher of TOKTOK9JA MEDIA. Please report any fake news, misinformation, or defamatory statements to toktok9ja@gmail.com