Edward Smith Fatu Can Never Be Forgotten In The History Of Wrestling – Tribute to a Fallen Legend
Edward Smith Fatu Can Never Be Forgotten In The History Of Wrestling – Tribute to a Fallen Legend
MEMORY OF EDWARD SMITH FUTU
Edward Smith Fatu was born on 28th March 1973. He was an American professional wrestler popularly known as UMAGA. He was a member of tag team 3- Minute Warning alongside his cousin Matt Anoai, billed as Rosey, during his initial run with WWE as Jamal. In June 2003, he was fired from the company. Fatu returned to WWE in April 2006 with the ring name Umaga. Fatu stayed undefeated on the Raw brand for several months in 2005 before losing for the first time in January 2007. He won the WWE Intercontinental Championship for the first time the following month, and he won it again in July 2007. He also acted as Mr. McMahon's emissary in the WrestleMania match " Battle of the Billionaires. " In June 2009, WWE released him. He began wrestling on the independent circuit shortly after and continued until his death in December of that year.
READ: Meet the Highest-Paid Female Tiktok Creator – Addison Rae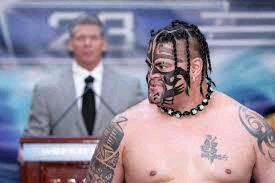 INFANCY
Fatu was born to Vera and Solofa on March 28, 1973. Sr. Fatu was a descendant of the Anoai clan. Vera, his mother, was the sister of the Wild Samoans' Afa and Sika. His two brothers Sam and Solofa are also professional wrestlers.
Fatu began his professional wrestling career (1995– 2001) alongside his cousin Matt Anoai at the Wild Samoan professional wrestling school, which was run by family members.
READ: Tupac's Last Words To His Fiancee – Kidada Jones Before He Died
Umaga defeated Mr. Anderson in a singles match at the World Wrestling Council (WWC) in Puerto Rico on July 11, 2009. Umaga made an appearance on Hulk Hogan' s Hulkamania Tour of Australia four months later. Umaga lost to his brother Rikishi and Brian Christopher on November 21, 2009, when he paired up with Orlando Jordan. Umaga defeated Brutus " The Barber" Beefcake on November 24, 2009. Beefcake and Mr. Anderson defeated Umaga and Orlando Jordan on November 26, 2009.
PRIVATE LIFE
Fatu had four children with his wife L. T.
Fatu was mentioned as one of many superstars who acquired medications from an online pharmacy during the weekend of August 30, 2007, according to articles published by Sports Illustrated, the New York daily news, and the Washington Post. This was a breach of the WWE' s " Talent Wellness" program. Between July and December 2006, Fatu was reported to have received somatotropin, a growth hormone, after the " no medications from online sources" ban was implemented. Fatu violated the Wellness Policy once more in June 2009, and his WWE contract was terminated owing to his lack of compliance and reluctance to attend drug rehabilitation.
READ: Photos of the Expensive Grave Where Michael Jackson Was Buried
DEATH
Fatu was discovered comatose and with blood pouring from his nose in his Houston, Texas house by his wife on December 4, 2009. Fatu was taken to the hospital by ambulance after a 911 call was made.
According to information gathered Fatu had a heart attack, and paramedics were able to restart his heart, even though he showed no symptoms of brain activity. Fatu had hydrocodone (a painkiller), carisoprodol (Soma, a muscle relaxant), and diazepam (Valium) in his system, according to toxicology findings. Fatu had also been diagnosed with cancer, according to medical examiners in Houston.
DO YOU HAVE ANYTHING YOU WANT TO TELL US ABOUT NIGERIA? CLICK HERE TO JOIN ESSENCE FORUM AND SHARE YOUR TOPICS WITH OVER 4000 MEMBERS.
WATCH MORE NEWS ON OUR YOUTUBE CHANNEL CLICK HERE TO SUBSCRIBE
Professional freelancer and webmaster.
From Toktok9ja Media
The views expressed in this article are the writer's opinion, they do not reflect the views of the Publisher of TOKTOK9JA MEDIA. Please report any fake news, misinformation, or defamatory statements to toktok9ja@gmail.com