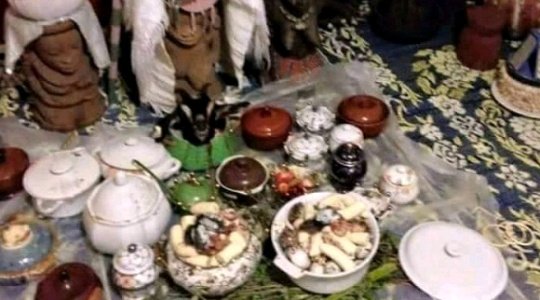 EXPOSED!!! ESN Member Reveals How IPOB Gets Its Funding And Charms, You Will Not Believe The Source.
A member of the Eastern Security Network, (ESN) who was arrested alongside members of his gang has revealed how the Indigenous People of Biafra (IPOB) gets its funding.
The suspect identified as Mr Stanley Osinachi was paraded alongside the lifeless bodies of his gang members who were killed in an exchange of gunfire with the special forces.
According to reports, the ring leader of the gang popularly known as "Dragon" said to be an ex-soldier was gunned down alongside others.
READ: She Deserves It? See the First Bank Staff Sentenced To 98 Years In Prison For Stealing N49 Million
Joseph Uka Nnachi alias Dragon, was said to be the squad commander of the Indigenous People of Biafra (IPOB)/Eastern Security Network (ESN).
The police said he was responsible for over 70 percent of the killings in the Southeast.
Stanley who said he is from Mbieri in Mbaitoli local government area of Imo state revealed that their funding comes from their supporters abroad.
READ: THE END OF IPOB/ESN? Jubilation In Owerri As Security Forces Crushed The Leader Of ESN – Dragon And His Gang
He also added that their charms were prepared by Aguleri native doctors in Anambra State.
On how the ESN operation started and how they were arrested, Vanguard captured the suspect and he said: "Dragon recruited me by calling me on phone to join the Eastern Security Network, ESN, I was recruited for the past three days. Even when I wanted to leave he said he will kill me. Our camp is at Akabo in Ikeduru local government area, that is where we normally operate from and plan for our operation and Dragon told us that part of our plan is to be killing and burning police stations."
READ: HORROR: Teenager Stabs His Brother's Pregnant Wife To Death In Kano State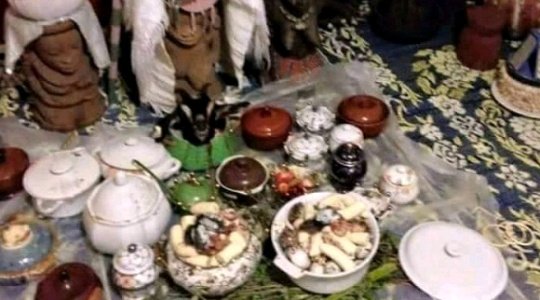 How he was arrested he said: "Policemen got me when we came out as early as 4 am to attack Owerri, we are more than 7 in number, coming to attack and five of us were killed by the police I am the only person that survived. I want to tell you that in our camp is the only dragon that wears a military uniform and our charms are prepared at Aguleri in Anambra state. My arrest is in God's time everything that happens is according to God's wish."
When asked how they get their sponsorship, he said: "It's our people from abroad that send money to us through Dragon, it is dragon that will go and collect the money and bring it for our feeding and other of our needs."
READ: 17-year-old SHS Female Student Commits Suicide After Dropping a Note for Her Parents
On how they get their guns for operation, he said: "Dragon tell us to kill police people and collect their guns for us to use it for operation. We even kidnapped a policewoman officer, and kept her in our custody so that she will be given us information."
According to the police, "On 6th June, 2021 at about 0615 hours when Imolites were preparing to go to Church, hoodlums planned to turn the beautiful Sunday into a black Sunday with an attempt to attack Owerri the State Capital. The attempt was vehemently repelled by the gallant forces of the Army, Police Special Forces and other supporting security agencies.
"The attackers who came in a white hummer bus, wanted to access the Command Headquarters through Works Layout around Alvan Nursery and Primary School Owerri but had a bloody fight with the security forces. They were first Intercepted by the Military at the outer perimeter cordon provided for the Police. Five hoodlums were killed in action (KIA)including Joseph Uka Nnachi alias King of Dragons.
READ: Turkish Diplomat Erkahraman Warns President Buhari To Stop Killing Biafrans (VIDEO)
"One suspect Stanley Osinachi 'm' 30 years old of Achi/Mberi , Mbaitoli Local Government Area of Imo State was arrested and presently aiding investigation. He confirmed that Dragon is the leader of the gang in Imo State reporting to their supreme leader Nnamdi Kanu. He stated that, they belong to the proscribed IPOB and ESN.
"Four AK 47 Rifles with 2000 rounds of live ammunition and large number of explosives were recovered from the scene. The Rifles breech numbers were crossed checked and found to be the same Police Rifles that were stolen by the hoodlums from our Police station at Omuma on 31st May, 2021 which claimed the lives of four Policemen."
DO YOU HAVE ANY NEWS YOU WANT TO REPORT? CLICK HERE TO REGISTER AND SUBMIT YOUR NEWS FOR PUBLICATION ON TOKTOK9JA
WATCH MORE NEWS ON OUR YOUTUBE CHANNEL CLICK HERE TO SUBSCRIBE
Professional freelancer and webmaster.
From Toktok9ja Media
The views expressed in this article are the writer's opinion, they do not reflect the views of the Publisher of TOKTOK9JA MEDIA. Please report any fake news, misinformation, or defamatory statements to toktok9ja@gmail.com