VIDEO: See The Dangerous Yoga Exercise This Heavily Pregnant Woman Was Doing That Got People Talking
2 min read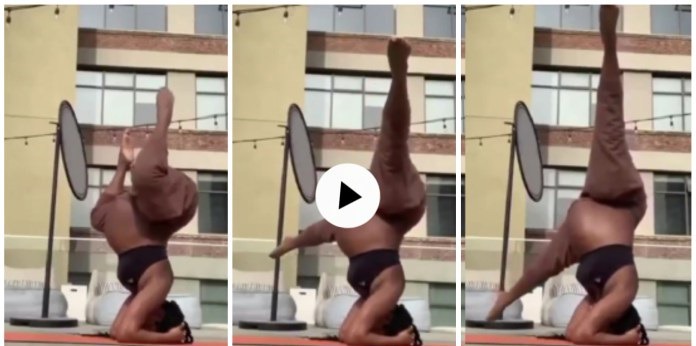 VIDEO: See The Dangerous Yoga Exercise This Heavily Pregnant Woman Was Doing That Got People Talking.
Yoga exercises are common among women as it helps in controlling your mind, body, and soul.
It brings together the physical and mental disciplines to achieve a peaceful body.
According to research, a woman who practices yoga has proven to be more healthy and prudent in decision making.
A video has surfaced online showing a woman in what can be referred to as a "scary" and dangerous yoga position.
The woman pushed herself off-limits while taking on an acrobatic yoga position with her legs facing upward and her head on the floor.
She went further to spread her legs sideways, both to the left and to the right.
Furthermore, an investigation shows that the woman carried out the exercise right on the rooftop of her house.
Now the question we are asking is this:
Is it right for a heavily pregnant woman to practice such a yoga position considering her status?
No doubt she is prone to great danger, just imagine if she slips and falls down or even gets off balance, what do you think will happen?
She might even go into premature laboure out of too much stretching of her muscles.
Ever since the video went viral online, it has got so many reactions from social media users.
We are sharing it with you so you can drop your reaction.
CLICK HERETO WATCH THE VIDEOBELLOW:
Is this good or bad?
Can you allow your wife to do this?
Let's have your reactions via the comment section.
Don't forget to share, like, and follow our blog for more juicy topics.
DO YOU HAVE ANY NEWS YOU WANT TO REPORT? CLICK HERE TO REGISTER AND SUBMIT YOUR NEWS FOR PUBLICATION ON TOKTOK9JA
WATCH MORE NEWS ON OUR YOUTUBE CHANNEL CLICK HERE TO SUBSCRIBE
Professional freelancer and webmaster.
From Toktok9ja Media
The views expressed in this article are the writer's opinion, they do not reflect the views of the Publisher of TOKTOK9JA MEDIA. Please report any fake news, misinformation, or defamatory statements to toktok9ja@gmail.com