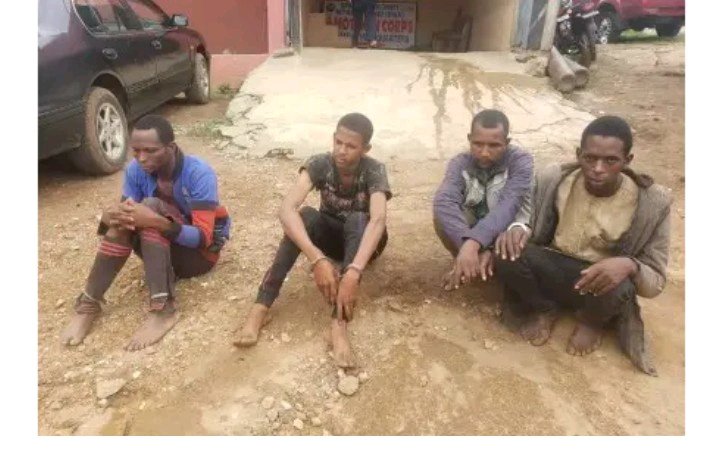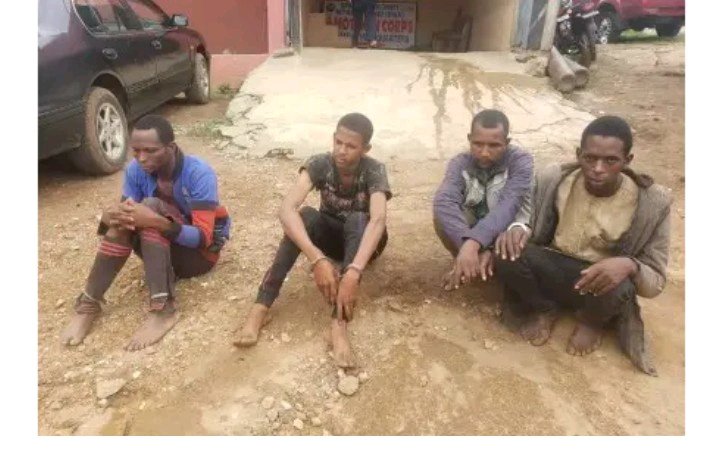 EXPOSED: Top Hausa Men Are Responsible For Killings and Unrest in Nigeria – Suspect Alleged.
The killings of people in the west and northern part of the country are really getting out of hand as the federal government continues to hard to ensure the culprit and sponsors of insurgency in Nigeria are fished out and persecuted according.
Some notorious criminals identified as Umar Ali, Abubakar Sidiku, Yaman Muhammed, and Garuba are the four suspected criminals, murderers, and bandits that have recently met their waterloo after being arrested by the South Western Security Network otherwise known as Amotekun.
READ: Touching Photos From the Burial Ceremony of Pastor Adeboye's Son, Dare
The suspects were reportedly apprehended by the security men after they allegedly killed four persons at Oda road in Akure.
According to the suspects, they opened up that their initial target was a famous businessman but when they could not abduct the man, they decide to rob and four people who were on their way back home after a stressful day instead of going back empty-handed.
One of the suspects confessed that they realized 100, 000 from their victims. He said he actually came to Akure in search of a job before he ventured into the killing and kidnapping business.
READ: Remove My State From List Of Unsafe States In Nigeria – Gov. Udom Pleads with the US
The went further to say that they were been sponsored by top Hausa men to kill and destroys peoples property at all time.
Another suspect while speaking to newsmen confessed that they are not working for Hausa men alone, but also some Yoruba people in the states give them dirty jobs to also execute.
READ: Seek For Forgiveness for Mocking Dare's Death or Expect God's Reactions in 30 Days – Bamgbose Warns IGBOHO
We are working with some Yoruba people who usually bring jobs for us to execute while they pay us a heavy amount of money that's why we don't kidnap people for money but to kill and destroy.
He pleaded for forgiveness saying that if he is given another opportunity, he will not go into any form of crime not to talk of killing anybody again.
These men have sincerely made Nigeria unbearable for the past few months.
What do you think should be done to them?
DO YOU HAVE ANY NEWS YOU WANT TO REPORT? CLICK HERE TO REGISTER AND SUBMIT YOUR NEWS FOR PUBLICATION ON TOKTOK9JA
WATCH MORE NEWS ON OUR YOUTUBE CHANNEL CLICK HERE TO SUBSCRIBE
Top Hausa Men Are Responsible For Killings and Unrest in Nigeria.
Professional freelancer and webmaster.
From Toktok9ja Media
The views expressed in this article are the writer's opinion, they do not reflect the views of the Publisher of TOKTOK9JA MEDIA. Please report any fake news, misinformation, or defamatory statements to toktok9ja@gmail.com