Scientist May Have Found the Cure, As New Drug Cures Over 80 Coronavirus Patients
3 min read
A pharmaceutical company in China has been been handed a go ahead by the National Medical Products Administration to kick-start the mass-production of a drug that has been clinically proven to cure coronavirus patients.
The company, according to China Xinhua News, has also been mandated to ensure stable supply of the drug that could offer a new string of hope as countries across the globe struggle to contain the virus.
The news agency based in China has reported that experts had completed the clinical research on Favipiravir, an antiviral drug that has shown good clinical efficacy against the novel coronavirus disease (COVID-19).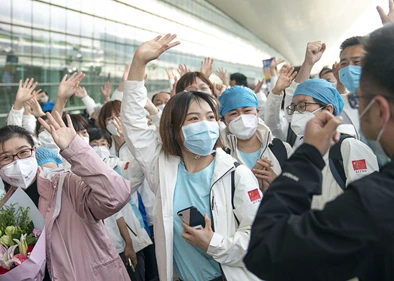 Mr Zhang Xinmin, the director of the China National Center for Biotechnology Development under the Ministry of Science and Technology in China confirmed the new development as reported by Xinhua News.
Zhang told the press that Favipiravir, an influenza drug which was approved for clinical use in Japan in 2014, did not show any obvious adverse reactions, after a series of clinical trials.
He said more than 80 patients had participated in the clinical trial at The Third People's Hospital of Shenzhen, south China's Guangdong Province, including 35 patients taking Favipiravir and 45 patients on a control group.
Researchers recorded impressive results from the drug showing that patients receiving the Favipiravir treatment turned negative for the virus in a shorter time compared to the patients who were under the control group.
The Chinese media house has also reported that a multi-centered randomized clinical study led by the Zhongnan Hospital of Wuhan University also suggested that the therapeutic effect of Favipiravir is much better than that of the control group.
"Favipiravir has been recommended to medical treatment teams and should be included in the diagnosis and treatment plan for COVID-19 as soon as possible," Zhang told the press.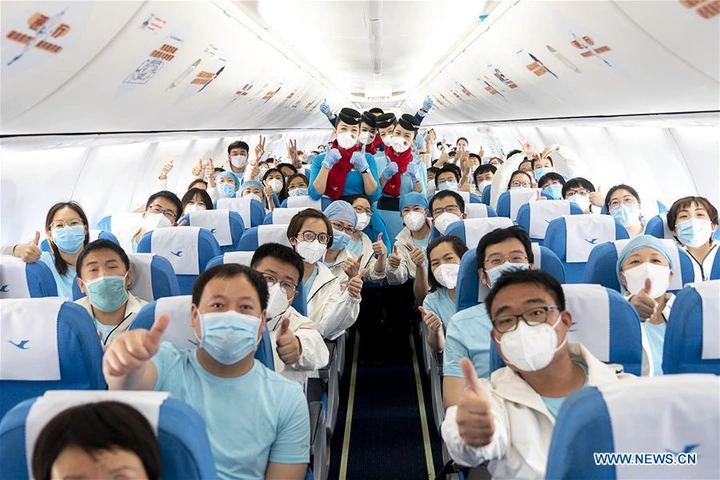 PHOTO: Medics from north China's Tianjin Municipality in a group photo with cabin staff aboard an airplane at the Wuhan Tianhe International Airport in Wuhan, on March 17, 2020 [Source:XinhuaNews]
Last month, Zhang indicated that favipiravir, Gilead's and chloroquine were the three drugs that had shown a promising profile against the new coronavirus.
The new development means the experts had now narrowed down to favipiravir.
The first batch of medical assistance teams started leaving Hubei Province early on Tuesday as the epidemic outbreak in the hard-hit province has been subdued.
Kindly follow us on social media to get trending updates as they come.
Have something to add to this story? Please share it in the comments box.
Follow us on Facebook, Instagram & Twitter to keep up to date with
trending news as it happens.
NEXT READ: FoodBank Development Network Embarks on Sensitization Awareness Campaign on Coronavirus
Professional freelancer and webmaster.
From Toktok9ja Media
The views expressed in this article are the writer's opinion, they do not reflect the views of the Publisher of TOKTOK9JA MEDIA. Please report any fake news, misinformation, or defamatory statements to toktok9ja@gmail.com