See What Lord Lugard Said About The Igbo, Hausa, And Yoruba Tribes That Turns Out To Be True
See What Lord Lugard Said About The Igbo, Hausa And Yoruba Tribes That Turns Out To Be True.
The first Governor of Southern Nigeria, in the person of Lord Lugard, was born into the home of a missionary who was then serving in Madras, India, in the year 1858.
Lord Lugard, who then was a British soldier and an explorer was the first-ever governor of the South, first high commissioner, and last Governor of Northern Nigeria from the year 1912 until the year 1914.
READ: See How Us-Based Organization – "End Trafficking International" Rescued Nigerian Woman Sold Into Slavery in Libya
He was married to a lady named Flora Shaw, who was a British journalist and writer.

It was Lord Lugard's s wife who gave the name Nigeria.

In the year 1918, Lord Lugard was said to have written a letter to his friend Walter H. Lang.

In the said Letter, Lord Lugard, explained to Walter H. Lang, what he had observed about the 3 major languages of the tribes in Nigeria.
In his words, Lord Lugard explained to Walter H. Lang that after he had spent the best part of his life in Africa, that the only wish and aim he has is to make life better for the people he met there.
READ: International Women's Day: What Women Can Learn from the Emergence of Dr Ngozi Okonjo Iweala
He went on to explain the characteristics he observed while in Nigeria.

He said that the Hausa tribe are extravagant in spending money and that they are gamblers.
READ: Top Eleven (11) Biafra Soldiers Who Fought Alongside Ojukwu During The Nigerian Civil War (VIDEO)

He also said in his letter that they are mostly a menace to any community they find themselves in.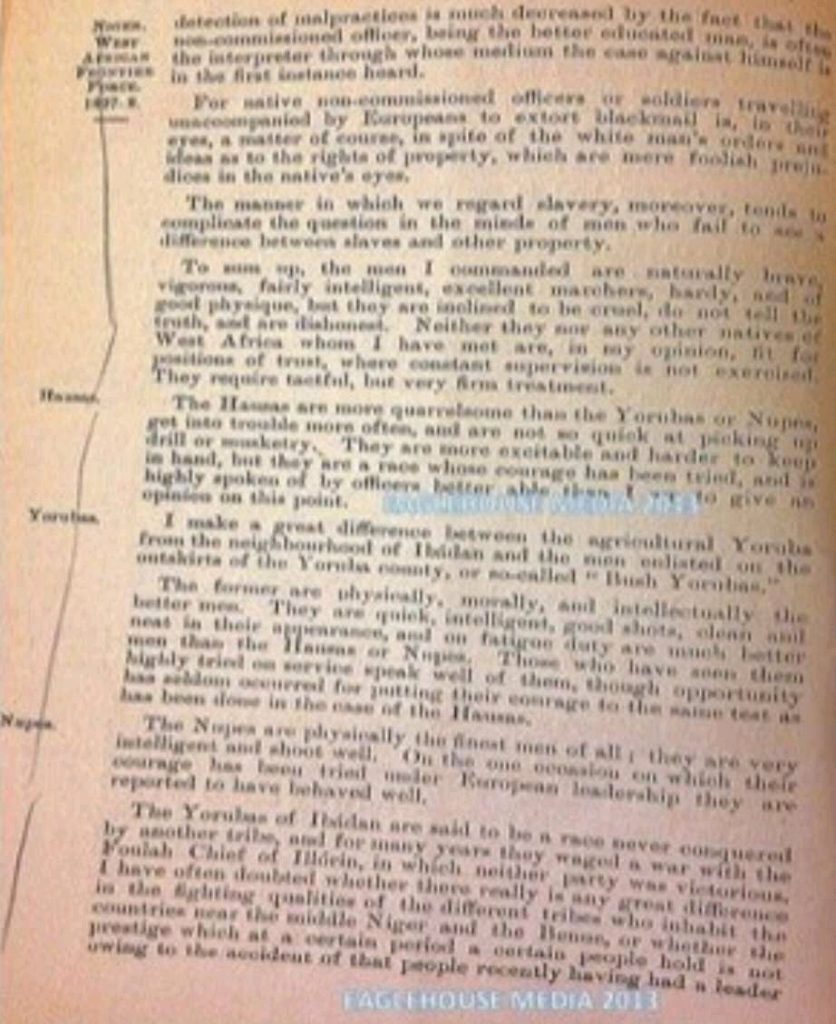 For the Igbos, he said that they are like the wild donkey who has no regard whatsoever when it comes to taking authorities, but that they are highly industrious and can never be trusted.

He went on to say that the Yoruba were the lowest of all the tribe he met in Nigeria. That they are very disloyal.


That they are the most purely prompted by self-seeking money motives of any people he met during his stay in Nigeria.

What do you think about what Lord Lugard said about the 3 major languages and tribes in Nigeria?
From: Toktok9ja Media;
The views expressed in this article are the writer's opinion, they do not reflect the views of the Publisher of TOKTOK9JA MEDIA. Please report any fake news, misinformation, or defamatory statements to toktok9ja@gmail.com
DO YOU HAVE ANY NEWS YOU WANT TO REPORT? CLICK HERE TO REGISTER AND SUBMIT YOUR NEWS FOR PUBLICATION ON TOKTOK9JA
WATCH MORE NEWS ON OUR YOUTUBE CHANNEL CLICK HERE TO SUBSCRIBE
Professional freelancer and webmaster.
From Toktok9ja Media
The views expressed in this article are the writer's opinion, they do not reflect the views of the Publisher of TOKTOK9JA MEDIA. Please report any fake news, misinformation, or defamatory statements to toktok9ja@gmail.com