VIDEO: Okada Man Gets Washed to Death By Flood While Trying to Save His Bike in Chikakore, Abuja
VIDEO: Okada Man Gets Washed Away to Death By Flood While Trying to Save His Bike in Chikakore, Abuja.
In a tragic incident that left the residents of Chikakore, a settlement in Kubwa, Abuja in shock, a local bike rider, popularly known as "OKADA," was swept away by floodwaters while attempting to cross a flooded road with his bike.
Despite warnings from concerned individuals to wait until the floodwaters receded, the man, seemingly in a rush, decided to forge ahead. He was halfway through the flooded road when the force of the water intensified, shaking his bike. Undeterred, he clung desperately to his bike, but the sheer power of the raging floodwaters proved too much to handle. The bike was eventually carried away, along with the courageous rider who valiantly attempted to save his means of livelihood.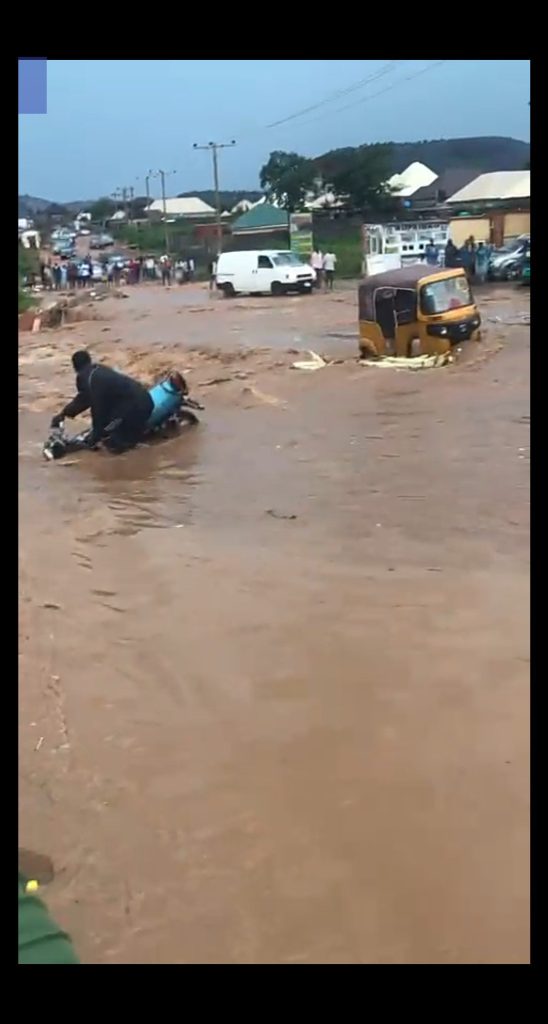 Community members shared a WhatsApp message recounting the tragic incident. They revealed that while everyone else parked their vehicles and waited for the floodwaters to subside, the bike rider's impatience led him to attempt crossing the dangerous road. The message read, "This happened yesterday in Kubwa/Chikakore Bridge. Everyone parked waiting for the flood to recede, but this bike man wanted to try his skills. He didn't live to tell the story…. Please avoid flooding this rainy season. I hope this will be sent to the top management of FCTA for immediate action on this road."
The community members expressed their hope that the distressing video would reach the top management of the Federal Capital Territory to prompt urgent action in restoring the road. They highlighted that the road has been in a deplorable condition for an extended period, leading to recurring flooding.
As of now, the body of the unfortunate bike rider has not been recovered.
In response to this tragic event, the community group urged all Nigerians to exercise caution and avoid flooded areas during this season. It is essential to prioritize safety and refrain from taking unnecessary risks, especially in the face of natural disasters like floods.
The incident is a wake-up call for authorities to prioritize infrastructure development and maintenance to prevent such avoidable tragedies in the future. Properly constructed and maintained roads, bridges, and drainage systems are crucial for safeguarding lives and properties during periods of heavy rainfall.
The loss of this bike rider's life should not be in vain, and it should compel all relevant authorities to take the necessary steps to prevent similar occurrences in the future. Only then can we ensure the safety and well-being of all citizens during the rainy season and beyond.
Superfly Movie Star and Rapper Kaalan Walker Sentenced To 50 Years For Raping Multiple Women
Watch the video below:
DO YOU HAVE ANYTHING YOU WANT TO TELL US ABOUT NIGERIA? CLICK HERE TO JOIN ESSENCE FORUM AND SHARE YOUR TOPICS WITH OVER 4000 MEMBERS.
WATCH MORE NEWS ON OUR YOUTUBE CHANNEL CLICK HERE TO SUBSCRIBE
Professional freelancer and webmaster.
From Toktok9ja Media
The views expressed in this article are the writer's opinion, they do not reflect the views of the Publisher of TOKTOK9JA MEDIA. Please report any fake news, misinformation, or defamatory statements to toktok9ja@gmail.com