$$X for Grade: Let The Girls With Big Br**$t Breath – Prof Ndifon Must Go, UNICAL Female Students Protest (VIDEO)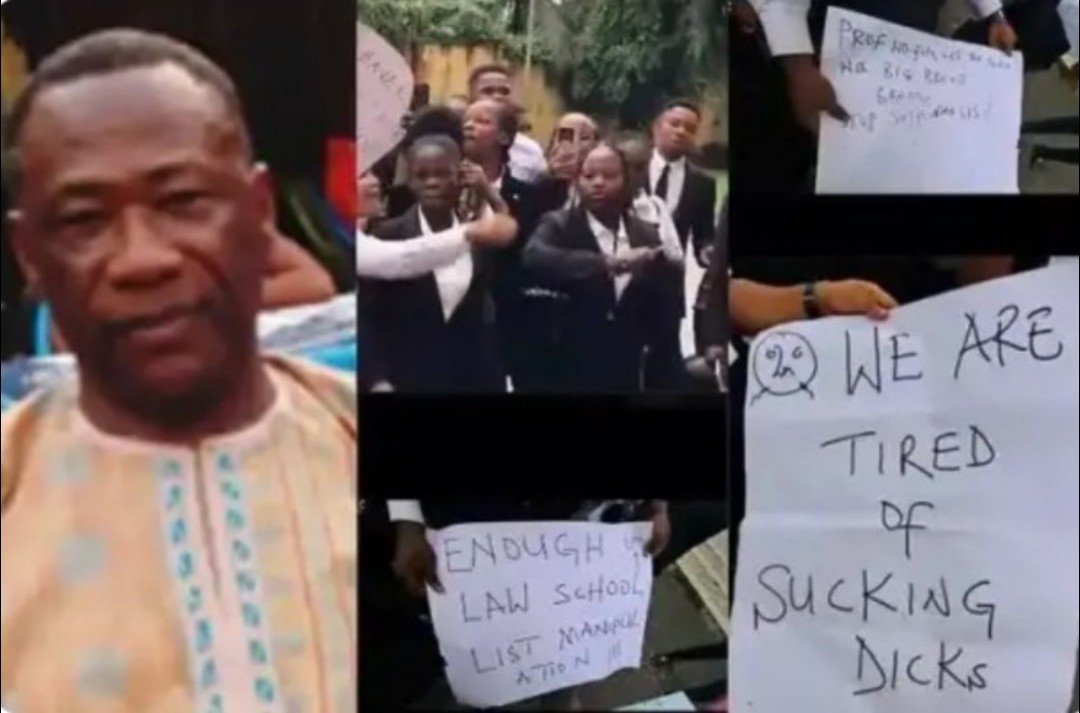 $$X for Grade: Let The Girls With Big Br**$t Breath – Prof Ndifon Must Go, UNICAL Female Students Protest (VIDEO).
Prof. Cyril Ndifon, Dean of the Faculty of Law at the University of Calabar, Cross River State, has finally responded to the allegations of $$xual harassment made against him by some students.
In videos shared online, students were seen protesting and holding up placards with derogatory statements about the professor like, " We are tired of svcking big d!cks, Professor Ndifon, let the girls with big bre@$ts breathe. Stop suffocating us, and Enough of law school list manipulation. "
Prof. Ndifon denies the allegations and claims that they are part of a plot by his fellow lecturers who want to see him removed from his position as the dean of the law faculty.
Please Watch Video Below;
According to Prof. Ndifon, the accusations are baseless and fabricated by his people who are trying to tarnish his image. He believes that the protest was orchestrated by people who are unhappy with his election victories as the dean of the faculty.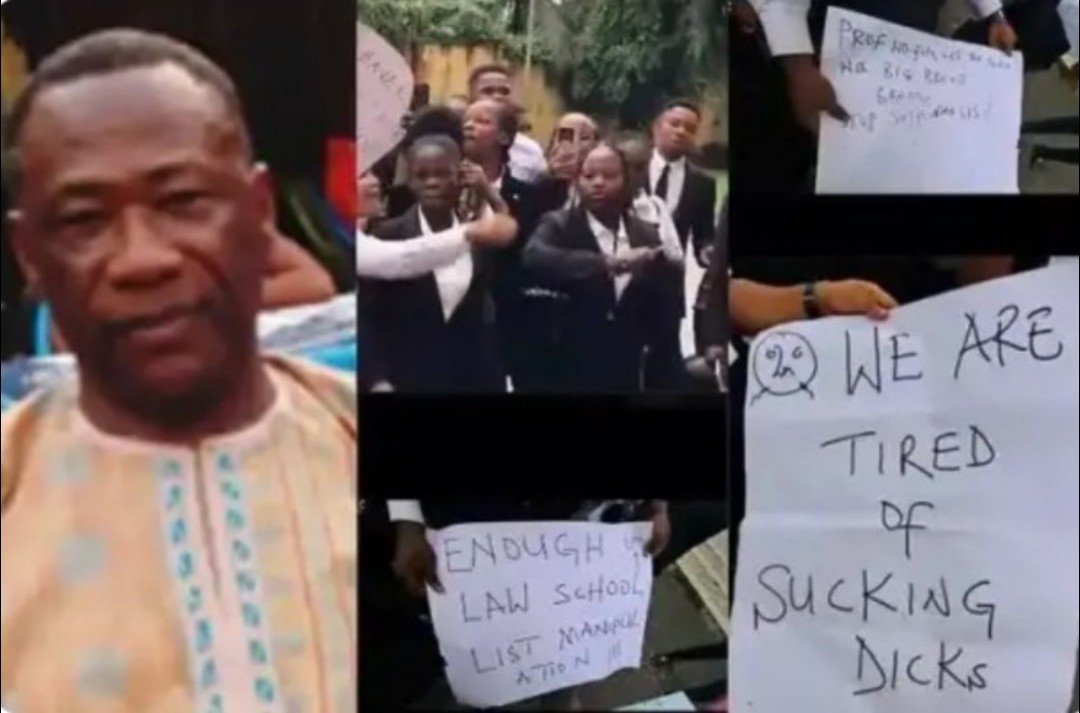 He points out that the handwriting on the placards is consistent, suggesting that they were prepared by one person. He also questions how the protesters were aware of a meeting he was having with the Vice Chancellor, implying that it was an inside job.
Prof. Ndifon explains that the meeting with the Vice Chancellor was intended to address important issues within the faculty. However, during the meeting, he was informed that students were outside protesting against him and demanding his removal. He alleges that the President of the Law Students' Association, Benedict Otu, deceived some students by telling them they were going to a meeting with the Vice Chancellor and then provided them with placards containing false representations about the dean.
The professor strongly denies the allegations of $$xual harassment and questions the lack of evidence or victims coming forward to support these claims. He said he does not teach the students who brought up the allegation and was surprised why his name was dragged in the mud. Prof. Ndifon believes that these accusations are lies created to district his reputation which he spent decades building.
READ: My Husband Uses Aboniki Balm, Dustin Powder As Lubricant To T0rture Me During $$x, I Want a Divorce – Woman Cries Out in Court
He said, "The won't work, some colleagues of mine who are bent on tarnishing my image are responsible. The questions I'm asking is that were are the victims of the $$xual harassment?"
"Can someone harass girls without them coming out to raise alarm?"
"For Christ's sake, I don't teach year 2B it Year 1 students, so o don't know why they have chosen to drag my name in the mud. This was why I said earlier that the allegations were lies cooked from the pit of hell just to destroy a reputation I had spent years to build."
DO YOU HAVE ANYTHING YOU WANT TO TELL US ABOUT NIGERIA? CLICK HERE TO JOIN ESSENCE FORUM AND SHARE YOUR TOPICS WITH OVER 4000 MEMBERS.
WATCH MORE NEWS ON OUR YOUTUBE CHANNEL CLICK HERE TO SUBSCRIBE
Professional freelancer and webmaster.
From Toktok9ja Media
The views expressed in this article are the writer's opinion, they do not reflect the views of the Publisher of TOKTOK9JA MEDIA. Please report any fake news, misinformation, or defamatory statements to toktok9ja@gmail.com