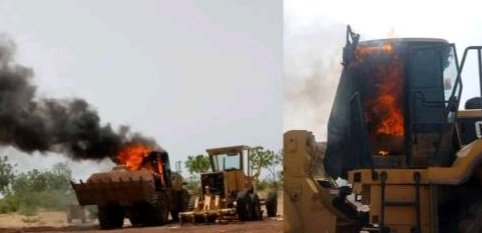 MORE ATTACKS: Boko Haram Kills Five Policemen, Burns Down United Nations Property In Yobe State.
Insurgents from the Islamic State-sponsored faction of Boko Haram, the Islamic State West Africa Province (ISWAP), previously as Jamā'at Ahl as-Sunnah lid-Da'wah wa'l-Jihād, have attacked Gujba in Yobe State.
According to ISWAP four policemen were murdered during the assault on the community which is 30 km from Damaturu, the state capital.
READ: JUST IN: Armed Bandits Attack Bakery In Kaduna And Reportedly Kidnap Over 30 People
The terrorist faction mocked the Nigerian army, saying soldiers declined to leave their military base to defend the town while they operated for many hours.
The group also set fire to some United Nation facilities, cars and houses in the community.
A military source confirmed the attack actually occurred saying, "Yes, it's true. They attacked the community last week. They came in different vans and drove straight to the company constructing the 40km Gujba-Mutai Road.
READ: UPDATE: Police Dig out More Evidence on the Murder of Super TV CEO by Chidinma Ojukwu
"That was where they killed the police officers. I saw two officers though, I was told one member of the Nigeria Security and Civil Defence Corps (NSCDC) was killed as well. Then they started burning the company's heavy-duty machines on the site.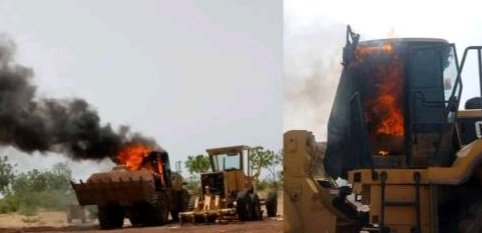 "From there, they moved back to the community where they looted the Red Cross and USAID offices and burnt the facilities."
READ: Nigerians React As Yoruba Nation Agitators Set To Storm London For A Mega Rally
The attack happened a few months after the terrorists attacked a military base in the community, killing several soldiers.
Boko Haram and its branch, Islamic State West Africa Province, have murdered thousands and displaced millions in the Northeastern region of Nigeria.
The Nigerian military has numerous times said that the insurgency had been to a large extent curtailed.
Since the beginning of the year, soldiers have been targeted by the group, who wait in ambush for them.
Numerous police officers and soldiers have been murdered since January 2021.
READ: Turkish Diplomat Erkahraman Warns President Buhari To Stop Killing Biafrans (VIDEO)
About 33 soldiers were murdered not long ago when two explosive-laden vehicles ran into a military convoy in Wulgo.
The suicide bombers were revealed to be as Abu Bakr al-Siddiq and Bana Jundullah. The group also claimed four military vehicles were destroyed.
Back in February, roughly 20 soldiers were also murdered in Malari, Borno State by the insurgents.
It was reported that the soldiers were on patrol to clear some Boko Haram terrorists in the area after credible intelligence when they were ambushed by the group.
DO YOU HAVE ANY NEWS YOU WANT TO REPORT? CLICK HERE TO REGISTER AND SUBMIT YOUR NEWS FOR PUBLICATION ON TOKTOK9JA
WATCH MORE NEWS ON OUR YOUTUBE CHANNEL CLICK HERE TO SUBSCRIBE
Professional freelancer and webmaster.
From Toktok9ja Media
The views expressed in this article are the writer's opinion, they do not reflect the views of the Publisher of TOKTOK9JA MEDIA. Please report any fake news, misinformation, or defamatory statements to toktok9ja@gmail.com