MULTIPLE AIR CRASHES: SACK The Chief Of Air Staff Immediately – Group Tell Buhari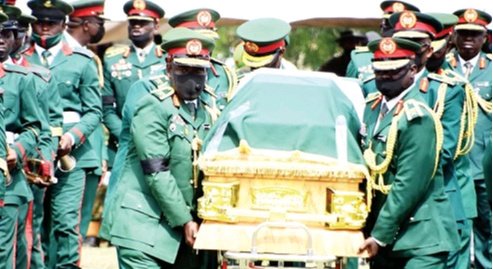 MULTIPLE AIR CRASHES: SACK The Chief Of Air Staff Immediately – Group Tell Buhari.
The National Youth Council of Nigeria (NYCN) has called on President Muhammadu Buhari to immediately sack the chief of air staff, Isiaka Amao.
The group is asking Buhari to sack the chief of air staff over the different air crashed that have occurred in the nation since January.
In January 2021, Amao was appointed as the chief of air staff alongside other service chiefs, including Ibrahim Attahiru, chief of army staff.
In a statement on Tuesday, Solomon Adodo, NYCN president, said it is unacceptable for the nation to lose over 20 military personnel in air crashes within three months.
Adodo said no military in the world would accept that all is well with the different air crashes adding that the president has to take proactive steps in order to forestall further crash of military planes.
READ: We Are Taking Over Biafran Territories Starting From Anambra On May 30– BNG Claims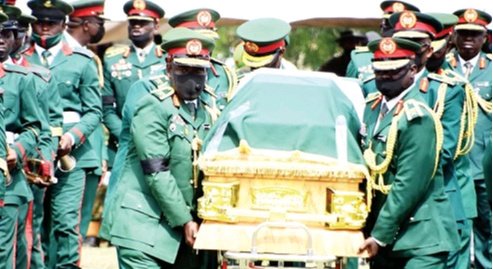 He said, "We are worried that in the spate of three months, we have had three different military planes crashing. Over 20 military officers have lost their lives in 3 crashes across the country. This is unacceptable to the youth.
"Recall that on February 21, 2021, a Minna-bound military jet crashed, killing all 7 onboard. In less than 6 weeks, particularly on April 2, 2021, another Alpha Light Attack Jet went missing in the air and later reported crashed. And in another 7 weeks, May 21, 2021, yet another crash of a military aircraft, this time killing the Chief of Army Staff and other senior officers.
"As it stands, no one can vouch for the integrity of all planes managed by the Nigeria Air Force including Air Force 1 which transports President Muhammadu Buhari. It is high time we begin to hold people in authority accountable for their stewardship. This is why the NYCN believes the current Chief of Air Staff should be relieved and a more competent person who can guarantee the integrity of our Air Force assets be appointed.
"No military anywhere in the world can pretend that it is okay to record plane crashes on bi-monthly bases. And no country or a people can accept that. We, therefore, demand grounding of all military planes pending the outcome of the investigation which will ascertain the airworthiness of the military air fleet. Also, we demand that the result of earlier military plane crashes investigations to be published and a military Committee of Enquiry empaneled to investigate the incessant crashes.
READ: "Internet Fraud Makes US Richer Than Government Workers"- Arrested Yahoo Boys Confess
"The frequency of the crashes and the damage it has done within the spate of three months leaves a bitter taste in the mouth. The Chief of Air Staff is obviously failing to deliver on the job. Thus, we call for his immediate sack."
On Sunday, the Nigerian Air Force said that investigations into the plane crash and other recent ones would be transparent.
The NAF spokesman, Edward Gabkwet, in an interview with Punch, adding that the force would not rush to take any decision, but would wait for the outcome of the investigation involving it and the Accident Investigation Bureau before deciding on the fatal plane crashes.
On if the NAF would ground Beechcraft KingAir B350i since there had been two crashes involving it in recent times.
Gabkwet said such an action would be hasty, adding that investigations into the fatal crashes were still going on.
He said, "We want to be as transparent as possible. Nigerians will be fully informed about the outcome of the investigation. We are going to have a joint press conference with the AIB and make sure everybody gets the outcome of this investigation.
"In the meantime, we are not rushing into taking certain decision that would hamper our own operations. Mind you, we still have operations ongoing. We must be careful about the kind of action we take. We should not take our eyes off the ball, we must remain focused in whatever we are doing, not take rash decisions just to please few critics on Twitter, Facebook or Instagram. No, we won't do that."
The NAF spokesman also said that the two Beechcraft aircraft that crashed were different series, noting that the one which crashed in Abuja in March was configured for intelligence, surveillance and reconnaissance while the Beechcraft involved in  Friday's crash in Kaduna was a passenger aircraft.
READ: Meet The Senior Army Officer From The South East Who May Be Appointed Chief Of Army Staff
He said, "You have to understand; a lot of things go into the grounding of an entire fleet of aircraft. One thing that can make us ground them is based on the recommendation of the board (of inquiry). We have been using that (Beechcraft) aircraft for almost 10 years and we have had just two crashes of that aircraft, then we ground it; then, we are not been fair to ourselves. It has been the most reliable transport aircraft we had until this accident.
''So, going to ground it is too swift and the Accident Investigation Bureau and the Nigerian Air Force are working hand-in-hand to make sure they come out with something all Nigerians will see and that's why we are involving the AIB in this investigation."
The nation had been thrown into mourning on Friday after, Attahiru and 10 other military officers died in an air crash near the Kaduna international airport.
Their remains were buried at the national military cemetery in the federal capital territory (FCT) on Saturday.
11 military officers, including the Chief of Army Staff, Lt. Gen. Ibrahim Attahiru, died on Friday when a Beechcraft KingAir B350i billed to land at the Nigerian Air Force Base, Mando, Kaduna crashed at the Kaduna International Airport.
Meanwhile, a former aide to ex-president Goodluck Jonathan, Reno Omokri has called on Buhari to consider an Igbo man to place the late COAS. According to Reno, this move will help cease the fight of secessionists.
The former presidential aide also called on the president to visit an Igbo state and encourage a major party to consider an Igbo presidential candidate.
Omokri wrote; "The best way to fight the rise of secessionists in the Southeast is not with guns, bullets and helicopter gunships. Give them development. Stop your nepotism. Be fair and balanced in your appointments. Consider an Igbo man to replace General Attahiru. Abandon the 97% versus 5% mentality. Lose your Igbophobia.
READ: EXPOSED!!! See the Popular Emir Arrested For Alleged Sponsoring of Bandits in the North
"Visit each Igbo state (Buhari has not visited Igboland since the 2019 election). Make Igbo monarchs pro-chancellors of federal universities in Northern Nigeria. Genuinely pursue an extra state for the Southeast in the Constitutional Reform process, so they are equal with other geopolitical zones. Encourage a major political party to consider an Igbo Presidential candidate. Embrace Igbos and Igbos will embrace Nigeria"
DO YOU HAVE ANY NEWS YOU WANT TO REPORT? CLICK HERE TO REGISTER AND SUBMIT YOUR NEWS FOR PUBLICATION ON TOKTOK9JA
WATCH MORE NEWS ON OUR YOUTUBE CHANNEL CLICK HERE TO SUBSCRIBE
Professional freelancer and webmaster.
From Toktok9ja Media
The views expressed in this article are the writer's opinion, they do not reflect the views of the Publisher of TOKTOK9JA MEDIA. Please report any fake news, misinformation, or defamatory statements to toktok9ja@gmail.com