POVERTY: Hungry Nigeria Children Caught On Camera Eating Grass to Survive Sparks Reaction
3 min read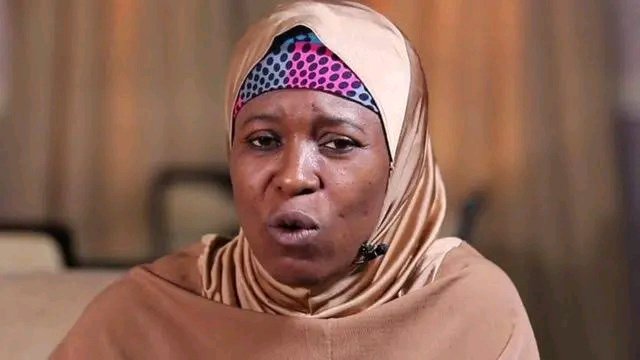 POVERTY: Hungry Nigeria Children Caught On Camera Eating Grass to Survive Sparks Reaction.
Two unidentified children have been spotted in a video obtained by Sahara Reporters feeding on raw grass due to a high increase in poverty in some villages in Katsina.
The incident happened in Mabai village in the Kankara Local Government Area of Katsina State. As seen in the photo, two unidentified children were feeding on raw grass as their mother looked on.
READ: Just In: Fresh Ebony/Benue Clash Leaves Many Dead, See Details
The rate of hunger and poverty has since increased in the Northern part of Nigeria due to the sudden unending activities of Bandits in the region.
The children are one of the many displaced individuals seeking abode in Mabai village due to incessant attacks of Northern Bandits.
The business of the Parents was affected as a result of Bandits activities, which then made the children feed on the grass to quench their hunger.
While reacting to this, active EndSars Activist, Aisha Yesufu felt displeased as regards the incident.
READF: Fear in Imo State As Hoodlums Behead Jonathan and Others
Yesufu in her words faulted the Administration of Mr. President for not looking into the Agricultural sector of Nigeria. She also stated that despite being the President of Nigeria, his State, Katsina still wallows in hunger.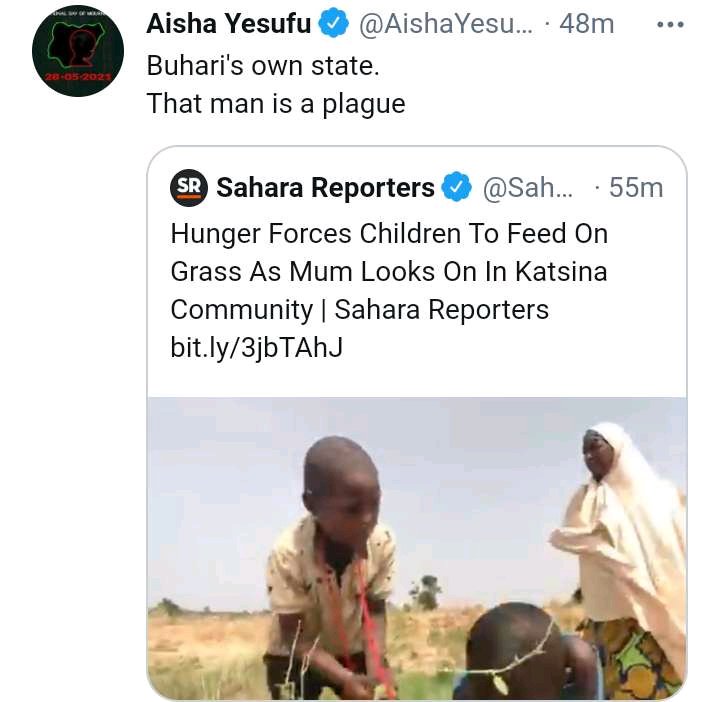 Here are some reactions:
" 1000 naira note is to big for those stupid region na 500 naira note dey will give them. . . "
" They' ll still vote the same jokers in next term after collecting 1000naira note they will last them for a day or two.
Poverty is a deadly weapon. "
" Starvation policy of Biafra children in war but these guys are experiencing it in a non war situation. Abomination"
" The Nigerian situation is a big worry. What could Buhari have done differently? "
READ: Drunk Female College Student Caught on Camera Staggering Home After Partying Hard (VIDEO)
" But yet they' ll never desist from Sai Baba. Whenever he' s visiting they' ll pay them 1k naira to shout Sai Baba. "
" For three days all those that have called me always find a way to say how they need money for this and that and its been hard. Poverty don choke for the country"
" The north has the highest poverty rate in Nigeria, in addition to having the highest out school children in Nigeria, plus the highest level of infant moralities, highest number of child marriages and the most susceptible people to killed by armed bandits. Buhari has done nothing. "
" Saw an NTA NewsLine report of acute malnutrition among children in several LGAs in Katsina State. It' s a serious problem. "
Here are some screenshots:
DO YOU HAVE ANY NEWS YOU WANT TO REPORT? CLICK HERE TO REGISTER AND SUBMIT YOUR NEWS FOR PUBLICATION ON TOKTOK9JA
WATCH MORE NEWS ON OUR YOUTUBE CHANNEL CLICK HERE TO SUBSCRIBE
Professional freelancer and webmaster.
From Toktok9ja Media
The views expressed in this article are the writer's opinion, they do not reflect the views of the Publisher of TOKTOK9JA MEDIA. Please report any fake news, misinformation, or defamatory statements to toktok9ja@gmail.com