Story of Nigerian Footballer Who Divorce His Muslim Wife And Married A Christian Who Converted Him Because Of Love
1 min read
Story of Nigerian Footballer Who Divorce His Muslim Wife And Married A Christian Who Converted Him Because Of Love.
If you are interested in the life and career of the famous Nigerian footballer Ahmed Musa, you would probably appreciate knowing some exciting facts from the Juliet Ejue biography. This woman is the loving wife of the Nigerian forward, and there are a lot of interesting things to say about her.
Biography of Juliet Ejue
Juliet Ejue, is the star footballer Ahmed Musa's wife, though this is Musa's second marriage. He had a spouse before Juliet, whose name was Jamila, and they had two children together – Ahmed Jr and Halima. However, Ahmed and Jamila got divorced, because of various misunderstandings and complications in their relationship.
Some sources alleged that as the follower of Muslim faith, Jamila knew Ahmed would marry a second wife and she was wasn't happy about all the attention going to her, as Ahmed was posting her photos on social media and called her "his queen." Whatever was the case, it is kept under wraps and not officially disclosed to the public. The Nigerian media quickly found out that the beautiful woman who won Ahmed Musa's heart was called Juliet Ejue, and that he was completely head over heels in love with her.
READ: True Live Story of How Nigerian Lady Who Went To Work As A Maid In Saudi Arabia, Faked Madness To Escape Death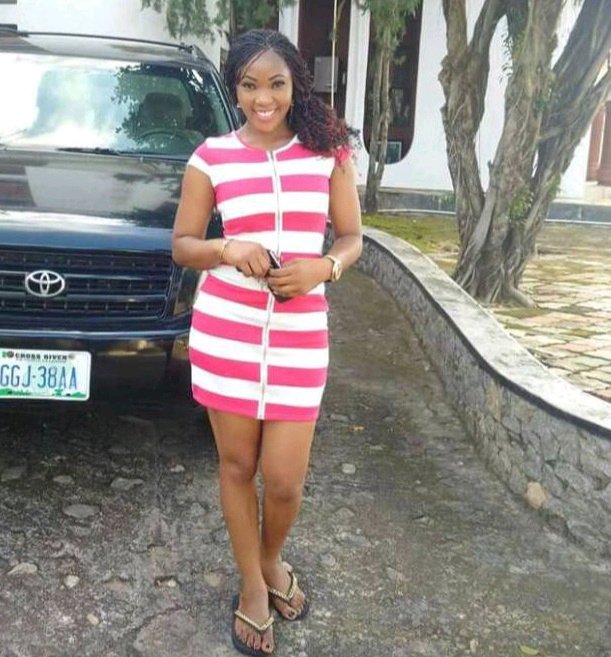 The full name of this bright young lady is Juliet Ejue Adeh. Her birthday is April 5th, and her star sign is Aries. She comes from Calabar, which is in Ogoja Local Government Area in Cross River State.
Juliet was a student at the Police Secondary School, which is located in her native city Calabar. Later, when she completed her school education, she entered the University of Calabar and successfully finished it with a degree. Now, Juliet Ejue is self-employed. She resides in Lagos with her husband.
READ: Lady Who Cooked Food With Menstrual Blood for Her Boyfriend Tells the Shocking Story
Juliet Ejue's religion
Unlike her Muslim husband, Juliet Ejue is a Christian woman. Some insiders reported that this caused an issue between Ahmed Musa and his ex-wife Jamila because she was not against him marrying someone else, but thought he would choose a Muslim second wife, not a Christian.
Ahmed Musa's marriage life with Juliet Ejue
When fans of Ahmed Musa found out that he is going to marry Juliet Ejue, the opinions were really divided. Some people were happy for them and wished them all the best, while some said that Ahmed Musa moved on from his previous wife a little too soon. In response to the critics, the footballer said that he is not aiming to be perfect and just living his life and that all the people who are commenting on his private matters have to mind their own business.
READ: Is It Wrong to Marry A Catholic Man? After Our Introduction, I'm Seeing Too Many Red Lights
At first, the happy couple held a white wedding, where Juliet showcased her new shiny ring. Later, Ahmed and Juliet had a really beautiful traditional wedding, which they held in Ogoja, Cross River State, where Juliet originates from.
They hosted a wedding party which included 5,000 guests. There were footballers from Nigerian national team who attended their teammate's special celebration, including Shehu Abdullahi, Ogenyi Onazi, Rahum Lawal and Fegor Ogude. Many of the football officials and staff were also at the ceremony.
The footballer and his young wife are still going strong. On their first anniversary, Ahmed Musa made a romantic post where he, once again, called Juliet his queen and thanked her for those 365 amazing days. He said that he was blessed to have a woman like her by his side, and expressed his gratitude to God for bringing her into his life. In conclusion, he said that he is hoping to have many more wonderful years with her, and confessed his love.
READ: Drunk Female College Student Caught on Camera Staggering Home After Partying Hard (VIDEO)
In July 2018, Ahmed and Juliet welcomed a little baby boy. The news was first shared by Ahmed Musa on his Instagram, who said that he was unable to describe the feeling when he first saw his son. The son of Ahmed Musa and his wife Juliet is named Ibrahim. Ahmed decided to name his baby boy after the man who discovered him – Ibrahim Ahmed, known under the alias "Coach Bros". The little Ibrahim is truly the most precious bundle of joy, and he makes every day a little brighter for his happy parents.
DO YOU HAVE ANY NEWS YOU WANT TO REPORT? CLICK HERE TO REGISTER AND SUBMIT YOUR NEWS FOR PUBLICATION ON TOKTOK9JA
WATCH MORE NEWS ON OUR YOUTUBE CHANNEL CLICK HERE TO SUBSCRIBE
Story of Nigerian Footballer Who Divorce His Muslim Wife And Married A Christian Who Converted Him Because Of Love.
Professional freelancer and webmaster.
From Toktok9ja Media
The views expressed in this article are the writer's opinion, they do not reflect the views of the Publisher of TOKTOK9JA MEDIA. Please report any fake news, misinformation, or defamatory statements to toktok9ja@gmail.com