Chinwe Chibuike Foundation Plans to Hold Free Medical Outreach in Abuja
Abuja, Nigeria – The Chinwe Chibuike Foundation (C.C.F) is gearing up to make a great impact on the lives of the people of Abuja with a one-day free medical outreach scheduled for Saturday, September 23, 2023.
This noble endeavor will encompass a range of vital services, including free testing and medical treatments for ailments such as Malaria, Typhoid, High Blood Pressure, and more. Additionally, the foundation will distribute essential food items to those in need.
C.C.F's Remarkable Philanthropic Journey
C.C.F, an international non-profit organization, has a rich history of engaging in charitable activities and philanthropy, predominantly benefiting the people of Nigeria. Over the years, their work has extended to providing health consultancy, medical aids, and treatments to those in need. The foundation has consistently demonstrated a deep commitment to making a positive difference in the lives of the less privileged.
Madam Gloria C. Chibuike, the founder of the foundation, is brimming with optimism about the forthcoming medical outreach. She believes that this event will profoundly impact the lives of many, particularly the less privileged.
Event Details and Location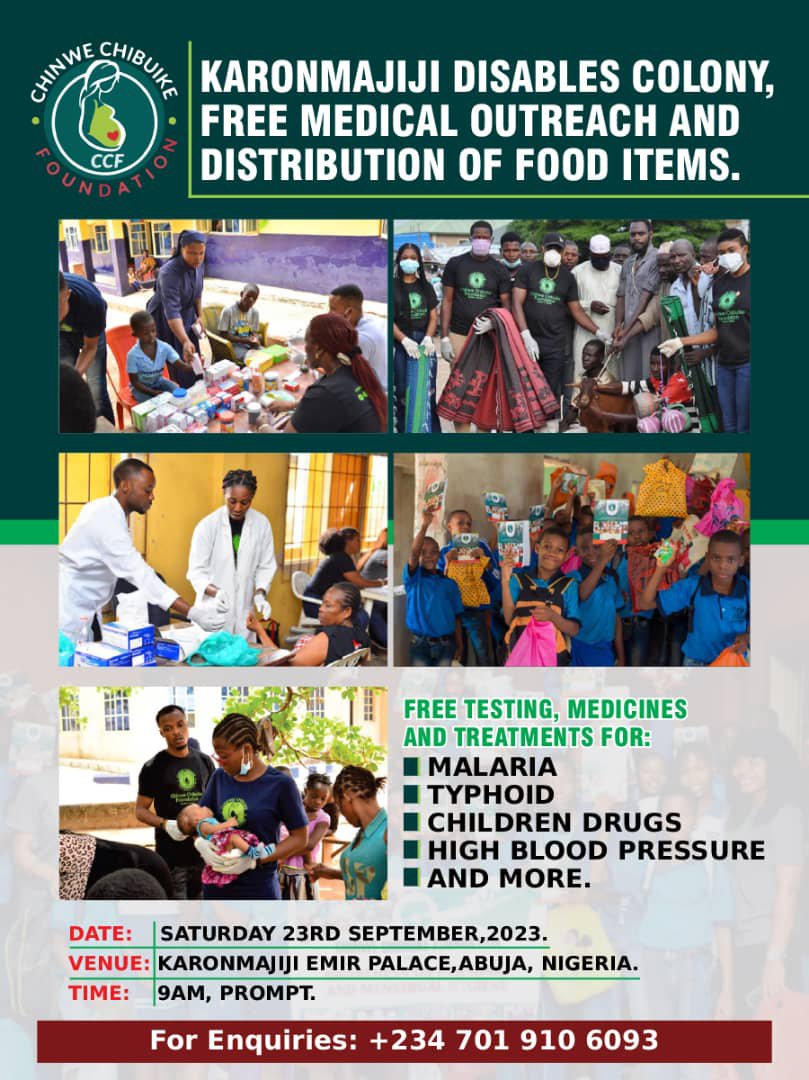 The free medical outreach will take place at the Karonmajiji Emir Place in Abuja, Nigeria, commencing promptly at 9 am. It is an opportunity for individuals in need of medical attention to receive essential care at no cost. The event poster contains further information for those interested in attending.
Gloria C. Chibuike: A Beacon of Philanthropy
Before establishing C.C.F, Gloria C. Chibuike dedicated her time as a volunteer for various non-governmental organizations, focusing on health and education. Her journey was influenced by a personal tragedy when she lost her father to an ailment at a young age. Determined not to let others suffer as she did, Gloria embarked on a mission to make a difference.
READ: Amb. Famoussa Touré, and Wife Amb. Mariame Koné Touré Distributes Food Items to Orphanage in Abuja
As the president of C.C.F, Gloria has led the organization to provide extensive medical relief to the people of Abia State and beyond, collaborating with government initiatives to reach local communities and rural areas. The foundation's services have included eye clinics, malaria awareness campaigns, and educational seminars, among countless others.
Gloria's passion for philanthropy seamlessly merges with her professional background as a nurse. She has used her expertise to amplify the impact of the foundation's healthcare initiatives. Furthermore, she is a dedicated businesswoman with her own design lines, holding a degree in Plant and Biotechnology, and even cybersecurity certification. Her multifaceted skills and education shows her commitment to making the world a better place.
In a world where compassion and generosity are instrumental in driving change, Gloria C. Chibuike and the Chinwe Chibuike Foundation are beacons of hope, illuminating the path toward a brighter and healthier future for those in need.
DO YOU HAVE ANYTHING YOU WANT TO TELL US ABOUT NIGERIA? CLICK HERE TO JOIN ESSENCE FORUM AND SHARE YOUR TOPICS WITH OVER 4000 MEMBERS.
WATCH MORE NEWS ON OUR YOUTUBE CHANNEL CLICK HERE TO SUBSCRIBE
Professional freelancer and webmaster.
From Toktok9ja Media
The views expressed in this article are the writer's opinion, they do not reflect the views of the Publisher of TOKTOK9JA MEDIA. Please report any fake news, misinformation, or defamatory statements to toktok9ja@gmail.com