END OF HERDSMEN!!! As Another Powerful Yoruba War Lord Pledges Support to Ighho with Over 150 Spiritual Warriors
3 min read
END OF HERDSMEN!!! As Another Powerful Yoruba War Lord Pledges Support to Ighho with Over 150 Spiritual Warriors.
As a result of the frequent attacks by killer Fulani herdsmen, many great warriors have risen to protect the region's safety and security, as well as to prevent the invasion of killer Fulani herdsmen. Baba Saka Adedeji, the chief of all hunters in Oyajimi, is one of Yorubaland's most famous warriors.
An old man and head hunter who is known as Baba Saka Adedeji, the Oluode Oyajimi, said in a 3- minute- 39- seconds video that he has 150 warriors under his supervision who are combat-ready to help in the struggle to get rid of killer Fulani from Yorubaland.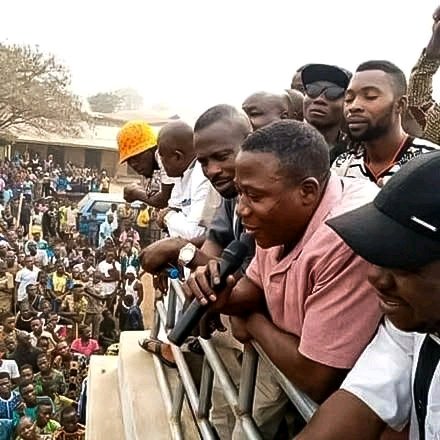 READ: SHOCKING!!! 21-year-old LASU Student Stabs Lover to Death, Withdrew N300,000 from His Account
Baba Saka Adedeji described the Fulani herdsmen who clutch to their rifles and cutlasses, slaying people in their houses and attacking them on their crops, as humans born of wickedness.
He said that if the dangerous Fulani herdsmen group arrived in his town, he will summon his boys to his residence and prepare for war.
He went on to say that he has 150 warriors under his command without blinking an eye (150). Baba stated that what they needed as warriors to improve their effectiveness and succeed in their service to Yorubaland was for the people to provide them with more advanced arms and ammunition, such as AK- 47 and barrels, rather than the dane guns they were currently using, as well as motorcycles to help them carry out their jobs of securing the land more easily.
READ: See the People University Of Jos Hired to Protect Students from Bandits Attacks
Without a doubt, one of the country's main problems now is insecurity, and with this unprecedented level of insecurity, many farm companies have been affected, people are now hesitant to move freely, and this is having a horrible influence on the country's existence. It would be difficult to go a week without hearing devastating news from one of Nigeria's three regions. Kidnappings by bandits in the north, attacks by unidentified shooters in the east, or lethal Fulani herdsmen in the west.
Meanwhile, the most recent attack in the South West occurred on Sunday, June 6, 2021, when suspected assailants broke into Igangan, a town in Ibarapaland, Oyo State, in the middle of the night while the inhabitants were asleep, murdering and injuring undefined numbers of people, and setting fire to the king's castle, a filling station, and people s homes.
READ: Exposed!!! How To Make 4 Million From £6380 Club in Just 4 Weeks
It' s worth noting that the Yoruba village where the accused terrorists struck earlier this month was also where the movement for the eviction of Fulani herders from Yorubaland originated. The emergence of Igboho Oosa and other great warriors asking for Fulani herders to leave Yorubaland as a result of their claimed continual crimes in the land triggered the appearance of Igboho Oosa and other great warriors calling for Fulani herdsmen to leave Yorubaland.
DO YOU HAVE ANY NEWS YOU WANT TO REPORT? CLICK HERE TO REGISTER AND SUBMIT YOUR NEWS FOR PUBLICATION ON TOKTOK9JA
WATCH MORE NEWS ON OUR YOUTUBE CHANNEL CLICK HERE TO SUBSCRIBE
Professional freelancer and webmaster.
From Toktok9ja Media
The views expressed in this article are the writer's opinion, they do not reflect the views of the Publisher of TOKTOK9JA MEDIA. Please report any fake news, misinformation, or defamatory statements to toktok9ja@gmail.com