HORRIFIC!!! See The Faces Of Bloodied Children Rescued From The House Of The Ritualist Prophetess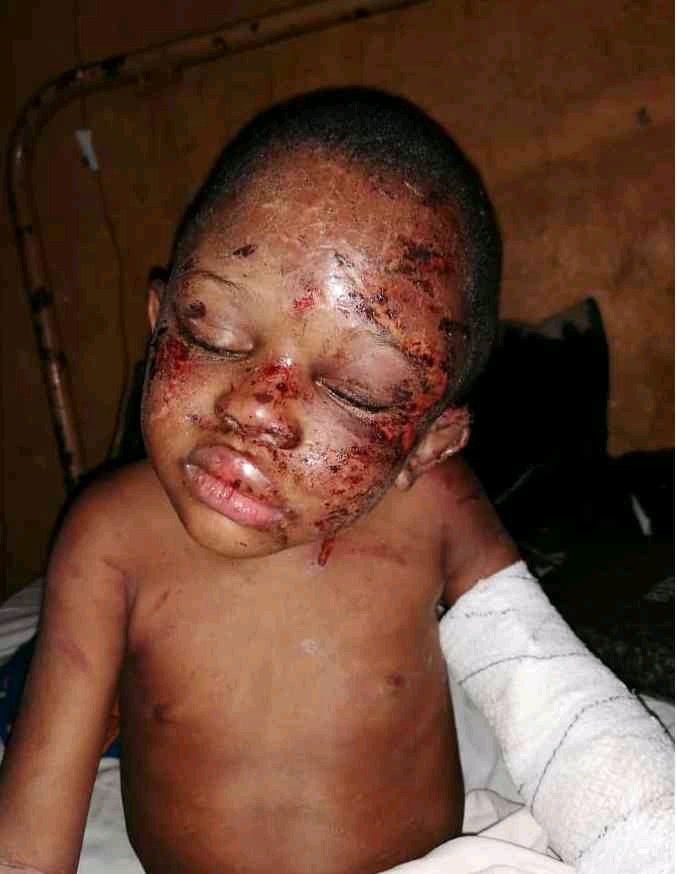 HORRIFIC!!! See The Faces Of Bloodied Children Rescued From The House Of The Ritualist Prophetess.
3 children battered beyond recognition were rescued from the house of a prophetess.

Recall that a prophetess who allegedly lures and kills children in her church for the ritual was nabbed in Onitsha, Anambra state.

The Prophetess' ministry is said to be located at Awka Road in Onitsha.
The children were rescued from a room filled with fetish items and the two women who held them hostage has been arrested in Anambra state.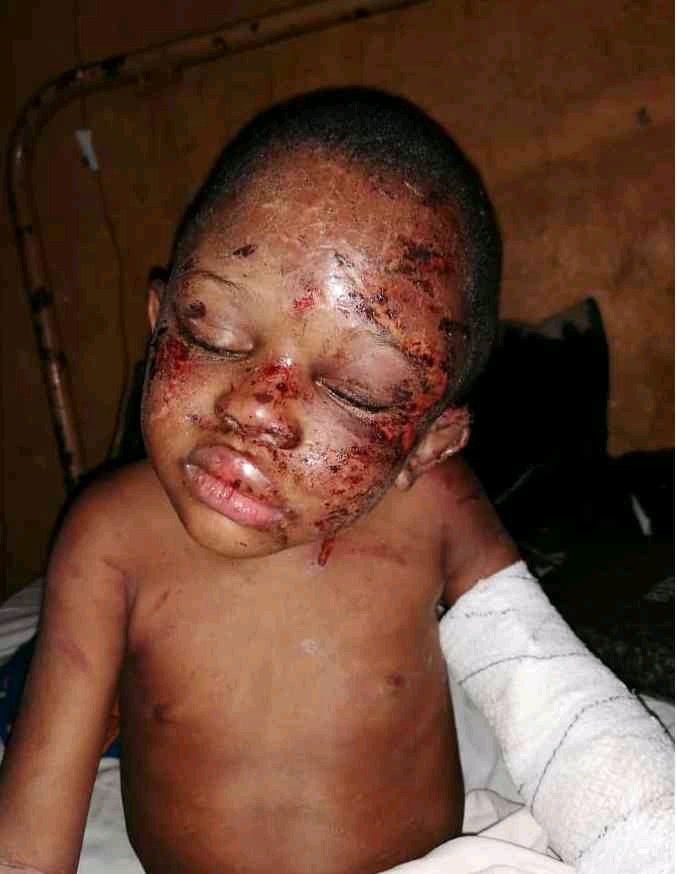 According to the Anambra state police, the women identified as Rejoice Raymond, 39, and Chidi Felicia Nwafor, 80, were arrested by police operatives attached to 3-3 Police Station Nkwelle.
Following intelligence report, on Friday, Feb 19, police stormed their address at NO.13 Akunwanta Mbamalu Street, Federal Housing Estates 3-3 Nkwelle Ezunaka, Anambra state, where they found three children locked up in a room.

The children – 2 boys and a girl – were badly bruised and were looking malnourished. They had broken bones and were left lying in their blood.
The entire room had blood stains alongside fetish items, including a mortar and multiples pestles, blood-stained canes, concoctions, and more.

In the room, was also found a bucket where the children were made to poop as they were not allowed out of the room.
The children, whose parents are not known, were too battered to speak. They were barely conscious and appeared to be in shock.
According to the Anambra state police, the women had "subjected them into physical and emotional torture without feeding and inflicted several wounds on their body leaving them unconscious."
The police add in a statement: "Scene was visited by the DPO 3-3 CSP Abdu Bawa where gory sights of badly battered victims, one with a broken arm were found in the pool of their blood and whose parents were neither seen nor known.

"Meanwhile, the children were rescued and rushed to the hospital for medical attention.
"Preliminary Investigation further revealed some fetish substances, blood-stained canes, concoctions, and other incriminating items were all recovered inside the rooms and registered as exhibits."

Some sources allege the women own a ministry but also engage in fetishism, including pounding children in mortar.

Consequently, the Commissioner of Police CP Monday Bala Kuryas, has ordered a discreet investigation into the circumstances surrounding the case after which suspects would be brought to justice.
There was pandemonium as one tanker driver was killed at an Army checkpoint along with Airport-Omagwa road Rivers State by an unknown soldier.
An eyewitness said that the young man was killed because he refused to pay N200 at about 9 pm last night.

Every access to the international Airport, obiri Ikwerre, Igwuruta was blocked by tanker drivers, while the culprits scampered for their lives.
Truck drivers block the road leading to the airport in Port Harcourt, Rivers state capital in protest after a soldier allegedly killed their colleague over N200.

The aggrieved truck drivers said the incident occurred on the night of yesterday, February 19.

The truck drivers who recalled how they joined Nigerian youths in fighting against security operatives' brutality, stated that it's disheartening that such things are still happening.
In what will come across as a really shocking development, a witch doctor has died inside a grave in Enugu.

The man, who was contracted to exhume the body of a woman said to have suffered injustice in the hands of her in-laws, collapsed and died inside the grave.

The witch doctor, named Idike Ezikanyi from Uwani-Amaogbo, Amabokwu village in Aku town, Igbo-Etiti Local Government Area of Enugu State, was allegedly recruited by the late woman's husband, one Nnadi, and other members of his family.
Ezikanyi was to secretly dig up the body of Nnadi's wife, Stella, who died five years ago and was buried in her husband's compound.

An eyewitness told Vanguard that on a fateful night, the Nnadi family got more than they bargained for when the witch doctor suddenly shouted from the grave, begging the ghost of the dead woman to have mercy on him.
However, before those around could react, Ezikanyi, who made to jump out of the grave, fell back in and died instantly.
DO YOU HAVE ANY NEWS YOU WANT TO REPORT? CLICK HERE TO REGISTER AND SUBMIT YOUR NEWS FOR PUBLICATION ON TOKTOK9JA
WATCH MORE NEWS ON OUR YOUTUBE CHANNEL CLICK HERE TO SUBSCRIBE
Professional freelancer and webmaster.
From Toktok9ja Media
The views expressed in this article are the writer's opinion, they do not reflect the views of the Publisher of TOKTOK9JA MEDIA. Please report any fake news, misinformation, or defamatory statements to toktok9ja@gmail.com