608 total views, 1 views today
NIGER ABDUCTION: Tears Flow As 3-Year-Old Islamic Student Dies In Captivity, Body Found Abandoned.
In a tragic twist, a 3-year-old boy who was one of the students kidnapped from Salihu Tanko Islamic School in the town of Tegina, Niger has been found dead.
Recall that the 156 children were abducted a week ago on Sunday, May 31st.
The body of the child was discovered a few kilometers away from Tegina town.
READ: SAD: Man's Mouth Destroyed By Bullet During Cult Clash Between Aiye And Eiye In Enugu State
The father of one of the abducted students, Tanko Zegi, confirmed the death of the child.
Abubakar Alhassan, the headteacher of the Islamiyya school alongside the parents of the abducted children had previously lamented government abandonment in the rescue efforts of the abducted children.
Speaking on a television program, the headteacher, who was inconsolable, said no government official has been to the school to sympathize with the parents and management of the school.
READ: TERRIFYING!!! Man Crush His Wife to Death With His Car Over Some Misunderstanding in Abuja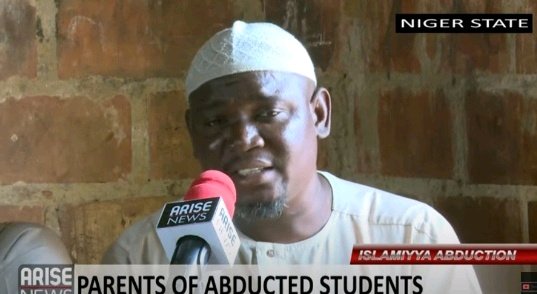 According to Alhassan, who broke down in tears while narrating his ordeal on Friday, two parents of the abducted children have died of a heart attack in the past two days due to the unfortunate event.
He said, "All eyes are on me as the headteacher. I have witnessed the funeral prayer of one of the parents, very close to the school. She died. She has one child in the school. She was not around when the incident happened. When she came back, they told her that this was what happened and within 10 to 30 minutes, she fainted and that is the end of her. She died, that was the day before yesterday.
READ: See How Pretty Looking SHS Girl Takes the Crowd As She Dance During Social Day in South Africa
"One day after the incident happened, another parent, a woman died because she had two children. She sent one to the town. When she heard about the abduction, she died from a heart attack."
READ: Fresh Attacks Leaves 88 People Dead in Kebbi State, Nnamdi Kanu, Deji Adeyanju Spit Fire
"Are we not Nigerians that the government cannot intervene in this issue?
"No sympathy at all. None of the government officials extends sympathy to us. Are we animals? No, we are Nigerians," Alhassan added.
The teary-eyed head teacher also said the bandits called him and increased the ransom for the abducted pupils from N10m to N200m.
DO YOU HAVE ANY NEWS YOU WANT TO REPORT? CLICK HERE TO REGISTER AND SUBMIT YOUR NEWS FOR PUBLICATION ON TOKTOK9JA
WATCH MORE NEWS ON OUR YOUTUBE CHANNEL CLICK HERE TO SUBSCRIBE
Professional freelancer and webmaster.
From Toktok9ja Media
The views expressed in this article are the writer's opinion, they do not reflect the views of the Publisher of TOKTOK9JA MEDIA. Please report any fake news, misinformation, or defamatory statements to toktok9ja@gmail.com