10 Hilarious Wedding Photos With Captions- 9JA jOKES
21,034 total views, 1 views today
10 Hilarious Wedding Photos With Captions- 9JA jOKES.
It's that time of the year where wedding bells are ringing all-around every corner. Its Christmas session, and a time to celebrate, it also, marks a time to join playboys and slay queens together in holy matrimony.
Personally, I don't know why Nigerians choose Christmas period to have their weddings. Setting marriage ceremony during the end of the year has become a tradition. I think it because it gives the couples enough time to prepare and save towards their marriage.
Anyways, that's a topic for another day.
We'll be taking a look at some hilarious wedding photos of this year 2020.
Many thought that the COVID-19 pandemic across the world will hinder marriages from happening, with the social distancing and nose mask saga. Alas, this year has recorded many wedding ceremonies and it's obvious some sharp guys use it to their advantage.
Now you'll ask me how, I thought you were a sharp guy too, well let me explain.
Doing your wedding this time where Government have advised on social distancing to curb the spread of the virus means very few people will attend. Probably just few close friends and family.
What does this mean?
It means you will spend less on food and drinks.
Genius isn't it? I'm too much, enough of the gossip, let's get down to the business of today without wasting time.
I have put together some very funny wedding photos which will make you laugh all day.
These photos were collected across all platforms and put together with funny captions for your viewing pleasure.
Enjoy and laugh a little.
(1) I don't understand this one, did the husband just come out of police custody, or was he involved in a fight with his father in-law?
(2) Driving my newly acquired BMW.
(3)When you refuse to grow up.
(4) My husband love tiquando fight, he is my Jet Lee
(5) Bonnie and Clyde, we ride or die baby.
(6) The best man of the year!
(7) Now She's understand what it means to marry a mechanic.
(9) I'm still cracking my brains to understand what is going on here, please if you can interpret this photo share your thoughts on the comment box.
(9)That's how we roll, for foolishness for worse.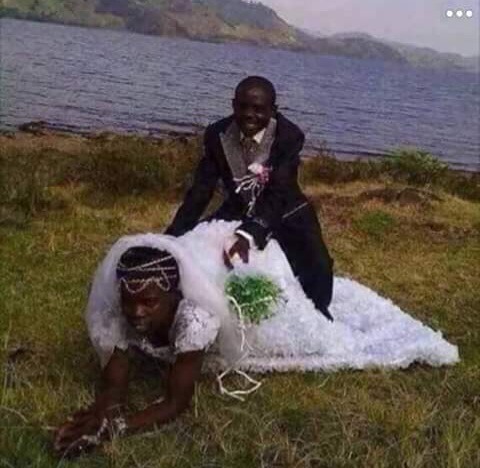 (10) Yeah baby, we die here tonight
(11) Drop your own caption
Now remember it's a crime to laugh alone, so do well to share this post with someone and put a smile on that face.
DO YOU HAVE ANY NEWS YOU WANT TO REPORT? CLICK HERE TO REGISTER AND SUBMIT YOUR NEWS FOR PUBLICATION ON TOKTOK9JA
WATCH MORE NEWS ON OUR YOUTUBE CHANNEL CLIKC HERE TO SUBSCRIBE
Professional freelancer and webmaster.
From Toktok9ja Media
The views expressed in this article are the writer's opinion, they do not reflect the views of the Publisher of TOKTOK9JA MEDIA. Please report any fake news, misinformation, or defamatory statements to toktok9ja@gmail.com