FINALLY, Deeper Life Church GO Kumuyi Reveals How To END Insecurity In Nigeria
FINALLY, Deeper Life Church GO Kumuyi Reveals How To END Insecurity In Nigeria.
Insecurity has been the major problem bedeviling this nation which made the General Superintendent of Deeper Life Bible Church, Pastor William Kumuyi to call on Christians to seek God's intervention over the challenges.
The clergyman made this known, yesterday, in the message entitled, 'Super Living Through Divine Connection' in Abuja, via zoom and other social media platforms to reach millions of participants across the 36 states and the rest of the world.
READ: Exposed!!! How To Make 4 Million From £6380 Club in Just 4 Weeks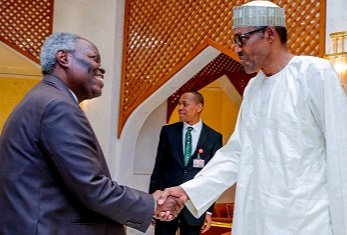 READ: We Were Told Never to Allow Anybody Use Our Laptop, My Friend's Brother Used It and Died – Arrested Yahoo Boy
He said: "Suffering came as a result of sin. Today, the Lord wants to repair and restore all that is broken down, only if people will come back and reconnect to Him."
It is recalled that pastor Kumuyi is a man of God who does not want the division of the country. Pastor Kumuyi was not the pastor who lent his voice for its cause.
RELATED NEWS: I'M NOT DEAD BUT ALIVE- PROPHET SAMUEL ABIARA
The General Overseer of the Christ Apostolic Church of Christ, Agbala Itura worldwide, Prophet Samuel Abiara has debunked rumors of his death.
Prophet Abiara, who made this known while speaking with one of Nigeria's news media 'The Punch' on the telephone on Tuesday, however, prayed that God forgives those behind the rumor.
He said: "Nothing happened to me. At least you know I am alive since you're speaking to me. People are just talking nonsense. I pray God forgives them."
READ: WE ARE READY FOR YOU!!! 'You Carried Out Your Action Without Our NOTICE' Deeper Christian Life Ministry Bl0ws Hot
In a separate statement, the cleric said it was unfortunate that the fake news emanated from a journalist.
"This is a false story and it is shocking that a journalist can publish a lie without proper vetting of the information.  A journalist whose job is to write true stories should not engage in this kind of false information.
"This caused a lot of consternation all over the world. Fake news is not the way to gain readership or follower-ship. We hereby demand a retraction or apology from the publication posted on the same blog within 24 hours to avoid any other legal action."
MORE RELATED NEWS: PROPHET JOSHUA IGINLA SLAMS NIGERIAN PASTORS
Following the attacks on late prophet T.B Joshua by men of God, the General Overseer of Champions Royal Assembly, Prophet Joshua Iginla has defended him.
Prophet Iginla slammed Nigerian pastors for their attacks on TB Joshua after he died.
It is recalled that the founder of the Household of God Church, Reverend Chris Okotie had mocked and criticized late Prophet Temitope Balogun Joshua.
READ: NIGERIA IS POOR and Must Keep Borrowing Senate President Lawan DESPITE Warnings From Experts
According to Prophet Iginla, he insisted that Okotie and those pastors attacking cannot do the things the prophet did in a thousand years.
Following T.B Joshua's death, several pastors had painted the deceased in a very bad light.
On his part, Okotie had shared a cryptic post on his Facebook page in which he referenced a certain "wizard of Endor" who assumed the title of "Emmanuel". He said the wizard who assumed the title of Emmanuel had been consumed by divine indignation.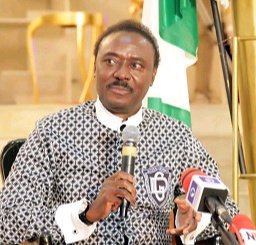 However, Prophet Iginla wondered why pastors were attacking TB Joshua even in death.
Addressing his members, the clergyman said: "When my friend Prophet TB Joshua died and was called to Glory. When I saw pastors writing all manner of jargon. I felt; what a wicked generation!
"Pastors hated this man in his lifetime and even after God has called him to Glory, they still exhibit and execute such hatred even for the dead.
"I felt bad in my spirit when I heard Chris Okotie talking about the dead, a man who has gone to Glory. You are still bold to talk about him in a sarcastic manner and you feel you have the Holy Ghost inside you?
READ: My secondary school crush – Winnie and our little love story
"Chris Okotie opens his mouth to attack Prophet TB Joshua, even after he has gone to Glory. What Prophet TB Joshua has done, if you are to live a thousand years, you can not undo what he has done.
"If you hate Prophet TB Joshua, what about his wife? What about his children? Do you extend your hatred to them? What kind of generation are we bringing? What kind of Christianity are we practicing?
"What is the offense of Prophet TB Joshua? Just because he's different from them."
DO YOU HAVE ANY NEWS YOU WANT TO REPORT? CLICK HERE TO REGISTER AND SUBMIT YOUR NEWS FOR PUBLICATION ON TOKTOK9JA
WATCH MORE NEWS ON OUR YOUTUBE CHANNEL CLICK HERE TO SUBSCRIBE
Professional freelancer and webmaster.
From Toktok9ja Media
The views expressed in this article are the writer's opinion, they do not reflect the views of the Publisher of TOKTOK9JA MEDIA. Please report any fake news, misinformation, or defamatory statements to toktok9ja@gmail.com