"I Love My 97-year-old Husband, He Satisfies Me in Bed" – Newly Married Lady Confesses
4 min read
"I Love My 97-year-old Husband, He Satisfies Me in Bed" – Newly Married Lady Confesses.
Unusual news of a marriage ceremony that took place between a 97-year-old man and 35-year-old woman in Ghana has broken the internet into pieces.
The Controversial BBNaija Scene that is Making P.a.n.t.s Trend on Twitter (Video)
Many who followed this story are very much in suspense to know the full story behind the genesis of this marriage and the current state of the union: the number of children they have and the sexual power of the man.
Well here is the story from an interview on Kofi TV.
Akwesi Gyan is a 97-year-old man who got married to Akua Asabea a 35-year-old woman in Agyadukrom somewhere around Obuasi in the Ashanti Region of Ghana.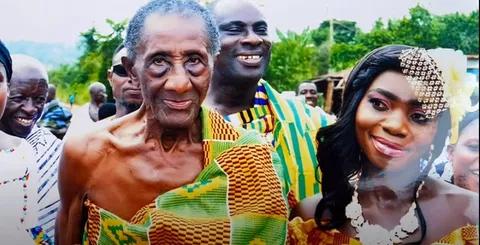 A little background information about this man is that he is a herbal doctor who is well versed in the used of herbal medications to treat and cure all kinds of ailments.
Watch As Lady Burns Twitter with Her H.O.T T.w.£.r.k!ng Video
That had made him an endearing figure in the whole village and had got him the name 'Agyaba' with the distinctive explanation that whatever sickness you bring to him, it should be cured.
Agyaba is also a wealthy cocoa farmer who has a huge cocoa farm in the community. He relocated to the village since 1960 and had lived there all his life.
In the interview with Kofi TV, the couple who were seated gloriously spoke about their love journey and their decision to marry…what influenced that decision and whether sexually they are satisfying each other.
"I don't see the reason why our marriage is of a surprise to many because when I am called and questioned, I don't see their points," Agyaba kickstarted the interview.
When questioned about whether he has ever got married, Agyaba said: "No, this is not my first marriage. This is my third marriage, my first wife gave birth to 11, the second wife gave birth to 2 and my current wife has given birth to 5 children already."
Agyaba added that although they have been married for close to five years, they just got married over the weekend to seal the union.
Narrating how she met her husband, Akua Asabea said they met in the village after she got married out of wedlock which the original man did not accept. According to her, she was in a state of lack when she came to the village.
Agyaba received her child, sister and herself warmly and took very good care of them. Her child's bad health was restored by the same Agyaba. These acts of kindness influenced Akua Asabea's decision to stay with the nonagenarian until he expressed amorous interest in her which kickstarted their new relationship.
"I accepted galdly to marry him when he expressed interest in me and by the Grace of God we've lived together and given birth to all our children," Akua Asabea continued.
Kofi Adomah went on to break the ice on the sexual power of the old man and asked the young woman whether she feels satisfied with it or not.
"I feel so content with his sexual power. Indeed, he is very good in bed and makes me feel great. Because he takes some herbal medication, he is always strong and that is why we have been able to produce 5 children," Akua Asabea gladly said.
Agyaba also stressed on the fact that he is sexually fit and possesses the strength the waist requires to render finger-clutching and eye-rolling orgasm to his wife. However, he said he will be taking a break as far giving birth to new babies is concerned.
Asked whether their marriage was out of love or not, Asabea said, "it is pure love and the doing of the Lord."
A very surprising story indeed but it is certainly not out of the ordinary.
Please drop your thoughts in the comment box below and share this post with someone.
Follow us on Facebook, Instagram & Twitter to keep up to date with trending news as it happens.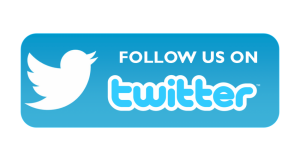 Professional freelancer and webmaster.
From Toktok9ja Media
The views expressed in this article are the writer's opinion, they do not reflect the views of the Publisher of TOKTOK9JA MEDIA. Please report any fake news, misinformation, or defamatory statements to toktok9ja@gmail.com