If You Like Speak Yoruba For 100yrs David Won't Marry You – Fan Blasts Anita Brown Over Her New Instagram Post
Anita Brown New Instagram Post is causing trouble.
A die-hard fan of Nigerian singer Davido has reacted strongly to the latest post by Anita Brown, the US-based Instagram influencer who has accused Davido of impregnating her.
Anita, who has made a name for herself on the internet with her allegations, took to her Instagram handle and posted pictures of herself wearing a blue bikini while seated close to a swimming pool.
What caught the attention of many people was the fact that she tagged the picture in Yoruba language.
She wrote:
"O lọ tẹriba fun abajade, oh Ko si nkankan lati jiroro, oh Nitoripe Mo bori nipasẹ aiyipada Ati laisi iyemeji, oh Omo, emi, mo di agba, oh Emi ko yẹ lati gba rẹ – Emi ko yẹ lati gba ẹgan rẹ, oh Ninu ọkan mi bi o ṣe n sọrọ, oh Mo fi aye mi sinu iṣẹ mi ati pe Mo mọ pe Mo wa ninu wahala O ṣe afọwọyi ifẹ mi, oh…….."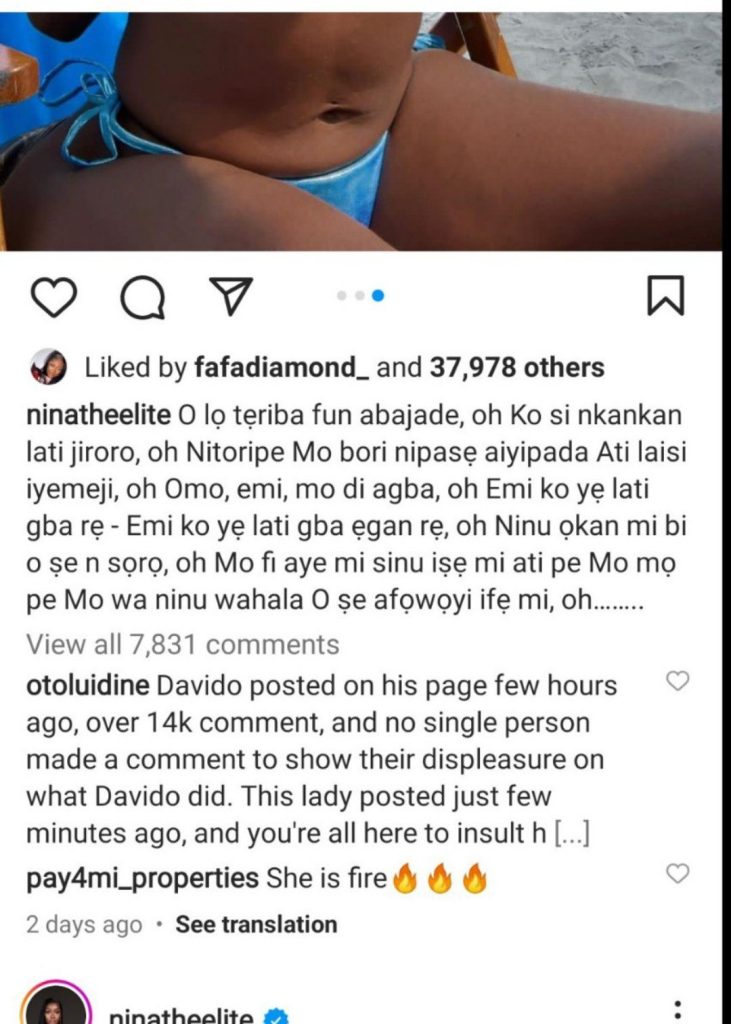 The statement appears to be a mix of Yoruba and English languages.
Here is the translation of what she said:
"I have endured trials for Abajade, oh! There is nothing to hold onto, oh! Because I bear witness with determination and without hesitation, oh! Child, me, I have grown older, oh! I won't accept defeat – I won't accept surrender, oh! In my heart, as you speak, oh! I have dedicated my life and I know that I am in trouble. You become my only love, oh…"
It seems she was sharing lyrics to a song she heard or perhaps a song she wrote.
The reactions from Instagram users have been pouring in:
"aridanbrown: Omo! I blame David for not having taste in women sha this hexag0n looking lady. Na woman Abi man sef? craseeee"
"mwarishannita: My opinion, as long as you were not raped, the rest is noise. Sex was an agreement between you two, and yes, you're an adult and you know the result of sex without protection….welcome to the baby mama's club. And I don't mean you don't have the right to raise your voice, but you're doing it in the wrong way. No matter how hard you try to pull that so-called Davido down…you'll be the one to get tired because he'll remain the same. Lastly, you said that Chioma is suffering in her marriage, was she forced to marry him? If not, then don't talk on her behalf. She's in a better position than all of you baby mamas; she's holding the clown of a wife, 'his wife.' So just take Panadol, my dear sister, and rest!"
"dooleyfrosh: Our OBO is not for you…if you support me, please like my comment."
Anita's Instagram post has sparked strong reactions from fans and followers alike. While some criticized her appearance and questioned her motives, others expressed their support for Davido and dismissed Anita's claims. The ongoing drama surrounding Davido's personal life continues to capture the attention of fans and the media, but it remains to be seen how this situation will unfold in the coming days.
Here are screenshots of more reactions:
DO YOU HAVE ANYTHING YOU WANT TO TELL US ABOUT NIGERIA? CLICK HERE TO JOIN ESSENCE FORUM AND SHARE YOUR TOPICS WITH OVER 4000 MEMBERS.
WATCH MORE NEWS ON OUR YOUTUBE CHANNEL CLICK HERE TO SUBSCRIBE
Anita Brown New Instagram.
Professional freelancer and webmaster.
From Toktok9ja Media
The views expressed in this article are the writer's opinion, they do not reflect the views of the Publisher of TOKTOK9JA MEDIA. Please report any fake news, misinformation, or defamatory statements to toktok9ja@gmail.com