Memory Lane: Meet The Nigerian Woman Who Became A King Through Prostitution and Had Many Wives – Ahebi Ugbabe


Memory Lane: Meet The Nigerian Woman Who Became A King Through Prostitution and Had Many Wives.
Nwando Achebe presents the fascinating history of an Igbo woman, Ahebi Ugbabe, who became king in colonial Nigeria.
Ugbabe was expelled from the land of Igbo and later on became a prostitute, traveled widely, she, later on, learned to speak several languages. She became a very close companion of Nigerian Igala kings and the British officers who supported her claim to the office of the headman, warrant chief, and later on, king.
In this unique biography, Achebe managed to traces the roots of Ugbabe's rise to fame and fortune. While providing critical perspectives on women, gender, s3x and s3xuality, and the colonial encounter, she also considers how it was possible for this woman to take on the office and responsibilities of the male role as traditional demands of men.
READ: The Rare Story Of How Dele Giwa Was Killed With A Letter Bomb
Ahebi Ugbabe was an African woman who is not from a rich family. She was born in Enugu-Ezike, an Igbo community, in the late 19th century, she rose from being a poor, uneducated girl and a prostitute, to a village headman, a warrant chief, and a king.
Ahebi, at the tender age of 13 or 14 years old, fled into neighbouring Igala land to escape marriage to a deity as appeasement for the sin her father committed.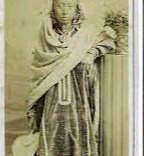 During her exile in Igala, she ended up being a commercial s3x worker and through that, she got connected to influential men including British colonial officials and the ruler of Igala.
READ: UNHOLY FRIDAY: How The Man Who Killed Murtala Mohammed Was Arrested Under A Woman In A Hotel Room
She also learned how to speak at least pidgin English and other African languages; these would eventually come in handy in her life.
By the early 20th century, the British had already started invading Igboland. Ahebi, with her influence, led some of the British forces into her hometown, Enugu Ezike.
To show the appreciation that they are in support of her, the British invaders installed her as a village headman. And Ahebi later became king of Enugu-Ezike.
READ: Opobo: Land Of King Jaja Where Dogs Are Forbidden And Also Noise Making At Night
But, according to her biography by Achebe, these positions that were given to her were "upsetting to gendered politics in her community."
At the time, the Igbos were surrounded by centralized societies and were aware that kings and queens actually existed.
But they never had one until the Europeans conquered them and forced what was called warrant chiefs on them.
Gradually, before colonial rule, no man or woman had ever been made a chief in an Igbo community.
As a king, Ahebi was above all-male political hierarchy at that very time. She started performing masculine roles, including marrying wives for herself and her brothers.
READ: Inikpi the Igala Princess That Sacrificed Herself To Be Killed Along With Nine Maidens – See Why She Did It
This practice actually was not related to homos3xuality though, as, in Igbo land, a woman-to-woman marriage was devoid of any s3xual activity. The wives were permitted to have s3xual relations with men and children born of such marriages belonged to the female husband.
But when Ahebi, somewhere along the way, decided to assume full manhood by introducing her own masquerade (a practice that is only done by men initiated into the masquerade cult), she was greeted with stiff resistance from society and her biography indicated that she never got over it.
READ: 19 Years After His Death, The Memory of Eze Ego Still Lives In the Hearts of Many
Out of fear that she might not be given a befitting burial when she passes away, Ahebi actually performed her own funeral while alive.
Despite not being given a grand send-off when she dies in the year 1948, she became deified as a goddess in her mother's hometown and has since remained in songs and parables of Enugu-Ezike.
Ahebi's life story also debunked the assumption that African women were less powerful and could easily be victimized or marginalized.
DO YOU HAVE ANY NEWS YOU WANT TO REPORT? CLICK HERE TO REGISTER AND SUBMIT YOUR NEWS FOR PUBLICATION ON TOKTOK9JA
WATCH MORE NEWS ON OUR YOUTUBE CHANNEL CLICK HERE TO SUBSCRIBE
Memory Lane: Meet The Nigerian Woman Who Became A King Through Prostitution and Had Many Wives – Ahebi Ugbabe
Professional freelancer and webmaster.
From Toktok9ja Media
The views expressed in this article are the writer's opinion, they do not reflect the views of the Publisher of TOKTOK9JA MEDIA. Please report any fake news, misinformation, or defamatory statements to toktok9ja@gmail.com