Presidency Finally Speaks On What Sunday Igboho Must Do To Get DSS, Police Off His Back
Presidency Finally Speaks On What Sunday Igboho Must Do To Get DSS, Police Off His Back.
Sunday Adeyemo, also known as Sunday Igboho, a Yoruba nation agitator, had earlier ordered by the president to surrender to security forces.
It would be recalled that the Oluwo of Iwo, Oba Abdulrasheed Akanbi, called on President Muhammadu Buhari on Friday to forgive Sunday Igboho for his anti- Yoruba agitation.
The monarch encouraged the President to pull security agents from monitoring the activist, claiming that he had warned him about his agitation tactics.
READ: Asking Me to deny Biafra is Like Asking God to Bow to Satan – Nnamdi Kanu Replies DSS
Oba Akanbi also remarked that despite that Igboho' s insulted him, he had forgiven him.
The late politician MKO Abiola and activist Ken Saro- Wiwa, who both died fighting for their people's freedom, were referenced by the monarch as lessons for Igboho and other agitations.
The Oluwo said in his statement, " He has guaranteed his readiness to listen to us. "
" I assure your Excellency that Igboho would be more careful in the future. He has realized his mistakes.
READ: Meet The New Leader of IPOP and 5 Characteristics that Make Him A Potential Threat to Nigeria
" He would calm things down. At a convenient time, I'll bring him in for a peace talk. "
However, a presidential source told The Nation News Correspondent that Igboho' s destiny would be decided by the Director of State Services (DSS), the Nigeria Police Force, and the Attorney- General of the Federation, Abubakar Malami (SAN).
Vigilante Group Members Pounce On Nigeria Police Officers On Illegal Duties In Tensed Enugu State
The source said in a statement that " The Oluwo is one among those who support the administration and offers advice. " We read what he wrote. , "
" However, only the DSS, the police, and the AGF have the authority to decide how Igboho' s case would be handled. They have the power to decide his fate. "
READ: "I Will Bring Sunday Igboho For A peace Talk At The Appropriate Time" – Oluwo of Iwo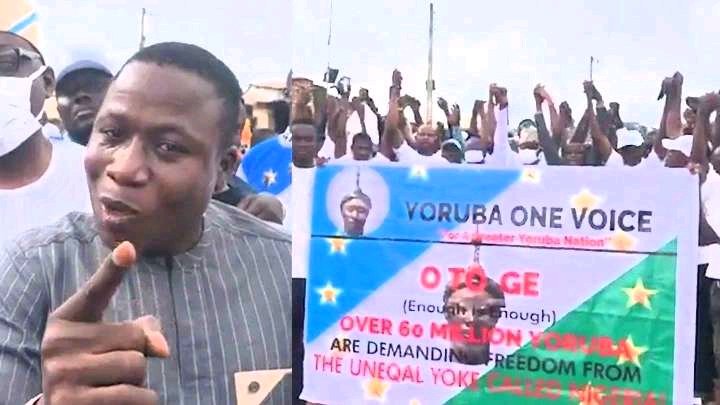 " It will be impossible to apply a different approach for Igboho, " a security source stated. He must first obey the rules of the land by surrendering before engaging in negotiations.
" He encourages secession, which is treasonous. The issue of peace talks is political. He must first obey the summons of security agents before seeking refuge.
" Arms were recovered from his home by security agents. We've had some of his aides with us, and they've told us some things. He needs to come over and clarify a few of things. "
DO YOU HAVE ANY NEWS YOU WANT TO REPORT? CLICK HERE TO REGISTER AND SUBMIT YOUR NEWS FOR PUBLICATION ON TOKTOK9JA
WATCH MORE NEWS ON OUR YOUTUBE CHANNEL CLICK HERE TO SUBSCRIBE
Professional freelancer and webmaster.
From Toktok9ja Media
The views expressed in this article are the writer's opinion, they do not reflect the views of the Publisher of TOKTOK9JA MEDIA. Please report any fake news, misinformation, or defamatory statements to toktok9ja@gmail.com