Are You a Hard Guy? DM Me – Girl Calls Guys Out on Twitter
2 min read
Are You a Hard Guy? DM Me – Girl Calls Out Guys on Twitter.
We all know it's the Christmas period, a time where guys break up with their girlfriend and girls throw their net to catch as many big fish as possible, it has become a norm and we know it.
Before girls mostly slay queens who use this period to raise money do it with code, but currently revere is now the case, girls no longer do it secretly just as in the case of this twitter user with the name Maryam Atom.
The young pretty girl shocked everyone on Twitter when she called out guys to DM here. For those who don't know the meaning "DM", it stands for direct message, which means she wants guys to send her a private message.
She wrote: "Are you a hard Guy? DM Me."
"Are You A Hard Guy? Dm me 💓😄 pic.twitter.com/8aEgaYsumA

— Miemie's Art 🎨 (@Kharlilah) December 6, 2020
Are you thinking what I'm thinking, "Hard Guy", is she referring to muscular guys with big shoulders and chest, or is she referring to the other thing?
Well it's suppressing how ladies are becoming desperate these days, just recently a sweet looking lady wrote this on her social media: I Have Waited Enough! Since Christian Husbands Are Not Coming My Way, I am Giving Chance To Muslim.
Another girl wrote this: "I Need A Serious Guy To Take Me Out".
Does it mean guys are now too scarce, or have the boyfriend associaltion of Nigeria gone on strike?
I want to hear fro you, what are your thoughts?
Here are some reactions from twitter users: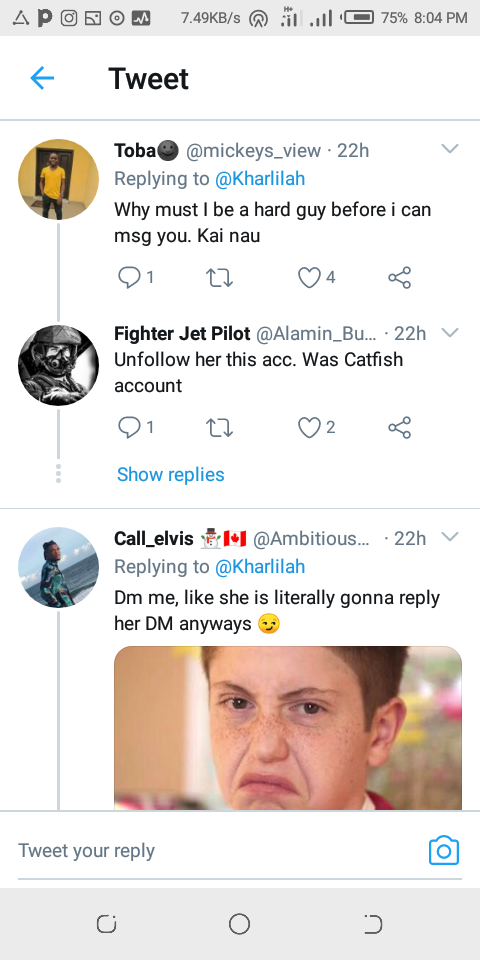 The majority of pastors these days are frauds. They do all these dirty things and hide behind the Bible. Recently another fake pastor was exposed by his right-hand man and all his dirty secrets were revealed.
The pastor was sleeping with young girls from Hillbrow, South Africa. One of the girls he slept with decided to speak up. She is only 15 years. She said it all started when she was still a member of the youth group in the church. She began noticing that the pastor had a hidden agenda towards her…CLICK HERE TO CONTINUE READING
DO YOU HAVE ANY NEWS YOU WANT TO REPORT? CLICK HERE TO REGISTER AND SUBMIT YOUR NEWS FOR PUBLICATION ON TOKTOK9JA
WATCH MORE NEWS ON OUR YOUTUBE CHANNEL CLICK HERE TO SUBSCRIBE
Professional freelancer and webmaster.
From Toktok9ja Media
The views expressed in this article are the writer's opinion, they do not reflect the views of the Publisher of TOKTOK9JA MEDIA. Please report any fake news, misinformation, or defamatory statements to toktok9ja@gmail.com