INEC RESCHEDULE OF GENERAL ELECTION SCANDAL – THE WAY FORWARD FOR NIGERIA
Independent National Electoral Commission (INEC), the election regulatory body of Nigeria, recently postponed 2019 general elections scheduled for last Saturday 16th February 2019 and Saturday 2nd March 2019 at about 2am in the early hours of the election day.
This sparked outrage from concerned Nigerians who were already prepared to carry out their legitimate responsibilities of selecting the next set of leaders to rule the country. Some had already travelled down to their respective villages where they registered to vote.
According to a letter signed by Prof. Mahmood Yakubu, INEC Chairman, the main cause of this development was as a result of logistics and operational plan.
Following a careful review of the implementation of its logistics and operational plan and the determination to conduct free, fair and credible elections, the commission came to the conclusion that proceeding with the elections as scheduled is no longer feasible
Come to think of it, INEC had 4 years to plan for this elections. Could it be that the 4 years was not inadequate  for the commission to make necessary arrangement and plans for the upcoming general elections? This is one question on the mind of all Nigerians. Moreover, how come it took INEC this long to postpone the said elections, could this be as a result of incompetence? Ordinarily one would have thought the postponement of the General Elections should have come few days before the election to enable Nigerians adjust, plan and prepare for the elections.
So what happens to the adhoc staff and corps members who sacrificed their lives for the purpose of the success of this election?  According to source, some of them were subjected to all manner of ill treatment, like sleeping on the floor without matrasses, or proper accommodation, you can imagine what that must have done to their mental wellbeing.
Taking another look at the letter from INEC, the commission never offered any form of apology to Nigerians for not discharging their duties accordingly.
This was a difficult decision for the commission to take, but necessary for the successful delivery of the elections and the consolidation of democracy.

The Commission will meet key stakeholders to update them on this development at 2p.m, on Saturday 16th February 2019 at the Abuja International Conference Centre.
This letter is not a demonstration of true democracy, the INEC Chairman owns Nigeria an apology, and we hope he's responsible enough to tender same in due course.
Here is a full copy of the letter from INEC.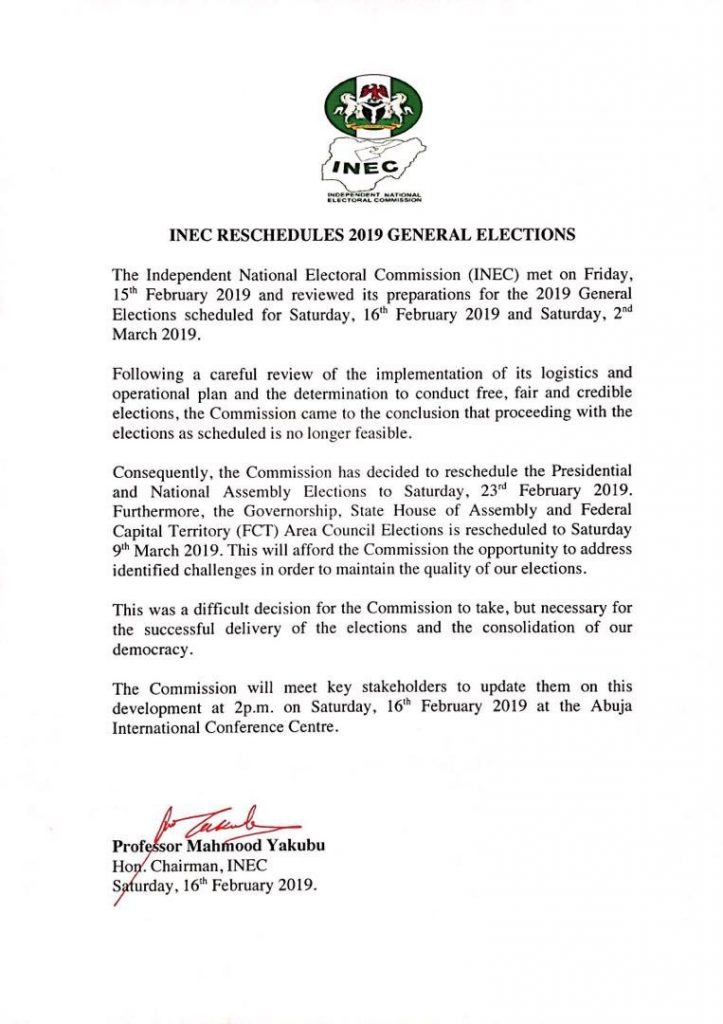 Professional freelancer and webmaster.
From Toktok9ja Media
The views expressed in this article are the writer's opinion, they do not reflect the views of the Publisher of TOKTOK9JA MEDIA. Please report any fake news, misinformation, or defamatory statements to toktok9ja@gmail.com